"You can drop the miss," she told me after I had called her "Miss Elva" a few times in the weeks after we first met in the fall of 1986. It was just "Elva." She was already ninety-nine, but every day walked to work from the rooming house where she had lived for over thirty years. She broke her hip when she was 102, and we all thought that was the end of Elva. Three months later, she was back at work with her first walking cane. She fell again three years later and never really recovered, dying on 29 December 1994 at the age of 107.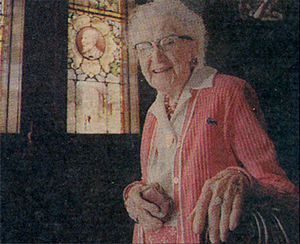 Figure 1. Elva Spangenberg at Rhodes Hall, 1989.
Although her closest living relative was a second cousin in Wisconsin, many more mourned her passing, from the members of North Avenue Presbyterian Church, where she had been a member for over fifty years, to the thousands who bought tickets from her at the old Rhodes Theater. She made a tremendous impression on many of us, not least because of her unfailing optimism and general pleasure at being alive. Few 103-year-olds with virtually no family and few material possessions beyond what was in the single room that she had occupied for decades would still be found standing on the front walk at Rhodes Hall, poking around in the grass with her cane, looking for four-leaf clovers.
In this brief biographical sketch, which is an expanded version of one compiled by her long-time friend and fellow theater employee Tommy Weesner, is the pale shadow of an extraordinary woman.
Flemington, New Jersey
Elva Spangenberg was born on 30 October 1887 in Flemington, New Jersey, a small town in the western piedmont of the state. Although it was the county seat for Hunterdon County, Flemington had a population of less than a thousand people in the late nineteenth century. In spite of its size, the Flemington Railroad provided connections to both New York City, 55 miles to the northeast, and Philadelphia, 50 miles to the southwest.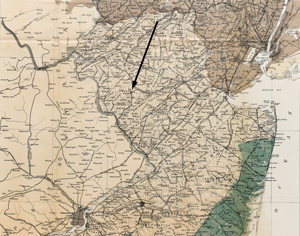 Figure 2. Detail from 1878 Geological Survey map of New Jersey, annotated with an arrow to locate the town of Flemington.(Library of Congress)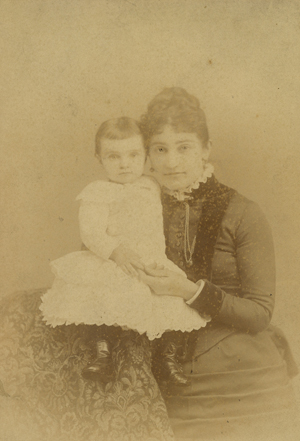 Figure 3. Elva at fourteen months with her mother, 28 December 1888, Flemington, New Jersey. (Spangenberg Collection)
Her paternal ancestors, the Spangenbergs, were among the Moravians who immigrated to Pennsylvania before the Revolution, and who may have been related to the great bishop of the Moravian Church, August Gottlieb Spangenberg (1704-1792). Her maternal ancestors, the Guilds, were among the Scotch-Irish immigrants in colonial America, most likely in Massachusetts, but both families were settled in New Jersey by the early nineteenth century. Her parents, Jacob Spangenberg (1850-1934) and Mary Ella Guild (1855-1938), were first cousins; their mothers are thought to have been descendants of Thomas Warne (1652-1622), who came to America as one of the original twenty-four Proprietors of East Jersey in 1683.
Elva's paternal grandparents, John Spangenberg (1808-1900) and Eliza Warne Spangenberg (1808-1899), were both born and grew to adulthood in Hunterdon County, New Jersey. In 1834, they began married life in a log cabin near Clinton, some ten miles north of Flemington. John Spangenberg was a cabinetmaker as a young man, but later bought a farm at Sunnyside, about halfway between the two towns, where Elva's father grew up.
Elva's maternal grandparents, Alexander E. Guild (1815-after 1900) and Susan Warne Guild (1817-1903), were also natives of Hunterdon County, and although they started their family in New Jersey, by the time Elva's mother, Mary Ella Guild, was born in 1855, the Guilds were in Chicago's Fifth Ward. Alexander Guild was still with the family in Chicago in 1860, but after the Civil War he and his son Henry spent several years prospecting for gold at Pike's Peak. Eventually he and Susan seperated and probably divorced; by the late 1870s he had started a second family in Illinois.
Elva's father, Jacob Spangenberg, began his working years as a clerk in his brother Daniel's general store, first in Clinton, New Jersey, during the Civil War and then in Daniel's second store in Washington, New Jersey, a small town in Warren County, twenty miles north of Flemington. Exactly when and why Jacob Spangenberg left New Jersey is not known, but he may have just decided to seek his fortune in Chicago, which was a boomtown in the aftermath of the great fire that destroyed much of the city in October 1871. Jacob began his own dry-goods store in Aurura, a growing manufacturing center west of downtown Chicago, but it is not clear how long he continued that venture. On 17 September 1877, he married Mary Ella Guild at the home of her older sister Sarah Guild McCann on Ogden Avenue in Lawndale on Chicago's west side.
They did not stay in Illinois and by the 1880s were back in Flemington, where Jacob opened a shoe store, with an apartment for the family above the store. It may have been there that their first child was stillborn in 1881. A healthy son, John, followed in 1884 and Elva on 30 October 1887.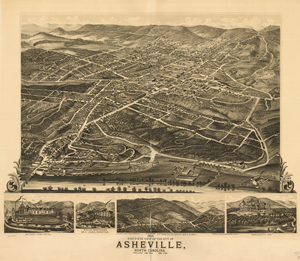 Figure 4. Bird'e-eye map of Asheville, North Carolina in 1891, a year or two before the Spangenbergs moved there from New Jersey. They would build a house on Church Street, just off Asheville's main thoroughfare. (Library of Congress)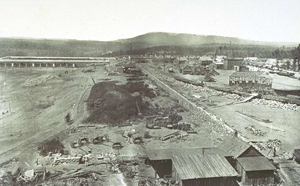 Figure 5. View of Esplanade and foundation of main house at Biltmore under construction in 1892. (Library of Congress)
Asheville, North Carolina
Around 1890 Ella Spangenberg was diagnosed with tuberculosis, and in 1892 or 1893 the family to move to Asheville, North Carolina, which had gained a reputation as a therapeutic environment. It was also a major resort for the wealthy; George Vanderbilt's great Biltmore was under construction when the Spangenbergs moved to Asheville.
Jacob Spangenberg opened another shoe store in Asheville and built a two-story, wood-framed house with a wrap-around porch at 72 Church Street, little more than a block off the main street of Patton Avenue. Elva remembered that workmen at Biltmore, which was under construction between 1889 and 1895, were among her father's customers and that the family occasionally obtained passes to enter the grounds.
The Spangenbergs often had boarders in the house, including what Elva remembered as "hired girls," presumably maids. They were apparently foreign-born since her mother, Ella Spangenberg, helped them learn English and taught them "the proper way of doing things." Elva's brother, John, finished school around 1900 and went to work for the Pony Express Company in Asheville. On the eve of the automotive revolution in the early 1900s, he still made his deliveries with a horse and wagon.
In 1904, with Ella's tuberculosis in remission, the family moved to Indian Territory, which then encompassed most of what is now southern and eastern Oklahoma. They settled in Muscogee, which was then in the middle of a land boom, fueled in part by discovery of oil. In addition, tribal land was being broken up into individual parcels, and there was widespread speculation in that land. No longer a shoe salesman, Jacob Spangenberg began working as an agent buying and selling real estate and oil leases. John, his son, went to work with the Dawes Commission, which had its headquarters in Muscogee, in administering the division and allocation of the lands of the Five Civilized Tribes (Cherokee, Creek, Choctaw, Chickasaw, and Seminole). In 1907, Oklahoma was admitted to the Union as the forty-second state.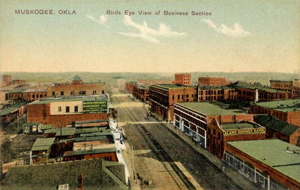 Figure 6. Bird's-eye view of Muscogee, Oklahoma, ca. 1910. (Library of Congress)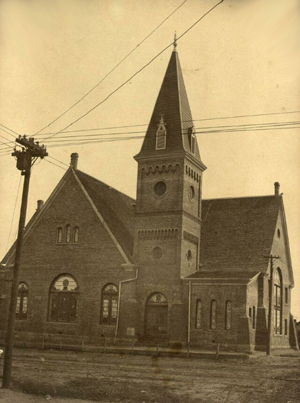 Figure 7. First Presbyterian Church in Muskogee, 1902.(Spangenberg Collection)
Four other Asheville families—the Bostics, Wagoners, Nicholses, and Revells—joined the Spangenbergs in their move to Indian Territory. On the way, they stopped in St. Louis to see the great Louisiana Purchase Exposition, celebrating the centennial of the Louisiana Purchase. The first ice cream cones and the first iced tea were introduced at this exposition, although Elva could not recall if she had either one. She did, however, recall ordering lemon pie at Child's, one of the nation's first chain restaurants.
Muskogee, Oklahoma
Muskogee, Oklahoma, with a population of 5,000, was the territory's second largest town and site of its first Federal district court, established in 1889. Five years later, the Dawes Commission made its headquarters there as well. As a result, the town was said to have the largest concentration of Federal employees outside of Washington, DC.
The Spangenbergs first rented a house without electricity or running water, utilities to which the Spangenbergs were accustomed in Asheville. Soon they moved to a house at 1218 W. Muskogee Avenue, a few blocks southwest of downtown. Later they built their own house at 329 N. 6th Street. In the 1920s, Ella Spangenberg's rheumatism worsened and they built a one-story, three-bedroom bungalow at 1116 Boston Avenue, northwest of downtown. They remained there for the rest of their lives.
Elva loved to cook, sew, embroider, and do other handiwork, yet she also learned how to file the distributor points of the family Buick. She took piano and voice lessons and attended Henry Kendall College in Muskogee before the college moved to Tulsa in 1906. She also spent two years at Hardin College and Conservatory of Music in Mexico, Missouri, but never graduated. The Spangenbergs were life-long Presbyterians and Jacob Spangenberg was a deacon and elder at Muskogee's First Presbyterian Church at 5th and Broadway. 
Elva was exceptionally close to her mother—"we were like sisters," Elva recalled—and devoted much of her life to caring for her parents. When Elva first went to boarding school in Missouri, her mother accompanied her to Missouri and for two weeks lived in a boarding house across the street from the college while Elva got settled.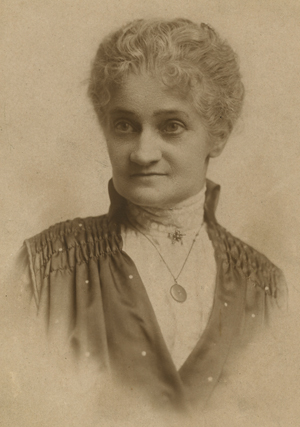 Figure 8. Elva's mother, Ella Guild Spangenberg, c. 1910. (Spangenberg Collection)
Figure 9. Elva's father, Jacob Spangenberg, c. 1910.(Spangenberg Collection)
In general, Mrs. Spangenberg did not like Oklahoma and, being troubled with rheumatism, she spent a great deal of her time at various health resorts, where she "took the waters," as Elva recalled. Elva usually went with her on those trips, which might be to Hot Springs, Arkansas, or the celebrated mineral springs at Mount Clemens in southeastern Michigan. They typically left Muskogee at the end of the spring school term and did not return until after Labor Day. Because of Mrs. Spangenberg's rheumatism and her difficulty in getting in and out of Pullman berths, she and Elva always broke their trips to and from Michigan at a hotel in either Kansas City or St. Louis. While they were away, Jacob wrote them a post card every day and a letter on Sunday and sent them the Muskogee newspaper.
In May 1909, Elva's brother, John, returned to North Carolina and married Flora Worthen, whom he had known when they both attended Orange Street School in Asheville in the 1890s. Mrs. Spangenberg and Elva were already planning to go to Michigan when school was out, but Jacob Spangenberg decided that was "trip enough" for them, so none of the family attended John's wedding.
John and Flora returned to Muskogee and built a two-story house near his parents at 1515 West Broadway but only stayed there for a year or two. As John made plans to build a one-story house, his father offered him the lot next door, but Flora was never particularly congenial with her in-laws, so they built in the West Park section, across from Longfellow School. 
When Flora's father died, she returned to North Carolina to help her mother and younger sisters, Marie and Ruth. They needed help making ends meet, and since Flora disliked Oklahoma anyway, she decided to extend her stay. She was there in the spring of 1917 when an unexpected opportunity arose. Flora's cousin Herbert C. Worthen was general manager of the Southern Division of Western Union in Atlanta, Georgia, and in May 1917 his sister, who was also his secretary, was killed getting off a streetcar on Peachtree at Eleventh Street. Worthen soon called Flora and offered her the job, which Flora eagerly accepted and was soon in Atlanta. Over the next few years, she accompanied Worthen as he traveled all over the southeast in a private railroad car on Western Union business. By the end of World War I, she and John were both settled in Atlanta.
In March 1934, just before his eighty-fourth birthday, Jacob Spangenberg died of pneumonia. John was in Muskogee at the time and had been at the hospital with his father until Jacob asked him to go out and pay the first-of-the-month bills that would come due the next day. John was at the first stop when he was called and informed that his father had just died. Funeral services were held at the Presbyterian church, and he was buried at Green Hill Cemetery in Muskogee, where they had bought a plot a few years earlier. In February 1938, Ella Spangenberg died in her sleep, a few weeks before her eighty-fourth birthday, and was buried next to her husband at Green Hill.
After Mrs. Spangenberg's death, Elva moved out of the house to board with some old neighbors of John and Flora. John had the kitchen in the old house remodeled and modernized before putting it on the market. All of that took some time, but in early September 1939, with the house sold, Elva joined John and Flora in Atlanta.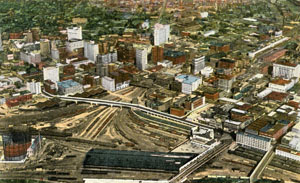 Figure 11. Bird's-eye view of Atlanta, c. 1930. (author's collection)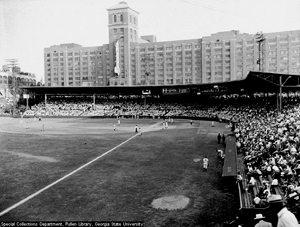 Figure 12. View across Ponce de Leon Ballpark to the Sears building where Elva first worked. (Lane Brothers Collection, Georgia State University)
Atlanta, Georgia
John and Flora, who never owned another house after they left Oklahoma, were living in a large rambling rooming house at 227 Fourteenth Street that was operated by Mrs. Hortense Ulmer, widow of Benjamin F. Ulmer. Eager for the income, Mrs. Ulmer gave up her own room to Elva and slept in a room converted from a porch. 
Elva, at fifty-two, had never worked outside the home, but, as she recalled, "My brother's wife worked and when I came here I didn't want to be lazy." She soon found her first job, working part-time in the mail-order department at Sears and Roebuck's giant store and warehouse on Ponce de Leon. Just before World War II, Elva moved to another rooming house, 485 Wabash Avenue, which was much closer to Sears. In 1941 Elva joined North Avenue Presbyterian Church and was beginning to feel at home in Atlanta. For whatever reasons, Elva moved frequently after she started living away from John and Flora. In 1942, she moved to 45 Muscogee Avenue in northwest Atlanta, and in addition to working at Sears in the morning, she got a job as evening cashier at the Garden Hills Theater, located on Peachtree Road a few blocks north of Muscogee. In 1943, she began renting a small garage apartment behind a house not far away on Peachtree Road.
In May 1944, Elva was hired as cashier at the Rhodes Theater at 12 South Rhodes Center across the street from Amos Rhodes' great Romanesque Revival mansion on Peachtree Street. Part of the city's first shopping center, the theater had opened on 5 June 1938 and was a subsequent first-run house that held over pictures from Loew's Grand, as well as offering an occasional first-run feature. Part of the chain of theaters operated by Arthur Lucas and William K. Jenkins, the theater's manager was Mary Claude Zellner, who had been the late Arthur Lucas' secretary.
After Elva went to work at the theater, she moved to the rooming house of Mrs. Nora B. Rowe, widow of Eugene Rowe, at 1467 Peachtree Street, and joined the other roomers who ate next door at the boarding house run by Rowe's sister, Ossie Babson, at 1459 Peachtree. Usually, however, after finishing work at Sears, Elva would eat lunch at the employees cafeteria, then, weather permitting she would walk the two miles from Sears, across Piedmont Park and through Ansley Park to the Rhodes Theater in time to open the box office at 2:30. Of necessity she was a fast walker and always in a hurry, which earned her the affectionate nickname of "Speegie," a name she never really liked, but was easier for the ushers to say than "Spangenberg."  She worked from opening until after the box office closed, but since the theater was only a block from her rooming house, she could go home for dinner while a relief cashier sold tickets. Elva returned for the rest of the evening but was usually back home by 9:30.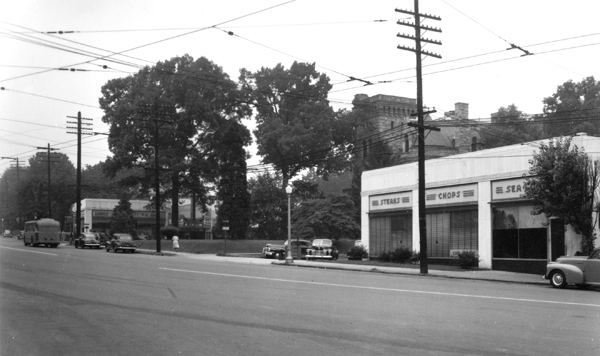 Figure 14. View across Peachtree Street of Rhodes Center (1938) and Rhodes Hall (1903) in 1949. From 1929 until a new building was completed in 1964, Georgia's Department of Archives and History occupied Rhodes Hall. (Lane Brothers Collection, Georgia State University)
As cashier, Elva was meticulous about the bills that came in, straightening all corners and hating to have to give crumpled or worn-out bills to customers in change rather than saving them for the bank deposit.  During the war she saved all the bills with HAWAII printed on the back in bold open face type, which returning servicemen brought back to the states. She also saved two-dollar bills; these she often gave as presents to the ushers on their birthdays.
In October 1944, Tommy Weesner, a nineteen-year old student at the High Museum School of Art, began working nights and week-ends at the Rhodes, first as office assistant, then as assistant manager. He lived over a garage behind a boarding house at 1485 Peachtree, just three doors from where Elva lived. He would become her life-long friend.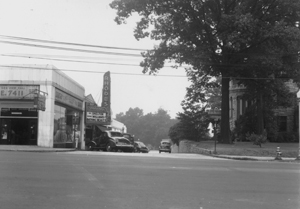 Figure 15. View of South Rhodes Center and the marquee for the Rhodes Theater. (Lane Brothers Collection, Georgia State University)
This was the heyday of the Rhodes Theatre. Adult tickets were forty-four cents for the matinee, fifty-five cents after six o'clock, and it was often "standing room only" on week-ends. The theater had a large staff: manager, assistant manager, floor manager, cashier, relief cashier, doorman, four ushers, projectionist, relief projectionist, porter and maid. A concession girl was added later, as well as a uniformed maid in the ladies lounge on week-ends. There was always an arrangement of fresh flowers from Anderson's Florist in the lobby.
In late 1945, the theater's manager, Mary Zellner, left the Rhodes to work for Southern Federal Savings and Loan, and Joe Fink, a returning serviceman who had worked for Lucas and Jenkins before the war, became manager. Every evening at six o'clock, he and the assistant manager changed into tuxedos.
There were two balconies on either side of the projection booth, with one at the top of the stairs enclosed with glass as a "cry room" for mothers with small children. The balcony on the other side - just outside the office door - was a private box with a locked door for the use of company dignitaries, friends, and family of the staff and sometimes by the general public when there was a full house.  Margaret Mitchell and her husband, John Marsh, frequently came to the Rhodes, and always checked with the doorman about the availability of seats before buying tickets. If the theater was crowded one of the managers often took the Marshes to the private box.
After the war, Sears laid off many part-time employees, including Elva, but she was able to find another part-time job, working mornings at the Woolworths on Peachtree Street near Tenth as a relief clerk filling in for other employees on their days off. She stayed there for six months before putting on an apron and working in the grocery department of H. L. Green Five-Cent-to-Dollar Store on Whitehall, between Hunter and Mitchell Streets.
Sometime in the late 1940s, Elva began receiving a check from Social Security, which was deposited in her savings account as she continued living entirely, and frugally, on her salary from the Rhodes Theater. The small income from investments left by her father and interest from her savings were managed by her brother.
On August 23, 1955, John Spangenberg died of an aneurism at age seventy-one. After services at Spring Hill in Atlanta, he was buried with Flora's family in Salisbury, North Carolina. Originally, the Spangenberg family lot in the Muskogee cemetery had space for five graves, but John had sold the two spaces reserved for him and Flora, leaving only a space for Elva to be buried with her parents. About the same time Flora told the storage company to sell everything it was holding without giving Elva the opportunity to keep anything, even if only for its sentimental value. Elva had some emotional problems following John's death.  She got an appointment to talk to Dr. Thomas J. Anderson Jr. and he became her doctor.  After John's death, Flora continued to live with Mrs. Lamon at the boarding house on Peachtree.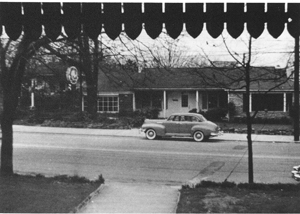 Figure16. View across Peachtree Street of Mammy's Shanty, a popular restaurant after World War II, located just south of Rhodes Theater. (Spangenberg Collection)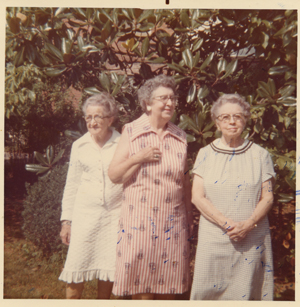 Figure 17. Left to right, summer 1972, Elva Spangenberg, Marie Worthen, and Flora Spangenberg. (Spangenberg Collection)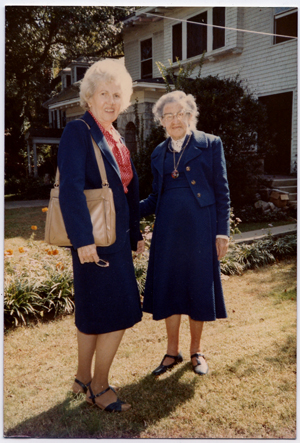 Figure 19. Elva and her second cousin Florence Schaeffer in the front yard of 244 Peachtree Circle, 1985. (Spangenberg Collection
In 1959 when Elva came back from her vacation, Mrs. Rowe, Laura Kilburn and others were playing cards on the front porch. Mrs. Rowe told Elva that she had sold the house but did not know when she would move. Coastal States Life Insurance Company bought the property as a site for a new office building. When Mrs. Rowe found a smaller house at 30 Inman Circle in Ansley Park, there was not enough space for all her boarders, but she told Elva that she had room for her. Elva moved with Mrs. Rowe to Inman Circle, but she had a problem going home to dinner because it was so far from the theatre. Flora, who was still living at 1421 Peachtree, ate at Mrs. Rowe's and drove Elva there, but Flora was a slow eater and not to be hurried, so Elva would often have to walk back to the theater after dinner.
Flora went to visit her sisters in Charlotte and stayed a month.  While she was away, Elva walked along Peachtree Circle ringing doorbells to ask about a room for rent. She found one at number 244 with "Mother" Keesler and her daughter Louise, who worked at the telephone company and sang in the choir at Morningside Baptist Church. Elva moved to Peachtree Circle while Flora was still in Charlotte. At Mother Keesler's Elva roomed with Lucy Pruitt for six years. Laura Kilburn also moved to 244 and Mother Keesler gave them all kitchen privileges. After living at Mrs. Lamon's for four years after John's death, Flora also moved to 244 Peachtree Circle, but she had a private room, while Elva continued to have a roommate.
In late 1956, Mrs. Edith Sheats bought 244 Peachtree Circle from the Keeslers. She remodeled the house but continued to live in West End. When she finally moved to Peachtree Circle, she revoked her paying guests' kitchen privileges, and they began to eat their meals in neighborhood restaurants, of which there were several.
In 1977 Flora Spangenberg broke her hip and subsequnetly had a stroke that put her in Piedmont Hospital for several weeks. Elva spent every morning with Flora at Piedmont, reading her mail aloud to her and catching her up with whatever stray bits of news she could think of to tell her.
After Elva's room-mate Laura Kilburn died in 1978, she and Elva began going about and doing things with Bernice Bennett, a retired teletype operated with Southern Bell.  Originally from near Gainesville, Georgia, she had lived at 244 Peachtree Circle even before Elva, having known Louise Keesler at the telephone company.
On July 22, 1980 Flora Spangenberg died, and her body was taken back to Salisbury for burial beside her husband. Elva asked Patterson's to arrange for a one-way ticket for herself, since she planned to visit Flora's sisters, Marie and Ruth, in Charlotte before coming home. 
With Flora's death, Elva's family ties were reduced to a single second cousin, Florence Schaeffer, in Racine, Wisconsin, who continued to correspond with and occassionaly visit Elva for the rest of Elva's life. Shortly after Elva returned from Charlotte, Tommy Weesner invited her to lunch, and during the course of their meal, he learned that, having accompanied both John and Flora to Salisbury for burial, she had begun to think about her own situation. She voiced her concern that she would be sent back to Muskogee for burial, but that after a forty-year absence, no one would know who she was. She was not even sure if there would be a minister present for the interment.
When the Lucas and Jenkins heirs divided up the theaters in their chain, Frederick G. Storey, Lucas's son-in-law, acquired the Rhodes Theater. Elva remained as cashier. In 1978 Storey sold the Rhodes lease to Landmark Theaters of Albuquerque, New Mexico, which began operating the Rhodes as a repertory cinema. He offered to retire Elva at full salary, let her work as cashier at any other Storey theater of her choice, or make arrangements with the new owners for her to stay on at the Rhodes in her old job. Ninety years old, she elected to stay at the Rhodes. She lived close by and could continue her routine without having to worry about transportation to and from her job.
In July, 1984, John Halliday, manager of the Rhodes acquired the lease from Landmark Theaters, but with the advent of videotapes and VCRs, all theaters struggled. Under Halliday's management, attendance declined to the point that he and Elva were the only employees, with him running the projector while she sold tickets and concessions.
In July 1985, Rhodes Center was sold to real-estate developer Scott Hudgins, and Halliday lost his lease on the theater, which closed the first week in December of that year. Appropriately, the final film screened at the Rhodes was The Last Picture Show.
At first it appeared that Elva would be forced into retirement at age ninety-eight, but on Thursday, 12 December 1985, with only a few days off, Elva started a new job across the street as tour guide in Rhodes Hall, having been drafted for the job by Gregory Paxton, President of the Georgia Trust for Historic Preservation. She would work five days a week, 11 a.m. to 4 p.m. She only asked not to be called "Speegie"—that was a name associated with the theater—henceforth, she would be Elva.
On 30 October 1987, the Georgia Trust hosted a one hundredth birthday party for her at North Avenue Presbyterian Church. Maier and Berkele jewelers, also celebrating a 100th anniversary, designed a gold diamond-studded pin for Elva to commemorate both 100th-year events. She received official greetings from President Reagan, Governor Harris, Lieutenant Governor Miller, and Mayor Young.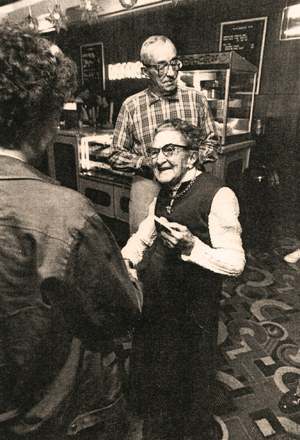 Figure 20. Elva Spangenberg in the lobby of the Rhodes Theater. (Photo by Tom Hill, Spangenberg Collection)
By that time, the neighborhood was changing and many of the old landmarks that Elva knew were being replaced by new office buildings. Eventually, Zesto's, one of a local fast-food chain, at the intersection of Peachtree and Spring was the only restaurant within walking distance for Elva. Every day, after she left Rhodes Hall, she went to Zesto's for supper, until one day, someone stole her purse. After that, she began eating only what she could keep in her room and be prepared in a toaster oven or on a single hot-plate. Her health inevitably declined before anyone realized her poor nutrition and saw to it that she started receiving meals delivered by Meals on Wheels.
Then one Saturday morning, 26 May 1990, Elva got out of bed, fell, and broke her hip. She was admitted to Crawford W. Long Memorial Hospital the following morning, and Dr. Daniel Likingloff operated on her hip. After her stay in the hospital she was transferred to Wesley Woods to recuperate, and to the surprise of many, on July 30, three months before her 103rd birthday and using Flora's old cane, she returned to work at Rhodes Hall as tour guide.
Slower now, she submitted to numerous interviews, including a lengthy set conducted as part of a University of Georgia study of centennarians. Even Hugh Downs interviewed her for his popular television news series, 20/20. Throughout, her routine remained much the same: up at 7, to work by 10:30, home at 4. By 8, having watched Wheel of Fortune, she was in bed. On Sundays, someone would generally pick her up and take her to church. Ocasionally a friend would take her out, but mostly she stayed close to home.
In the fall of 1993, Elva fell again, cracking her pelvis, and this time she did not return to work. Although she made an effort, she could never walk, although she kept much of her old spirit throughout the ordeal. On 12 November 1993, she informed the Georgia Trust that she would be forced to retire and, of her own volition, entered a nursing home.
The following October, the Georgia Trust organized a party at Knollwood Terrace, where she lived, to celebrate her 107th birthday. She was characteristically positive and upbeat, opening presents and blowing out candles on her cake. Within a few weeks, she contracted pneumonia and on 28 December 1994, she died. Mrs. Sheats' son, Lamar, was executor for her estate and made arrangements, including procuring the services of a minister in Muscogee. He, his wife, and Tommy Jones, who had worked most closely with Elva at Rhodes Hall, accompanied the body to Muskogee, where, after a brief grave-side service at Green Hill Cemetery, she was buried next to her parents.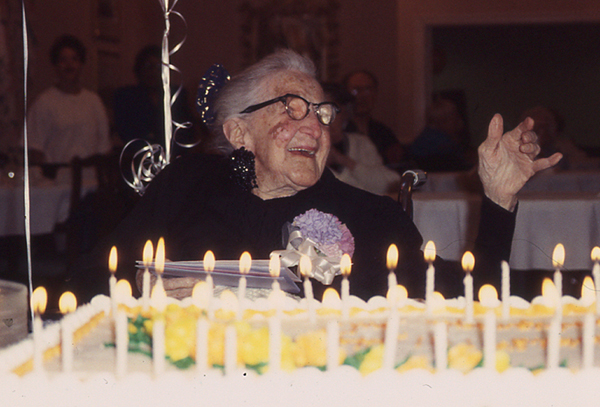 Figure 21. Elva at her 107th birthday party, just a few weeks before she died.