A significant part of the 1950s time warp apparent in the city is the presence everywhere of vintage American automobiles, virtually all of them pre-dating 1959. Most of them are still in use, although I think the rows parked in front of El Capitolio may have been as much stage props as anything else. Some had been beautifully restored, but many more are held together with baling wire, like so much of the city itself. Russian Ladas from the 1970s and 1980s and a few Fiats seemed to account for most of the newer models. The central city had a lot of the little, yellow, two-seater "Coconut" taxis; along main thorougfares, giant buses, some pulled by tractor-trailer rigs, provided cross-town transportation. None of the city was over-run with that bane of urban living, vehicular traffic.
Automobiles are prohibited on most of the narrow streets in Habana Vieja.
| 1950 Dodge | 1948 Mercury |
| --- | --- |

1949 Dodge

1952 Chevrolet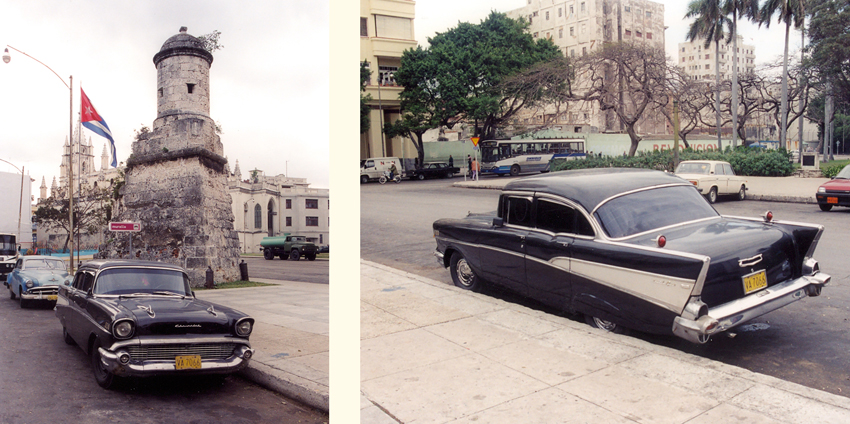 1957 Chevrolet Bel-Air


Of course, most people in Cuba don't have automobiles. One of the favorite modes of transportation were the "coconuts," the open, yellow, three-wheel vehicles left of center in the image at far left. Otherwise they resorted to the "camels," which were these huge, pink, buses towed by diesel tractor-trailer rigs.