Built before 1860, the John Green Burdette House was located about a mile and a half southeast of Lone Oak, Georgia, a small crossroads community in northwestern Meriwether County. It sat a half mile or so east of Flat Creek on a road that Georgia Department of Transportation maps showed as Burdette Road until some time in the last quarter of the twentieth century.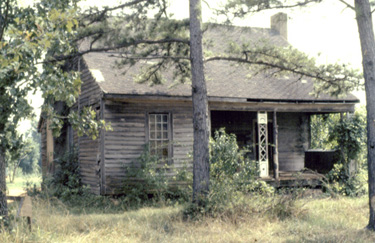 Figure 1. The Burdette House in 1983.
Meriwether County was organized in 1827 out of the last Creek Indian land cession in Georgia, and by 1830 there were nearly 4,500 new residents in the county. Daniel Webster Fling (1813–1890) was among those early residents, and the community that grew up around him became known as Fling's Cross Roads.
In 1901, the settlement was incorporated as Lone Oak, named after a single large post oak that stood at the crossroads. In the early twentieth century, at the height of the cotton boom, Lone Oak had two general stores, two cotton gins, a blacksmith shop, a Masonic Lodge, a two-teacher school, and two churches. The town had a population of nearly 250, but the collapse of the agricultural economy after World War I, sent the town into decline. In 1950 the census enumerated 120 residents; in 2016, the population was estimated at 89. [1]
The progenitor of the Burdette/Burdett/Berdit family in Georgia was John Green Burdette's great-grandfather Humphrey Burdett (1757–1817), one of a surprising number of men with that name who have been documented as early as the sixteenth century. The surname is found in a variety of spellings, but it is interesting that the gravemarkers for even John Green Burdette's parents and one sister drop the final "e."

Humphrey Burdett was born in Hanover County, a few miles north of Richmond, Virginia, and may have there married Margaret McKenny in the early years of the Revolution. They are thought to have lived in Petersburg, where they had at least six children, but by 1788 the family was in Wilkes County, Georgia. [2]

The Burdett's first-born was a son John (1775—1832), who with his siblings reached adulthood in Wilkes County, Georgia. Around 1800, John Burdett married Deborah Prather (ca. 1780—after 1840); a few years later John's youngest sister, Anna, married Deborah's brother James Wallace Prather (1782—1869). They all lived their lives and are buried in northeastern Georgia, but other Prathers and Burdettes would be near neighbors in Meriwether County.
Six of John and Deborah Burdett's children have been documented, the youngest being Thomas Jefferson Burdett (ca. 1814—1875). He grew up in western Wilkes County along Uptons Creek. Around 1837 he married Almeda Murphy (ca. 1814—1890), and in the fall of 1838 their first child, John Green Burdett (1838-1923), was born and named for Thomas's older brother. Five more children followed, the last being a daughter born in 1851. The federal census in 1850 enumerated the family in Wilkes County, but by 1860, most of them were in Meriwether County.
The first of the Burdett family documented in Meriwether County may have been Thomas Jefferson Burdett's older sister Nancy Burdette Wright (c. 1804–ca. 1847), who with her husband Nathaniel Wright (1790–1870) were received as members at Union Baptist Church in St. Mark's in Meriwether County in 1845.
The death of Almeda's parents, both around 1850, may have precipitated the Burdettes move to Meriwether County. The first record of their presence in the county came on 15 August 1853 when their letter of membership was transferred from Rehoboth Church in Wilkes County to Union Baptist Church at St. Marks, Meriwether County, three or so miles south of Lone Oak.
Among their neighbors at St Marks were James Sewell (1783–1859) and his wife Mary Baker Sewell (1785–1849), as well as James' brother Nicholas Sewell (1790–1879) and namesake uncle James Sewell (1765–1852) and their families, all of whom had moved from Franklin County in northeast Georgia in the 1830s. They are buried at the old St Marks Methodist Church cemetery on the Greenville Road. [3]
The old St Marks Methodist church may have been where James and Mary Baker Sewell's son John Pierce "J. P." Sewell (1810–1876) married Louisa Elizabeth Wideman (1820–1897) in January 1837. Louisa, a native of Abbeville County in upstate South Carolina, was the granddaughter of Adam Weidman (1761–1852), who had been born during his own parents' passage from Germany, which his mother did not survive. Louisa's father, Henry Wideman (1789–1835), who anglicized the surname, married Frances Roberts around the end of the War of 1812 and had five children with her before her untimely death in 1828 or 1829.
Louisa was among the orphaned children who quickly gained a stepmother just a few months later when her father married James and Mary Sewell's daughter Mildred in Franklin County, Georgia. They and had two children before joining her parents in an exodus to western Georgia in 1831. The Widemans settled near what became Hogansville, a small town in northeastern Troup County, about seven miles northwest of St Marks. Their third child was born there, but Mildred died from complications a few weeks later. Now with eight orphaned chidlren, Henry married Mary Elizabeth Sewell, who was Mildred's sister or cousin, in September 1832. They had a single child together before he died in 1835.
With her own parents dead, Louisa and John Pierce Sewell returned to settle in northwestern Meriwether County. At his death, he owned two land lots, 138 and 139, 11th District, that lay along Flat Creek and probably more property besides.
Sarah Frances Sewell (1840–1918) was the second of twelve children, most of whom married into neighboring families, including the Flings, Culpeppers, Rossers, Strothers, and others. All of them lived their lives in northwestern Meriwether County except for two sons who are thought to have moved to Arkansas.
On 13 December 1859, John Green Burdette married Sarah Frances Sewell, probably at old Prospect Methodist Church in Lone Oak. His family had been Baptist, and his parents are buried in the cemetery at the site of old Prospect Baptist church. Nevertheless, they raised their children in the Methodist church and both are buried in the Allen-Lee Methodist Church cemetery at Lone Oak..
A few weeks later, he paid his father-in-law $1,300 for Land Lot 140, 11th District. The stated sales price suggests the house was already built, and materials and certain other characteristics support the conclusion that it was built in the 1850s, perhaps specifically for the newlyweds. They would raise ten children in the house. [4]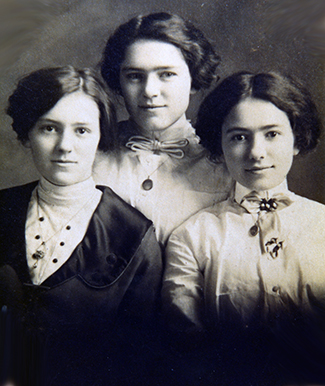 Figure 5. The Moore sisters who grew up in the Burdette House in the early 1900s—(l-r) Lillian, Lucy, and Newtie.
One of their daughters, Lilla Leola Burdette (1869–1925), married Isaac Newton Moore (1858–1898) and moved to Heard County. When he died of typhoid fever in 1898, she and their five children—Sarah Lucy (1890–1964), Newtie Leola (1891–1972), John Alfred (1893–1960), Effie Lillian (1895–1988), and James Burdette Moore (1897–1977)—returned to Lone Oak to live with her parents.
Sarah Sewell Burdette died in 1918 and John Green Burdette in 1923. In October 1925, their old farm was sold at auction to Federal Land Bank of Columbia for $6,800. The sale included 506¼ acres encompassed by Land Lots 117 and 140 and the southern half of LL 118 and, of course, the house they first occupied in 1860. They house is thought to have been rented to the family of Mamie F. Rosser Shuffer (1908–2000) as early as the 1920s. In 1972, Joe N. Rosser of Grantville, Georgia, sold 105 acres out of Land Lot 140, including the house, to Mrs. Shuffer and her husband Alfrez. The house may not have been occupied again after that, as the Shuffers resided in a mobile home set across the driveway north of the house.
Thomas Jefferson Rosser (1803–1853) is the first of that surname to appear in the federal census, in 1830, but by 1840, there were six households of Rossers who among them claimed 96 enslaved African Americans. How Mamie Rosser Shuffer might have been related to any of these white Rossers, either through enslavement or otherwise, is uncertain.
Building Description
The drawings and the description of the building as it existed when it was torn down are based on visual investigation and measurements in 1992 and 1996. Because the house was being used for storage of hay, access was sometimes limited.
The main house, which faced west, had a hall-and-parlor plan approximately 18' by 32'-3" with an enclosed stair in the south room that rose to two rooms on the second floor. A wing, part of which may have been a later addition, extended from the rear of the main house. The sills and plates of the main house were hewn timbers; floor joists were logs with tops hewn flat; rafters were log poles. Studs and lookouts used circular­sawn, full-dimensioned, 2" by 4" and 2" by 6" lumber. Mortice-and-tenon joinery characterized the main house, and siding and trim were installed with machine-cut nails.
The roof line of the porch was not original; the top cornice of the two-story block of the main house was visible beneath the existing porch roof. The room on the north end of the porch was also probably not part of the original construction since corner boards were visible where the room joined the house. However, since structure and finishes of the room contained materials similar to those found in the main house, the room must have been a very early addition.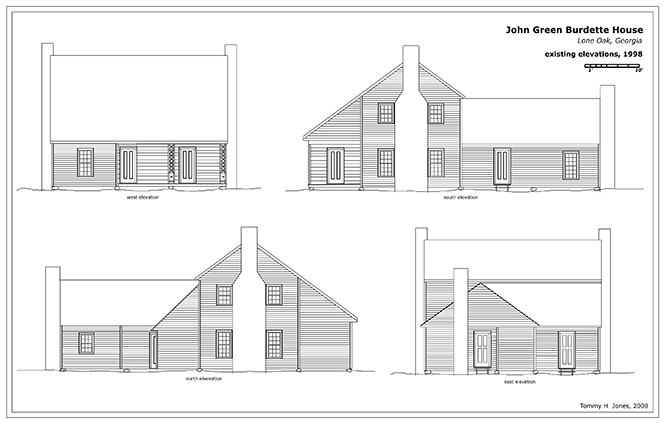 The rear wing, which was in extremely poor condition, was probably constructed in the late nineteenth or very early twentieth century. It was much more loosely constructed using wire nails and without mortise-and-tenon joinery. At its west end was the large masonry chimney for the kitchen, which may have been older than the kitchen structure itself. Two spaces, the kitchen and what was clearly a dining room, both in very poor condition, were created in the wing by a simple curtain wall of vertical, ¾"-thick boards about 6" wide. Most of the floor structure and flooring in the dining room and the kitchen had been replaced, but the poor condition of the remainder of the materials may have obscured the existence of earlier materials.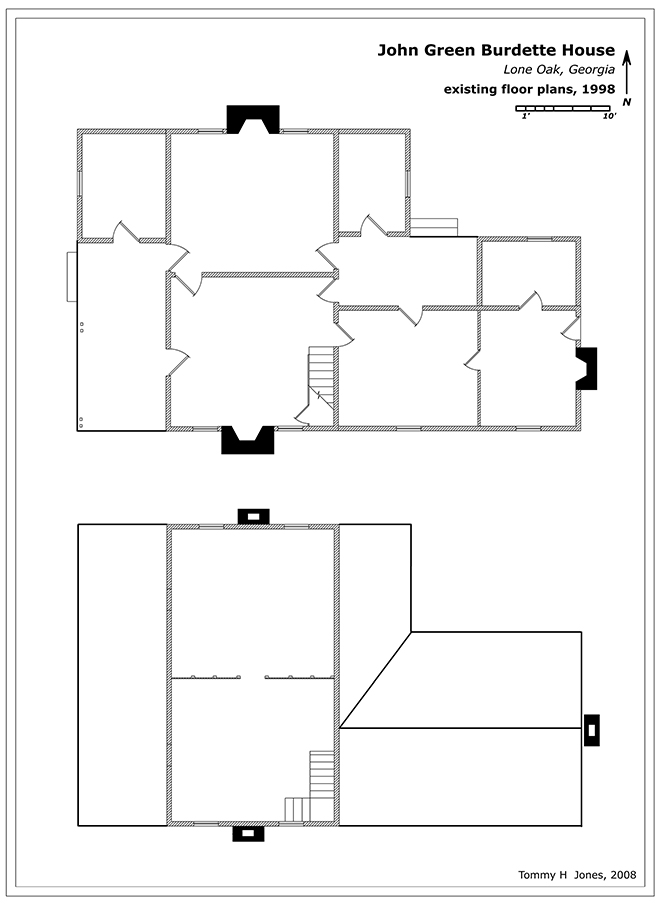 The dining room connected to the south room of the house through what appeared to have been an original door opening. A built-in corner cupboard of uncertain but old age was located in the southeast corner of the dining room. In the northwest corner of the kitchen were three enclosed stair steps, which were the remains of a staircase from the loft that exited in some way on to the back porch. The back porch appeared to have originally been an el but had since been enclosed at its east and north ends.
Windows on the main house were typically 9/9, approximately 2'-4" by 5'-2", except the one on the front porch room which was 6/6 and slightly larger. The windows at each end of the second floor, none of which retained their sash, measured 2'-5" wide by 2'-10" high.
Doors were mostly around 2'-8" or 2'-9" by 6'-8" or 6'-9" high, with two vertical panels; mortise, tenoned and pegged joinery; and hand-planed panels. Remains of early paint were visible on the front porch, with remains of blue paint on the siding siding, white on the door casings, and red on the backband.
The three stone chimneys were all stuccoed.
Stairs to the second floor rose in the southeast corner of the south room, with seven steps to a landing and then three more steps to the second floor. Risers were about 10"; treads were about 11".
Ceilings on the first floor were set at 8'-8". On the second floor, a curtain wall of 1" by 6" boards rose to about 7'-6" and created two spaces, joined by a door in the center of the wall. Ceiling joists had been removed, but these rooms must have originally had board ceilings. Each room had a pair of small windows, with sash missing, in the gable-end walls. The north room had another larger window on the east wall. No other window could be identified. An opening, which might have been an early window, in the west wall of the south room was now used for a hay lift which rose through the front porch ceiling. Most of the boards have been removed from the walls and all of it from the ceilings in that room. Only parts of the newel posts and banister remained at the stairs to the second floor.
The John Green Burdette house had a typical plantation plain-style design, with simple hand-molded baseboards and window and door casing as well as hand-planed, two-panel door panels. It's most extraordinary feature was certainly the design of the pair of columns supporting the roof of the front porch. Each was comprised of a frame of nominally 2" by 2" members joined with mortise, tenon, and pegs. A square panel, cut with a crescent moon, was set at the top of the column and another panel, cut with a five-pointed star was set at the bottom. The author has noted similar columns, but with slight variations in the motif, elsewhere in Meriwether County, suggesting that the same carpenter might have built a number of houses in the area.
The house was demolished around 2004. A horse barn occupied the site in 2009 when the images here were taken. The tall pine tree in both images was directly in front of the house.

Notes
1. Regina P Pinkston, Historical Account of Meriwether County, 1827–1974 (Meriwether Historical Society, 1974), 313–321.

2. Charles Danforth Saggus, Agrarian Arcadia: Anglo-Virginian planters of Wilkes County, Georgia in the 1850s, (Washington Ga. 1996), 50; Lucian Lamar Knight, Landmarks, Memorials, and Legends, Vol. 1 (Atlanta, GA: 1913), 1057.

3. Most of the Sewells in Georgia in the nineteenth century were descendants of one Samuel Sewell (1715–1789) and his two wives, who among themselves had at least thirteen children, most of whom migrated from North Carolina to Georgia in the late eighteenth and early nineteenth centuries and had many children of their own who helped populate the Georgia Piedmont.

4. The deed is dated 27 January 1860, "J.P. Sewell to J.G. Burdett for thirteen hundred dollars, LL 140, 11th district, adjoining said Sewells land on the east, the said Burdette and others, . . . . Signed, John P. Sewell. " Recorded 17 January 1888.


Sources
Meriwether County, Georgia, land and probate records. These have not been searched exhaustively.
The Hudgins Company's plat of Meriwether County, 1910. Downloaded from <http://freepages.genealogy.rootsweb.ancestry.com/ ~carisgenes/MeriwetherCou~/1910PlatMap.html>, accessed 14 November 2009.
Pinkston, Regina P. Historical Account of Meriwether County, 1827-1974. Greenville, Georgia: Gresham Printing Company, 1974.
Saggus, Charles Danforth. Agrarian Arcadia: Anglo-Virginian planters of Wilkes County, Georgia in the 1850s. Washington GA: Mary Willis Library, 1996.
Sewell, Worley Levi. History of Some Sewell Families in America. Privately printed at Stuart Daily News, Inc., Stuart, Florida, 1955. This has provided most of the genealogical information on the Sewells in colonial America and their descendants who migrated tonortheast Georgia after the Revolution.
United States Census, Population Schedules, 1830-1940.