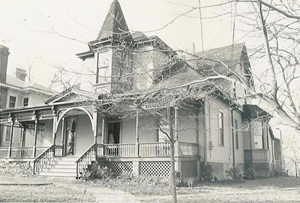 Figure 1. Hammonds House, 1998.
Located at 503 Peeples Street, S. W., Land Lot 117 of the 14th District, the Hammonds House is among the oldest houses remaining in Atlanta's historic West End. [1] Now known for its last residential owner, Dr. Otis Thrash Hammonds (1929–1985), the house was originally built around 1872 by Malcolm Johnston (1847–1920), son of a prominent West End educator. Johnston enlarged and remodeled the house to a more fashionable design, probably in 1883 or 1884, and was still there when West End was annexed into the City of Atlanta in 1894. In 1901, Johnston sold the house to a plumber who soon went bankrupt, leaving the old Johnston property to be subdivided for new residential development. In 1910 the house was acquired by James Whitaker Bigham (1866–1927), who with his siblings and their children would own the house for most of the next seventy years. His sister Madge A. Bigham (20 September 1874–11 August 1957) was one of Atlanta's pioneers in the kindergarten movement and, for many years, operated a school in an addition at the rear of the house. She was also a well-known author who published a dozen children's books in the early twentieth century.
The house remained in the Bigham family until 1979 when it was sold to Dr. Hammonds, who subsequently rehabilitated it for his residence. His untimely death in 1985, left the future of the house unsettled until it was acquired by Fulton County in 1987. Through a long-term lease with Fulton County, the house is operated as the non-profit Hammonds House Museum, one of the area's premier cultural institutions and the State's only museum devoted to the exhibit and research of African-American art. The house is part of the West End historic district listed in the National Register of Historic Places.

West End
n the years before the Civil War, the area that is now West End remained rural farmland, most of it owned by a handful of people. One of those was James Alston Jett (1796–1876), scion of one of the county's earliest pioneer families, who bought Land Lot 117 in 1840, which included the present site of the Hammonds House. Jett, however, continued to live on his original farm in Land Lot 109 near the present intersection of Martin Luther King Jr. Drive and James P. Brawley Drive and probably bought Land Lot 117 mostly for its agricultural potential. [1]
By 1860, Atlanta, which grew up around a country crossroads a couple of miles northeast of West End, had a population approaching 10,000, and demand for country residences was rapidly expanding. Sixty-five years old, Jett was reducing his farming operation and, on the eve of the Civil War, he sold the eastern half of Land Lot 117 to John J. Thrasher (1818–1899). "Cousin John," as he was sometimes listed in early city directories, had opened one of the first stores in what would become downtown Atlanta in the late 1830s and is prominent in the annals of the city's history throughout the antebellum period. He built a large brick house on Ashby Street in the 1850s, which remained a landmark until it was torn down in the 1930s. Thrasher owned a considerable amount of real estate southwest of the city and was probably only speculating when he bought the property in Land Lot 117. [2]
In 1862, Thrasher sold Benjamin B. Amos a 70-acre tract in the southern half of Land Lot 117, encompassing an area bounded roughly by present-day Ralph David Abernathy Boulevard on the south, Ashby Street on the east, Lucille Street on the north, and Lawton Street on the west. The property included a "cabin," although its location was not given. No biographical details have yet been located, unless he is the same Benjamin B. Amos who was appointed postmaster at Corinth in Heard County, Georgia, in 1834.
In 1864, the property was between two lines of Confederate fortifications and was only a mile or so southeast of the site of the Battle of Ezra Church, one of the major battles in General Sherman's campaign to take the city. Union troops camped all around Atlanta throughout late summer and fall in 1864. It is unlikely that many trees or structures remained standing in Land Lot 117 by the time the army decamped for Savannah.
Amos sold the property in 1865, but his name lived on for awhile in Amos Street. Later renamed Oak Street, it may have been extended through Land Lot 117 around this time. There is no mention of any building on the site. [3]
The new owner was James H. Porter (1829–1897), one of Atlanta's wealthiest bankers and one who had a substantial role in the early development of West End. Lucille Avenue, just north of the Hammonds House, was originally named Porter Street in his honor and his name still survives in Porter Place downtown. Perhaps as early as 1865 and certainly by 1866, development of West End was well underway. [4]
Growth was so rapid in West End in the aftermath of the war that Atlanta's Daily Intelligencer reported in February of 1867 that "lots have been purchased and houses have gone up like magic" and that the suburb even "boasts its Academy" and "two full-fledged stores. . . . and thus," the report concluded, "we find the star of our delightful little suburban village in the ascendant. . . . Vive la West End." Also in February 1867, both of the railroad lines that passed through West End established commuter stops, no doubt in response to already significant residential development.
In 1868, West End was incorporated and in keeping with its promoters' ambitions, the old Lickskillet Road was renamed Gordon Street, and new north-south streets were in place: Lee, Ashby, Peeples and Lawton. By that time, too, Amos Street (which would be renamed Oak Street in the 1880s) and Porter Street (renamed Lucille Street) were also in place. Peeples Street was apparently named in honor of Cincinnatus Peeples (1816-1877), a long-time judge on the Atlanta Circuit of State Court. Peeples was also the law partner of Evan Howell (1839-1905), one of the early investors in West End, who built a large house on Gordon Street just east of Peeples in the 1870s. In 1871, West End was connected to Atlanta by the city's first street-car line, the Atlanta Street Railway Company and had a population approaching 700. [5]
The Johnston House, 1872–1901
The academy mentioned in the 1867 description of West End was operated by Mark Johnston (1817-1884). Johnston with his wife Elizabeth (1822-1893), their son Malcolm (1847-1920), and their daughter Sarah moved to West End after the Civil War, probably from Cartersville in 1865 or 1866. "Colonel" Mark Johnston, who had fought at Dalton during Sherman's Atlanta Campaign in 1864, operated his West End Academy until the late 1870s. The Academy is thought to have been located on the southwest corner of Peeples and Oak, which was also the location of Colonel Johnston's residence according to Atlanta city directories. Coincidentally, Peeples Street Elementary School was built in that same block in the early twentieth century. Although Johnston's address is listed simply as "Gordon Street" (now Abernathy Boulevard) or "West End" in the city directories in the 1870s, the real estate that he owned included property on Peeples Street.
Mark Johnston's son Malcolm taught at the Academy until about 1871, when he became secretary to the Georgia State Agricultural Society and Georgia State Fair, a position he held until about 1880. He was also admitted to the bar around this time and made his career as corporate counsel. Malcolm also married in 1871 and moved out of his parents' house, boarding with, oddly enough, a "Mrs. Hammonds" for about a year. In April 1872, with his wife, Imogene, expecting their first child, Malcolm Johnston paid James H. Porter $450 for a lot on Peeples Street, across Amos (now Oak Street) from his father's residence and academy. [6]
With 200' on the west side of Peeples and 400' along the north side of Amos, the lot contained a little over 1¾ acres, which was a typical size for many of the early lots in West End. Johnston must have built a house that same year; in 1873, the first valuation of his Peeples Street property was set at $2,000. Investigation of the existing Hammonds House shows that Johnston used some second-hand materials in constructing his house, which was not at all an unusual practice, especially amid the economic hardship that most people felt in the years after the end of the Civil War. Many buildings had, of course, been destroyed during the war. Many others were ruined as the armies of both sides stripped off siding, trim, and anything else that could be used to build roads, fortify the city and feed the thousands of soldier's camp fires in the summer of 1864. After the war, demand was high and supply low so that any lumber that survived, particularly framing lumber, would have been especially valuable. As a result, if a building was uninhabitable, it would be dismantled and its materials reused. The exact fate of "White Hall" tavern is not known but many have believed that it was taken down after the war and its materials incorporated in the construction of a now-destroyed house on Oak Street. [7]
Johnston's house was substantial but probably not stylish in its detailing. It was certainly not the large house we see today, as several details of its construction show. Differences and anomalies in materials and construction techniques (see the architectural description below) suggest a remodeling of the house within a few years of its original construction. Additional evidence for remodeling is found in the significant increase in the property's valuation in the county's tax digest between 1881 and 1883 (the 1882 digest does not exist), suggesting that the house was remodeled about that time.
The original house may have been as small as three or four rooms, one story, finished with lap siding and plain 2/2 windows. Italianate eave brackets may have been present, too, but the only other architectural decoration might have been in the balustrade and trim of a front porch, if there was one. Typically, the houses that were built in the aftermath of the Civil War were utilitarian structures, their plainess relieved perhaps by simplified Italianate eave and porch brackets. With the awful economic conditions after the Panic of 1873 and the start of the so-called Long Depression, there was little building of any kind for the rest of that decade. Many, however, like the Italianate house Joel Hurt remodeled for his own home in 1886 as he was developing Inman Park, were subsequently remodeled during the boom years of the 1880s.
Material characteristics of the existing house show that it is the product of remodeling of an earlier structure and, with stylistic details, suggests a construction date in the 1880s. Historical evidence suggests that the house was built in 1883 or 1884. By the time Johnston was able to expand and remodel his house, the Queen Anne style of architecture was new and very fashionable for those who could afford its usual extravagance of detail. Edward Peters' great house on Ponce de Leon Avenue was but one of the earliest and most magnificent examples in this city of that popular style. Most of the stylish details that are visible on the Hammonds House today, including the tower, the shingled upper story, the bay window, and the Eastlake-inspired front porch trim, were added in the early 1880s.
The remodeling of Johnston's house was contemporaneous with Joel Chandler Harris' remodeling of the Wren's Nest in 1884, and it is possible that the same architect or builder was involved with both projects. The Wren's Nest was originally built about 1867 by George Muse, who would found one of Atlanta's best-known men's clothing stores twenty years later. Muse expanded the two-room house to six rooms about 1872 and began renting the house to Harris in 1881. Three years later, Harris bought it and hired architect George Pharis Humphries to remodel it into the Queen Anne house that exists today.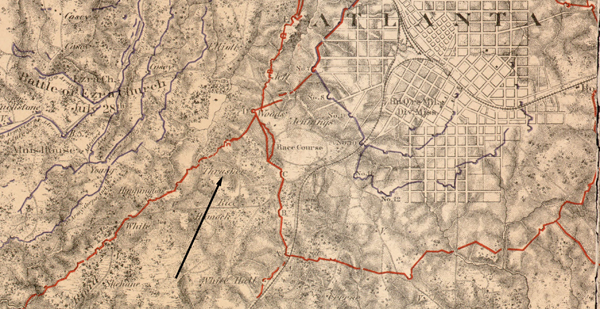 Figure 3. Detail from map of Atlanta in August 1864 during the Union army's seige of the city, annotated with an arrow to locate "Thrasher," who then owned the eastern half of Land Lot 117 on which the Hammonds House is now located. It was only part of some 4,000 acres that he owned in and around Atlanta. The red lines mark the Confederate fortifications. White Hall is shown further south than its actual location in this map.
George Pharis Humphries
Born in Ohio, Humphries (1837–1885) worked as an architect in Cincinnati after the Civil War before moving to Atlanta about 1881. After the terrible depression of the 1870s, Atlanta boomed in the 1880s with plenty of work for an architect. Humphries entered a partnership with the noted Atlanta architect Gottfried Norrman (1846–1909) two years later and probably assisted Norrman with the house that he designed for Edward Peters in 1883. Located on Ponce de Leon Avenue, the Peters House was restored in the early twenty-first century by the Savannah College of Art and Design and remains one of Atlanta's earliest and finest examples of the Queen Anne style. Humphries and Norrman also submitted an entry in the competition for the design of the new State Capitol in 1883. Although theirs was one of the three finalists, they lost the contract to a Chicago firm. Humphries partnership with Norrman ended with the Capitol competition, after which he began an independent practice. He is credited with the original Park Avenue Methodist Church in West End and the now-demolished St. Luke's Episcopal Church on Houston Street, all completed in 1884.
A resident of West End, Humphries often traveled and, in order to avoid taking the trolley back home from the downtown depot when returning to the city, was in the habit of jumping from the train, which did not then stop in West End. He was killed in 1885 when he made his last jump from a train that was behind schedule and did not slow, as expected, at the Whitehall Street crossing. He is buried at Westview Cemetery. [8]
Humphries' first listing in the city directories is in 1883 (data collected in late 1882), which shows him living in Malcolm Johnston's house on Peeples Street. Certainly, then, Humphries and Johnston knew each other and it is possible that Humphries undertook renovations of the house for Johnston during this period, although the evidence is, so far, circumstantial. Whether or not Humphries was the architect for Johnston's remodeling, it is certain that the house was remodeled and expanded in the early 1880s. By then, Johnston had entered a new career as an attorney, the economic depression of the 1870s had lifted, and Atlanta was booming again.
West End was in its heyday. It was, according to the Constitution, "empathetically a residence community. There are no manufactures, with soot and dust, no paupers, but a thrifty well-to-do class of people, who generally own their homes; who have their gardens, their flower yards, their horse and cow and fowls, and, who, away from the noise and dust and strife of the great city, live in quiet and comfort." Annexed as Atlanta's Seventh Ward in 1894, the neighborhood continued to grow and prosper. [9]
In 1901, Johnston sold his house on Peeples Street and moved to a house at 202 Capitol Avenue. He died in Marietta in 1920 and is buried along with his wife and several of his children at Atlanta's Oakland Cemetery.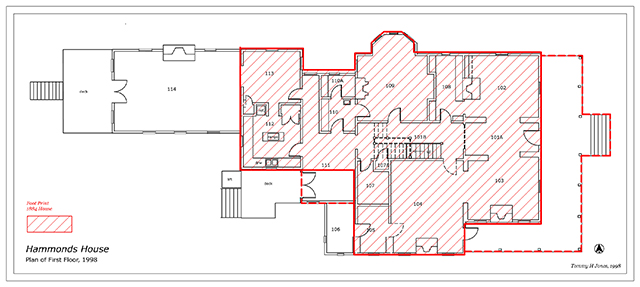 Figure 12. Plan of first floor with 1884 plan highlighted in red. (Drawing by author)
Transition, 1901-1909
The new owner of the house at 123 Peeples Street was Millard C. Vandiver, a local plumber, an. Vandiver declared bankruptcy about 1904, but he continued to occupy the house until 1908. During that time, title to the property went first to Fair Dodd Construction Company in 1904 and then to the Home Investment Company in 1908. It was probably at this time that Johnston's large lot at the corner of Peeples and Oak was subdivided and six more houses (two on Peeples and four on Oak, all of which are still standing) were built on the property. The house was not listed in the 1909 city directory, by which time Vandiver had apparently recovered his finances and moved to Peachtree Place in what was then "North Atlanta."
The Bigham House, 1910-1979
In 1910, Home Investment Company conveyed 123 Peeples Street to James Whitaker Bigham, who moved into the house that year with his sisters, Eugenia, Madge, and Katherine. For most of the next seven decades, Bighams would own and occupy the house. The West End house was likely renovated at that time and perhaps wired for electricity for the first time. The only other renovation that can be assumed to have occurred before World War I is the installation of the existing parquet floor in the front hall.
The siblings were the children of the Rev. Robert William Bigham (1825-1900), a Georgia-born Methodist minister who began his career as a missionary to Panama in 1853 and the gold fields of California. He married Charlotte Elizabeth Davies in California, where their first child was born in 1858. By the time their second child was born in 1860 they were back in Georgia where he spent the next forty years. His first wife died in 1871, leaving him a widower with eight young children, all under ten years of age: Robert J., Eugenie, Paul, James W., twins Kate and Earnest, and twins Mattie and Maggie, who would later be known as Madge. On 25 December 1872, he married Sarah Jane Davies, with whom he had at least four more children—Lewis, Hattie, Ruth, and Milledge—by 1880.
Like all Methodist parsons, Bigham was regularly transferred, serving a dozen or more churches in the North Georgia Conference of Methodist churches before his retirement in the 1890s. He was also the author of several children's books, the best-known of which was Vinny Leal's Trip to the Golden Shore, originally published in 1883. He died in Demorest, Georgia, in October 1900. [10]
The best-known of the reverend's children was his daughter Madge Alford Bigham (1874 –1957) while her parents were still in LaGrange, Georgia. She never married and would live in the house on Peeples Street longer than anyone else. She attended the Female Academy in La Grange and then Lucy Cobb Institute, the renowned girls' school in Athens, Georgia, before graduating from the Georgia Woman's College in 1896. At least by 1902, she was principal of the Atlanta Free Kindergarten, located on Fort Street just east of downtown.
The Atlanta Free Kindergarten Association was founded in 1895, part of an international "Kindergarten Movement" that began in central Europe in the 1840s. The first kindergarten in the United States was formed in 1856. The Free Kindergarten Association lobbied the Georgia legislature for decades to establish kindergartens in schools across the state. They failed, but their own activities continued. In fact, the co-founder of the national PTA, Selena Sloan Butler, who founded her kindergarten in the living room of her home near the Butler Street YMCA, began with just such an effort as Madge Bigham's by educating the children in her own home. Some kindergarten efforts, such as Selena Butler's, succeeded in integrating informal educational activities and non-curricular support with the regular activities of their community schools. Some remained and became institutionalized within churches and other organizations. Many vanished. The back room at Hammonds House may be the only surviving structure directly related to the kindergarten movement in Atlanta in the early twentieth century.
Madge's work as a kindergarten teacher, which she carried on through the 1930s, precipitated one of the most significant changes to what is now the Hammonds House. Shortly after 1911, when the house first appears on the Sanborn Fire Insurance maps of the city, a major addition was made to the rear of the house, apparently designed specifically to accommodate Madge's new West End Kindergarten. According to one source: No expense was spared [by Bigham] to give West End one of the most commodious and best-equipped kindergartens in the city. A building especially for children's use was erected in connection with the residence at 123 Peeples Street. With an ideal of fresh air and sunshine, a large play-room was provided in connection with a work-room and forty-foot veranda for work and play in the open air. [11]
Madge Bigham also had a long career as a writer of children's books. Her first book, Stories of Mother Goose Village, was published in 1903, and her sixth book, Fanciful Flower Tales, in 1910, the year they moved to Peeples Street. Her books were popular, some going through as many as three editions. Several of her books remain in print, including her Stories of Mother Goose Village, which was reprinted by Cornell University Library in 2009. [12]
Madge's brother James never married and, when he died in 1927, he left the house to his spinster sisters, Eugenie, Madge, and Kate. Eugenie died in 1929, by which time, at least one apartment appears to have been completed in the house that was now numbered 503 Peeples Street. Several Bigham relatives also lived with Madge and Kate during the 1930s, including some of their siblings, nieces, and nephews. In the early years of the Depression, another apartment appears in the city directories, perhaps created in the old kindergarten wing to the rear. Madge is thought to have lived in the apartment on the south side of the first floor, which included a small shed-roofed room that was constructed at the rear of the house before 1932, probably for a bathroom and kitchen. Other changes to the house probably did not go beyond closing doors and creating one or two extra kitchens and bathrooms. Because of the changes to the house in the 1980s, it is not known exactly how the house was divided during this earlier period.
In 1934, Madge Bigham's brother Ernest, his wife Mary, and their two children moved into Apartment #2 in the house. Their daughter Alice achieved some fame as an actress in the late 1930s and early 1940s, and appeared in the Broadway production of The Ziegfeld Follies of 1943. With Kate Bigham's death in 1940 and Ernest Bigham's death in 1947, Madge was left to manage the house with Ernest's widow. Madge died at her home on Peeples Street on 11 August 1957 and was buried at Westview Cemetery in Atlanta. [13]
Mary Bigham, Ernest's widow, continued to rent two apartments in the house through the 1960s and most of the 1970s. These were difficult years for West End as so-called urban renewal, which began after World War II, took a tremendous toll on the neighborhood, where so much of the building stock dated to the nineteenth century. Construction of I-20 in the early 1960s brought the demolition of all of the housing on Peeples Street north of 503. By then, all of the historic houses on the east side of that block of Peeples were gone as well. This and the rapid transition of the neighborhood from majority white to majority black as a result of massive "white flight" resulted in many of the older houses simply being abandoned. Although Mary Bigham did not abandon her house, her job as cafeteria manager at Spring Street School would not have given her enough financial resources to maintain it. By the time she died in 1977, her house on Peeples Street was fast approaching ruin. After sitting vacant for two years, during which time it is reported to have been badly vandalized, the house was finally sold by Bigham's heirs in 1979.
The Hammonds House, 1979-1987
The new owner of the dilapidated house at 503 Peeples Street, which had been condemned by the City, was Dr. Otis Thrash Hammonds. He was born to Avery and Elmora Hammongs in Chattanooga, Tennessee, on 5 March 1929, but the family soon moved to Birmingham, Alabama, where he spent his youth. A veteran of the Korean conflict, he attended Morehouse College, but graduated from Lincoln University in Chester County, Pennsylvannia. In 1963, he graduated from Meharry Medical College in Nashville, Tennessee. [14]
Dr. Hammonds worked for two years at the Veterans Administration's hospital in Dekalb County before entering private practice. He was affiliated with several hospitals, including Southwest Community Hospital on Fairburn Road in southwest Atlanta where he was, chief anesthesiologist and chief of staff.
Hammonds was also a major patron of the arts and supported several struggling young black artists over the years. He was on the boards of the High Museum, the Atlanta Public Library, the Atlanta Preservation Center, and other arts organizations.
A bachelor, Hammonds was part of a new generation of Atlantans who began a movement to preserve what remained of the city's Victorian heritage. The movement had begun in 1970 in Inman Park, another decaying Victorian neighborhood that had recently been torn apart by demolition for proposed freeway construction. By the time Dr. Hammonds bought his house in 1979, a renaissance was underway in West End, too, with Peeples Street a particular focus of attention. Because of the age and architectural distinction of the house, Hammonds' restoration of the old Johnston-Bigham home to a single-family dwelling was particularly important. There is, unfortunately, very little documentation for Hammonds' actual treatment of the house, although many of his changes were made with display of his large collection of African American art. Except for physical evidence in the building itself, a set of black-and-white photographs that were taken as the work was nearing completion in 1984 is the only documentation that has been located.
Dr. Hammonds moved into his newly-restored house, along with his extensive art collection, early in 1985. Unfortunately, he was already ill with leukemia and enjoyed the house for only a few months before his death on 14 June 1985. The following year, the Atlanta Urban Design Commission made a posthumous award to Dr. Hammonds for his restoration of the house. In 1987, Fulton County bought the house and Hammonds' art collection from his heirs and opened the house that year as an art gallery and a resource center for African American Art, the State's only African-American museum of fine art. It is now operated by a non-profit organization, Hammonds House Museum, Inc.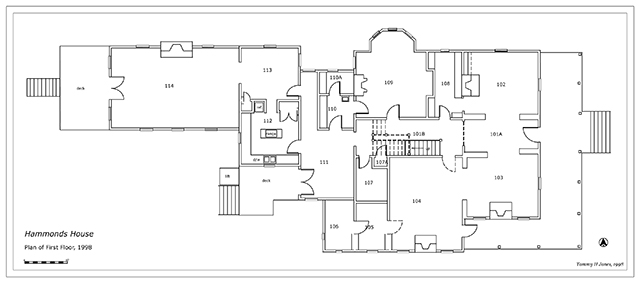 Figure 22. Plan of first floor of Hammonds House, 1998.

End Notes
1. The original deed is recorded in DeKalb County. Also see Franklin G. Garrett, Atlanta and Environs Vol. 1 (University of Georgia Press, 1954), 44.
2. Fulton County Deed Book E, 154; Garrett, Atlanta and Environs, Vol. I, 165-167, 206-208.
3. Fulton County Deed Books F, 409, and H, 537, recorded these deeds but the deed books were lost about 1880. Book TT, 119 & 204, re-records these transactions. See Garrett, Atlanta and Environs, Vol. II, 152 & 350 for more information on James H. Porter.
4. Porter Place, just south of Peachtree Street and Ralph McGill Blvd., is named for him.
5. Timothy J. Crimmins, "West End: Metamorphosis from Suburban Town to Intown Neighborhood," Atlanta Historical Journal, Vol. XXVI, #2–3, 1982, 33–50; Garrett, Vol. I, 751.
6. Fulton County Deed Book T, 236.
7. Cooper, History of Fulton County, 72.
8. See Atlanta Constitution, 7 August 1885, for account of Humphries' death; Atlanta Journal and Constitution Magazine, 10 February 1974, for a biography by his great-granddaughter.
9. Garrett, Atlanta and Environs, Vol. II, 222.
10. Biographical information for Rev. Bigham is mostly taken from the website of Bigham Chapel United Methodist Church in Harris County, Georgia: <http://www.315charge.org/>, accessed August 2011.
11. Quoted in "Historic Property Information Form" for Hammonds House; original documentation at Atlanta History Center was not located.
12. Who Was Who Among North American Authors, 1921-1939, Vol. I (Detroit, Gale Research Company, 1976), 152.
13. Atlanta Constitution, 20 February 1940, photo by Kenneth Rogers. 14. Atlanta Constitution, 16 June 1985.
Sources of Information
Atlanta City Directories.
Atlanta Constitution.
Cooper, Cornelia E., "History of West End, 1839-1910," The Atlanta Historical Bulletin, Vol. VIII, #3, 65-94.
Crimmins, Timothy J.  "West End:  Metamorphosis from Suburban Town to Intown Neighborhood," The Atlanta Historical Journal. Vol. XXVI, #2-3, 1982.
Fulton County, Superior Court Record of Deeds and Mortgages.
Fulton County, Tax Digests, 1870-1890.
Gale Research Company. Who Was Who Among North American Authors, 1921-1939, Vol. 1. Detroit: 1976.
Garret, Franklin G. Atlanta and Environs (University of Georgia Press, 1954).
"George Humphries," file on architect at Historic Preservation Division, Georgia Department of Natural Resources.
Judson, Sarah. "Cultivating Citizenship in the Kindergartens of Atlanta, 1890s-1920s," Atlanta History, Vol. XLI, #4, Winter 1998.
Latham, E. B., and H. B. Baylor. Atlas of Atlanta Ga. 1893. Atlanta: Foote & Davies, 1893.
Sanborn Fire Insurance Maps, 1911, 1924, 1931