The marriage of Sarah Jane Wesley and Andrew Jackson Davis in 1852 joined in marriage two families that had been among the earliest white settlers of Fayette County, Georgia, in the 1830s. Their ancestors were mostly Welsh and English, and nearly all of them were in eastern North Carolina before the Revoutionary War. In the late eighteenth and early nineteenth centuries many of them migrated into upstate South Carolina and east and southeast Georgia. In the 1820s and early 1830s, their parents with other family members came to then-new Fayette County in the Georgia piedmont where they bought property and settled southwest of Fayetteville.
The Davises
Davis and its many variants, especially Davies, is one of the most common surnames in Britain and America and, since the Middle Ages, has been generally associated with the Welsh, for whom St. David (c. 500 - 589) is the patron saint. Andrew Jackson Davis's paternal ancestors are thought to have immigrated from Wales, but exactly when and where they arrived has not been documented, since the earliest certain records of those Davis ancestors that have been located are in eastern North Carolina in the last quarter of the eighteenth century.
Quite possibly, they were among the many Quakers, Baptists, and other non-conforming Protestants who found Britain less than hospitable after the Restoration of the monarchy in 1660, especially in the latter years of the reign of Charles II, and made the decision to emigrate. In Wales, the east central counties of Montgomery, Radnor, and Monmouth sent thousands of emigrants to the American colonies over the next quarter century, most of them attracted to the promise of religious liberty in William Penn's Pennsylvania, where Quakers and Baptists were granted tens of thousands of acres in the early 1680s.
A generation later, in October 1701, three Welsh men—William Davis, David Evans and William Willis—petitioned Penn for a tract of 30,000 acres, the land to be divided and deeded to settlers from south Wales, including some who were then settled in Radnor Township in Chester County, ten or twelve miles northwest of Philadelphia. The grant, known afterwards as the "Welsh Tract," stated that they were to have "thirty thousand acres if there be so much vacant in the place hereafter expressed; that is to say, behind the town of New Castle westward, extending northward and southward, beginning to the westward seven miles from the said town of New Castle, and extending upward and downward as there shall be found room by regular strait lines as near as may be." By 1710, the population was such that it was organized as Pencader Hundred, the "hundreds" being the basis of representation in the Delaware General Assembly.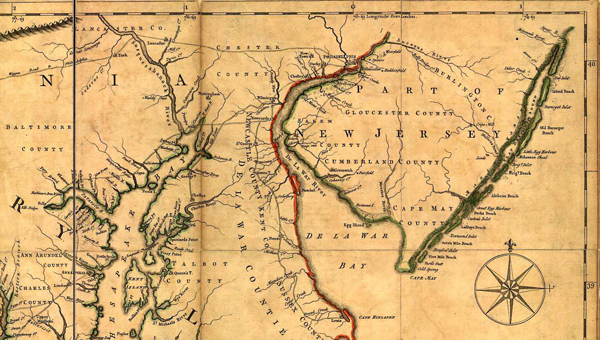 By the second quarter of the eighteenth century, continued immmigration sent some in search of cheaper land elsewhere, including some of the Welsh from Pencader Hundred who began settling along both branches of the Cape Fear River around present Duplin County, North Carolina, as early as 1725. They were drawn in part by the bounty placed on the production of naval stores, including sawn lumber, shake shingles, and staves, and as their parents and grandparents had pioneered Pennsylvania and Delaware in the late seventeenth century, so they would pioneer the frontier of coastal North Carolina in the early eighteenth century.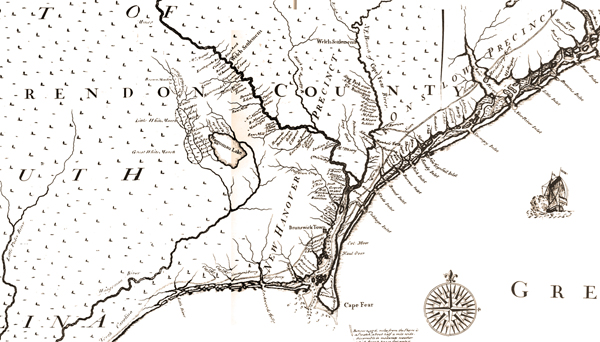 There is only circumstantial evidence to support the idea that Andrew Jackson Davis' ancestors were part of this migration from Wales to the Mid-Atlantic colonies in the 1680s, and on to eastern North Carolina before the Revolution; there were certainly other ways they could have come; but perhaps as early as the 1760s, his maternal grandfather was certainly in Anson County in the southern North Carolina piedmont. The county was created in 1750 as the steady westward expansion of white settlement continued, and it is not unlikely that both of Andrew Jackson Davis' grandfathers and at least some of his great-grandfathers were part of that settlement.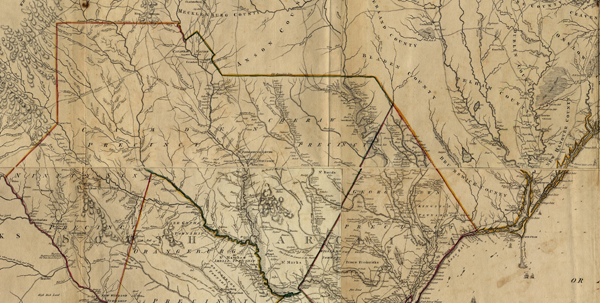 Andrew Jackson Davis' paternal ancestors have not been identified beyond his father, Zadok Davis (1788-1863), who was born in North Carolina, probably in Anson County, and his mother, Elizabeth "Betsy" Brassell (1792-1864), who was born in South Carolina, probably in what is now Saluda County.[1] Her father, Britton Brassell (1750-1827) was probably born in North Carolina; her mother, Laodice "Dicey" Davis (1755-1824), definitely was born there, the daughter of Christopher and Mary Davis, who were themselves among the earliest settlers of Anson County, perhaps as early as the 1760s.[2] Christopher's father, William Henry Davis, is thought to have been born around 1715 at what would become Polkton in western Anson County, North Carolina. Christopher's grandfather, Evan Davis, is thought to have been born in 1695 in Monmouthshire, Wales, where his family had lived for at least a century and probably much longer. What, if any, relationship there might have been between Christopher Davis and Zadok Davis has yet to be established beyond Zadok's marriage to Christopher's granddaughter, Betsy Brassell.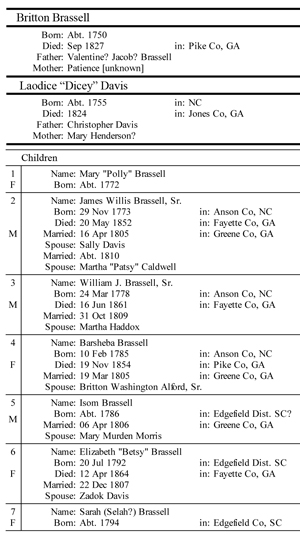 Brittain and Laodice Davis Brassell
In 1778-1779, Britain and Dicey Davis Brassell moved their young family, which would have included their sons James and William and perhaps a daughter Mary, on to land in southern Anson County somewhere west of the Pee Dee River. They would eventually have as many as seven children, although three of those may not have lived to adulthood.
At some time between the birth of their daughter Barsheba in February 1785 and the First Federal Census in the summer of 1790, the Brassells moved again, this time to Edgefield County on the western South Carolina frontier. This probably occurred in 1787, and they eventually acquired at least a hundred acres near the juncture of Mine Creek and Dry Creek, some seven or eight miles south of present-day Saluda, South Carolina. The First Federal Census in 1790 recorded "Brittain Brazel" in Edgefield County as head of a household that included six other individuals, who were not named. They must have included his wife; his two young sons, James Willis and William J.; his daughter Barsheba; an unidentified male over the age of 16, who could have been an older son or a more-distant relative; and an unidentified female of unspecified age.
In July 1792, Dicey Brasell gave birth to a daughter they named Elizabeth but called Betsy, and around 1794, a last child, Sarah. In September 1798, Britton Brassell made a deed of gift, for "love and affection," that apparently dispersed most if not all of his property to his children. Why he did this is not clear, but he left, as follows:
to son William land whereon I now reside with my crop and tools; my son Isom blacksmith tools & colt name of Deller; daughter Polley and Barshaba two creatures known by name of Pullen and Sall and household furniture, to my daughters Elizabeth & Sarah the cattle, hoggs and geese with their increase..[3]
He was still alive and in Edgefield County for the Second Federal Census kin 1800, which recorded "Britton Brassell" in a household of eight that would have included his wife, Dicey, his sons, James Willis, William J., and Isom; and their three youngest daughters Barsheba, Betsy, and Sarah.
In March 1802, "Briton" Brassell and William Brassell, who could have been his brother or his son, sold forty acres of their land on Mine and Dry creeks, and in November 1803, another 360 acres, thus divesting themselves of all of their land in Edgefield County. This must have been the ocassion of their move to Georgia.
They may have moved to Greene County first, but that supposition is based mostly on the fact that the marriages of at least three of the Brassells' children—James Willis, Barsheba, and Isom—were recorded in Greene County in 1805 and 1806. The total loss of the 1810 Georgia census leaves a significant gap in the family record; but at least by 1811, when he was listed on the roll of tax defaulters, Britton and Dicey Brassell were in Jones County, Georgia, which was at that time on the very edge of Georgia's frontier with the Indians. And during that period, too, the Brassell's daughter Betsy met and, in December 1807, married Zadok Davis. It is not clear whether that marriage occurred in Greene County or in Jones County.
Figure 7. Detail from Baldwin and Cradock map of Georgia, published in 1833, around the time the Davises and Brassells were moving to Fayette and Pike counties from Jones County and the Wesleys from Emanuel County. (Society for the Diffusion of Useful Knowledge)
The 1820 Federal census provides another snapshot of the families. Both "Briton Brazel" and "Zadoc Davis" and their households are found on the same page in the census schedules for Phillips' District, Jones County, Georgia. Britton and Dicey Brassell, who were both probably in their seventies by that time, may have had one of their children and his or her family living with them that year. Zadok and Betsy Brassell Davis are part of a household of eight people, which included five of their own children—Charles Henry, Barsheba, Sallie Sarah, Mary, and Deliah—and an unidentified young man between the ages of 16 and 25.
In 1821, the Creek signed away their title to most of the land between the Ocmulgee and Flint rivers, and out of that cession, several counties were organized, including Fayette and Pike counties. Among the thousands of settlers that poured into the area were at least four of Britton and Dicey Brassell's children, including their sons James Willis and William J. and daughters Barsheba Alford and Betsy Davis. It is thought that Britton and Dicey Brassell followed Barsheba, her husband Britton Washington Alford, and their family to Pike County, and it was there that Dicey and Britton Brassell died, in 1824 and 1827 respectively.
As the Alfords and the elder Brassells were moving into Pike County, the other siblings and their families were moving a few miles to the north into Fayette County. James Willis Brassell and his wife Martha "Patsy" Caldwell and William J. Brassell and his wife Martha Haddox settled with their families east of Starr's Mill. All of them are buried in the Alford Cemetery in Fayette County. Their sister and her husband Zadok Davis settled just a few miles to the northwest on Flat Creek.
Zadok and Elizabeth Brassell Davis
Zadok Davis bought his first property in Fayette County in the fall of 1827, within a month of his father-in-law's death in Pike County. At that time, Line Creek still marked the state's boundary with the Creek Nation, but another treaty the following year sent the Creeks into upper Alabama. By 1832, Zadok owned over 800 acres along Flat Creek in Fayette County. Much of today's "Smoke Rise," "Greers Mountain," and "Interlochen" neighborhoods in Peachtree City are built on this land.  Nearby was also the original site of Flat Creek Baptist Church, which did not move to its present site on Flat Creek Trail about three miles from the original site until 1910.
In early 1838, Zadok bought Land Lots 26 and 27 a couple of miles northeast of his first home and, by the time he bought Land Lot 38 in 1840, he had probably moved the family from the old farm.  The 600 acres of land at his new farm lay along Pelham Creek, which is now dammed to create Lake Edith. No one remembers where they lived but it was probably near the intersection of what are now Huiet Drive and Huiet Road on the west side of the creek.
Zadok and Betsy had at least eight children: Charles Henry, Barsheba, Sallie Sarah, Mary, Delila, Ellender, Josiah, and, the youngest, Andrew Jackson Davis. All of the children married and settled near their parents, including the daughters, two of whom married into the Robinson family. Their eldest son, Charles Henry, and his family moved to Talladega County, Alabama, in the early 1840s, as did daughter Mary DeVaughn and her family, who moved to Coosa County, Alabama, around the same time.
The Civil War years were hard on the Davis family. In June 1862, Zadok and Elizabeth Davis' son Josiah died in a Confederate camp and was buried in Atlanta's Oakland Cemetery. The cause of his death is not known, but as many as two-thirds of Confederate casualties during the war were from disease, not battle. Less than a year later, on 15 April 1863, Zadok Davis himself died and was buried on a knoll above Pelham Creek. He was not quite seventy-five years old. Just a few months after that, their son-in-law, Freeman DeVaughn, died in Coosa County, Alabama, leaving his wife, Mary, a widow with five children. In April 1864, Elizabeth Brassell Davis died and was buried next to her husband in the family cemetery on Pelham Creek.
The Wesleys
The name is Anglo-Norman, but nothing else can be said about the European origins of the Wesleys, or the Westleys as they are sometimes found. They appear in the records of Emanual County, in what is now southeastern Georgia, in the last quarter of the eighteenth century; but the individual schedules for the first three Federal censuses of Georgia have been lost, and there are only fragments of information otherwise.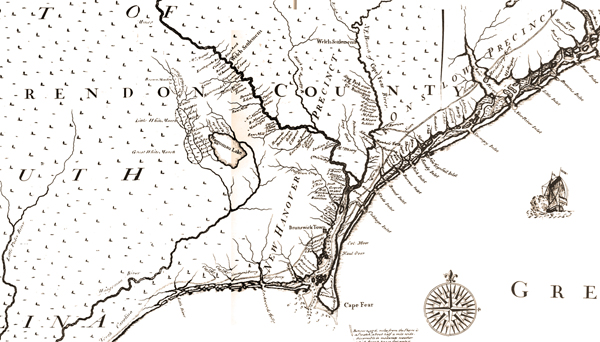 Figure 14. Detail from Moseley's map of North Carolina, 1733. Edenton, the colonial capital is at the head of Albemarle South, just above the center of this image. The Davises and quite possibly the Wesleys as well helped settle eastern North Carolina in the early eighteenth century. (North Carolina Department of Archives and History)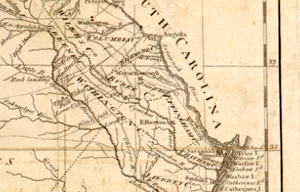 FIgure 15. Detail from Rochambeau's map of Georgia in 1795 , depicting the extent of Washington County when it was at the state's western frontier. The Wesleys helped settle Washington County when it was opened for settlement after the Revolution. (Library of Congress)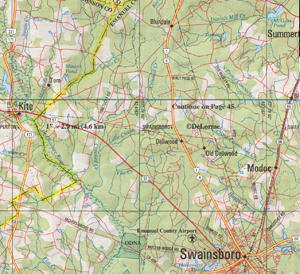 Figure 16. Detail from DeLorme atlas showing the watershed of Crooked Creek, left of center in this image, in Emanual County, Georgia. Lemons Wesley began farming somewhere along Crooked Creek in the 1780s and Evans Wesley was probably born there around 1797. (DeLorme's Atlas of Georgia)
The earliest of Sarah Jane Wesley's ancestors that has been documented appears to have been one "Lemon Westley" who was among the recipients of headrights and bounty grants in Washington County, Georgia, between 1789 - 1793. He is surely the same individual listed as "Lemmons Wesley" among the tax defaulters in Washington County in 1791. In 1812, Emanual County was created out of portions of southern Washington County, and so it is in the Federal census schedules of Emanual County that "Lemons Wesley" is listed next to Evans Wesley, Sarah Jane's father, in 1830. Most likely, Evans Wesley was his son.
It has been suggested that Lemons Wesley's wife, Evans' mother, was Mary Swain, daughter of Stephen Swain Sr. (1738-1796) and his wife Ann Elizabeth Spruill, but the documentation for that assertion has not been located. The Swains were descended from New England colonists who relocated to the North Carolina tidewater in the late seventeenth or early eighteenth century, not far from what was then a thriving seaport and the state's capital, Edenton. After the Revolution, Stephen and Ann Elizabeth Swain brought their family into the newly ceded Indian lands in Georgia between the Ogeechee and Oconee rivers. As a state senator, their son Stephen Swain Jr. introduced the bill that created Emanual County in 1812; the current county seat, Swainsboro, was named in his honor.
Evans and Margaret Wesley
Evans Wesley is thought to have been born in Georgia in 1797, but little certain can be said of his early years.[1] Some have suggested that he had at least two sisters, one of whom, Elizabeth, married Matthew Yates, who would later be executor of Evans' will, while the other, Martha, married Matthew's brother William.
Most likely Evans was not an only child, and in any case he was most likely born on his parents' farm on Crooked Creek, a tributary to the Little Ohoopee River in what was then the southern part of Washington County, Georgia. White settlement of the area, which was a hundred miles or so northwest of the old colonial capital at Savannah, had only begun in the 1780s, but in 1786, the new state capital was established at Louisville, only twenty-five miles to the north of the Wesleys on Crooked Creek. When Evans was a child, however, the frontier was still only thirty miles to the west, where the Oconee River marked the state's boundary with the often-hostile Creek Nation. In the first decade of the eighteenth century, treaties with the hapless Creek pushed the boundary a few miles west of the Oconee and, in 1818, to the Ocmulgee. Another series of Indian land cessions culminated in the Treaty of Washington in 1827 that ceded the remainder of Creek Indian lands in Georgia.
It appears from the ages of his surviving children that Evans Wesley married about 1820, most likely in Emanual County. His wife's name was Margaret or Margarete, born in Georgia on 27 November 1799, also most likely in Emanual County. Some sources have given her maiden name as McClellan, but documentation to support that assumption is not known. When Evans and Margaret married, her name was Margaret Price, believed to be the widow of William Price, whom she had married in Hancock County in 1815 and by whom she had at least one child, Linson Price.[2] The elder Price died in Emanual County in late 1819 or early 1820, with his will entered for probate in February 1820.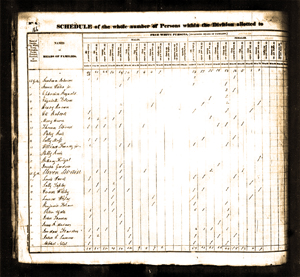 Figure 17. Schedule from 1830 Federal census of Emanual County, Georgia. Evans and Lemmons Wesley are just below the emphatically written name of Stephen Swain.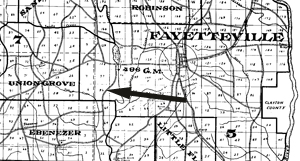 Figure 18. Detail from 1910 map of Fayette County, Georgia shwoing landlots and militia districts, annotated with an arrow to locate Evans Wesley's Land Lot 96, less than three miles southwest of Fayetteville.
Evans and Margaret must have married by early in 1821; in January 1822 she gave birth to their first child, Garrett L. Wesley (1822-1892).[3] Daughters Mary Ann (1824-1899) and Martha (1827-1860) were followed by two more sons, William (1830-1864) and Jackson (1833-1910) by the time the Fifth Federal Census was taken in 1830. The schedules from that census of Emanual County show Evans Wesley in the standard convention of being the only member of his household enumerated by name. With him was a woman thirty to forty years old that must have been his wife Margaret, plus another woman between sixty and seventy who may have been Margaret's mother. There were also two boys and two girls under ten years of age, and two more boys under twenty, one of which was probably Linson Price, the son from her first marriage. Next door, were Lemon Wesley, his wife, and an unidentified teen-aged boy who was probably their grandson.
Precisely when the Wesleys relocated to Fayette County, Georgia, is not known nor is the reason for their move. The rolling hills of the Georgia piedmont were much different from the flat sandy coastal plan that had been home to the Wesleys in Georgia and North Carolina since before the Revolution. Fayette County was part of the western Georgia piedmont that was not formally opened to white settlement until the Treaty of Indian Springs in 1821. Twenty miles northwest of the county seat at Fayetteville was the Chattahoochee River, which remained the state's boundary with the Cherokee Nation until fraud and force at last cleared the state of its native inhabitants in 1838.
The Wesleys must have moved from Emanual to Fayette County around the time that Evans Wesley bought Land Lot 96, 5th District, in Fayette County in April 1833. Encompassing 202½ acres, the property was located just west of Whitewater Creek, not quite three miles from the county seat at Fayetteville. In October 1834 he bought the sixty or seventy acres of Land Lot 95 that lay between Land Lot 96 and Whitewater Creek.[4]
On 20 July 1835, the Wesleys' sixth child, a daughter named Sarah Jane, was born, followed on 27 December 1837, by their seventh and last child, Elizabeth Ann. How much the family knew about the great financial panic that had taken hold the previous May isn't known, but for the next five years, the American economy would suffer through the worst economic downtown it had ever experienced. To make matters worse, Evans Wesley was sick enough that, in June 1838, "being weak in Body, but Strong in mind having taken it into consideration that he as all other men must die & go the way of all the earth," he made his last will and testament.[5] When, where, and the other circumstances of his death are not known, but his will was submitted for probate on 10 January 1839. Evans Wesley probably died in December 1838 or January 1839. The will was simple and straightforward:
I do bequeath to my loving wife the care & trust of my orphans to see that they are raised with good morrals & educated & their tuition paid for out of my estate & do appoint & request my loving wife Margaret Wesley & Matthew Yates to take the charge, care & interest & to act as my Executors of all my estate into their care & it is my will that they have the power to make sale of any property of my estate that they will not need or be needful for these heirs of my estate & to pay all just debts that I owe & it is my request that my loving wife Margaret Wesley & my beloved son Garrett L. Wesley and loving daughter Mary Ann Wesley, loving son William S. Wesley, loving son Jackson Wesley, loving daughter Sarah Jane Wesley, loving daughter Eliza Lydia Ann Wesley & also my beloved step-son Linson Price by & are by my will my lawful heirs to inherit all my estate & my loving wife to keep the property in her hands during her lifetime or widowhood or untill the youngest child becomes of age but if she marrys or dies or the youngest child comes of age then make a sale of all or dispose of all to the best advantage for the heirs. It is my request that they all live together, work & strive together for a livelihood untill they come of age or marry & as the children come of age or marry to give to them seventy five dollars each as he or she comes of age or marrys, till a final distribution is made of all.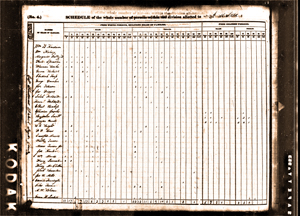 Figure 19. Schedule from 1840 Federal census of Fayette County, Georgia. The widowed Margaret "Westley" is enumerated as head of her household.
Margaret Wesley never remarried but managed to maintain her own household, no doubt with the assistance of family and friends. By the time of the Sixth Federal Census in 1840, Margaret's mother had apparently died, or at least was no longer in the household, but all seven Wesley children remained at home, as did her son Linson Price.
Over the next fifteen years, one by one, her children married and left home to establish their own families. Margaret's oldest daughter, Mary Ann, married Norris Pope in 1842. They had several children in Fayette County before moving to Pike County, Alabama, around 1850. After the Civil War, the family moved to Morris County, Texas, where Mary Ann Wesley Pope and her husband and many of their descendants are buried.
In February 1845, Margaret Wesley's oldest son, Garrett, married Rebecca Harris from the Shoulderbone community in northwestern Hancock County, Georgia. For the first ten years of their marriage, they remained in Fayette County, but in 1855, they joined some other families and moved to Clay County, Alabama. Both are buried at Sardis Methodist Church near the community of Idaho in Clay County.
Daughter Martha married John T. Youngblood in 1848 and began raising a family in Fayette County. They had five children together befoe Martha's untimely death, perhaps as a result of giving birth to their last child in February 1860. John Youngblood remarried and died in Sandersville, Georgia, in 1890.
Son Jackson Wesley married Nancy Beauchamp in 1851 and they, too, moved to Clay County, Alabama, leaving his brother William Shephard Wesley and the two youngest siblings, Sarah Jane and Eliza, with their mother in Fayette County. In August 1852, Sarah Jane married Andrew Jackson Davis, son of their neighbors Zadok and Betsy Davis, and in January 1855, the youngest of the siblings, Eliza, married Joseph Spratlin. For much of the rest of her life, Margaret Wesley would live with one of these two daughters. She died on 14 December 1887 and was buried in the small family cemetery on the Tyrone Road.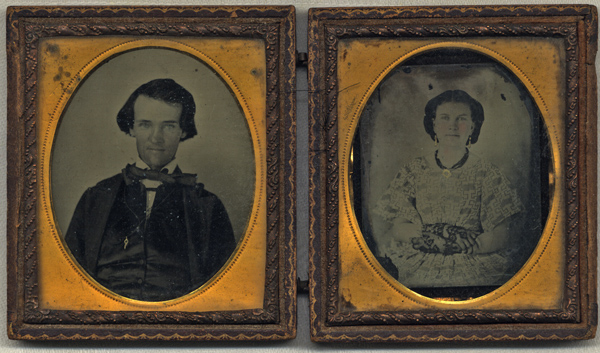 Figure 20. Andrew Jackson Davis and Sarah Jane Wesley, c. 1852. (author's collection)
Andrew Jackson Davis and Sarah Jane Wesley
The youngest of Zadok and Betsy's children was Andrew Jackson Davis, born 3 March 1829 while they were still living at their first homestead along Flat Creek. He was nine or ten when they moved to the Pelham Creek farm, where he grew up amid a swarm of aunts, uncles and cousins.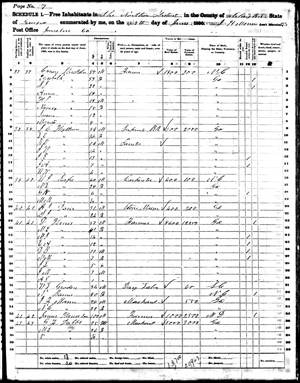 Figure 21. Schedule from 1860 Federal census showing A. J. and Sarah Jane Davis.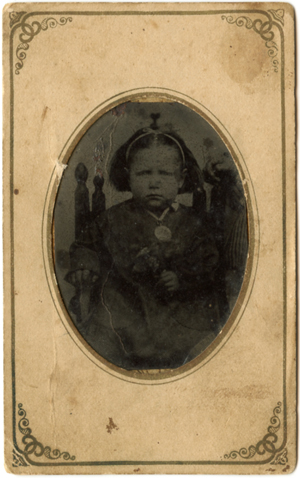 Figure22. Ofie Davis at two years old, 1871.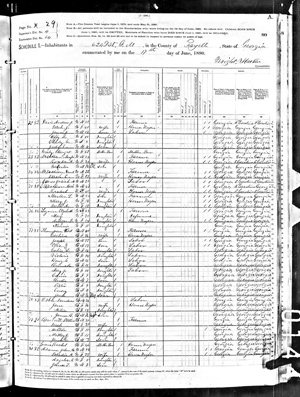 Figure 23. Schedule from 1880 Federal census showing A. J. and Sarah Jane Davis.
The Davises were not like some of their contemporaries who could neither read nor write and, at a time when schools were rudimentary at best, they saw to it that Andrew received some sort of education. When he was eighteen, his parents sent him to some unknown school, which he attended in the fall of 1847 and again in the fall of 1848. In September 1849, he resumed his schooling, perhaps full time, and continued through the fall of 1850. His home-made copy book that he used during the period has survived in the family, and although it contains little more than mathematical exercises and the occasional inspirational verse, that was much more than many of his contemporaries could accomplish.
Among the Davises' neighbors were the Wesleys, who lived less than a mile east of the Davises.  Marguerite Wesley (1799-1887) had been widowed since her husband, Evan Wesley, died in 1838; but her oldest child, Garrett, lived close by after his marriage in 1845 and helped in raising his six younger siblings.  Sarah Jane, the sixth of the seven Wesley children, was born on 20 July 1835 and was only three years old when her father died.  She, too, received some education, although it is not known if she could actually read the small book that a traveling book agent gave her in 1843, when she was only eight years old.
Exactly when A. J. started courting Sarah Jane is not known but it must have been in 1851. We do know that she had just turned 17 when they were married on 22 August 1852. They may have lived for a time with family members, perhaps with her widowed mother, Marguerite Wesley. Unusually, they did not have children for the first few years of their married life; or, if they did, the children were lost in childbirth or disease.
Andrew apprenticed as a Mason, probably in the late 1850s, and eventually became a Master Mason at the Mt. Ebal Lodge in Fayette County. In 1858, Zadok Davis, "for the parental affection toward my son," gave Andrew the northwest 50 acres of Land Lot 26 and, at the same time, gave his son Josiah the northeast 50 acres. Andrew Davis' property was around and to the south of the present-day intersection of Ga. Hwy. 54 and the Tyrone Road; but it is not clear that they ever actually lived on the property. In fact, they were apparently not even living in Fayette County when the Federal Census was taken in the summer of 1860 but were enumerated in northwestern Clayton County, Georgia. And, unlike his father and most of his relatives, he did not list his occupation as farmer but rather as "stone mason." Perhaps he and Sarah Jane had moved closer to the growing town of Atlanta where work as a mason might have been more plentiful. Where they lived during this period has not been documented.
Sarah Jane was apparently an active and independent woman. Her granddaughter claimed that when Confederate militia skirmished with Federal troops near Ebenezer Church in the summer of 1864, Sarah Jane rode a horse down to witness the excitement herself.
A. J. and Sarah Jane's first known child was born in March 1861 after nine years of marriage and just as the Civil War was about to explode. They named her Marguerite Lelah , after Sarah Jane's mother, and her birth was probably the reason that Andrew Jackson Davis did not volunteer to fight. His brothers Charles and Josiah did join the Confederate army, however, as did some of his brothers-in-law. The next four years proved to be hard years for the Davis family. In June 1862, brother Josiah Davis died of disease in Confederate camp, and on 15 April of the next year, old Zadok Davis himself died at the age of 75.  A. J. was executor of his father's estate but before the will estate was finally settled, his little daughter, who was not quite three years old, died on 9 January 1864. Three months later, on April 12, A. J.'s mother, Betsy Brassell Davis, passed away.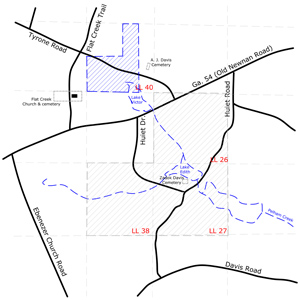 Figure24. Property of Andrew Jackson Davis, blue, and Zadok Davis, grey. (drawing by author)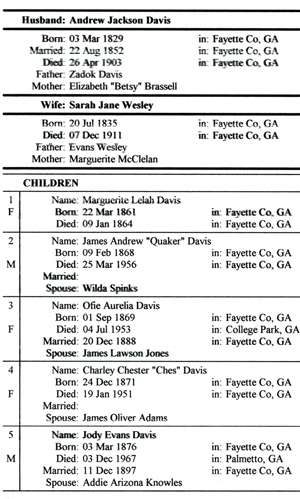 Figure 25. Family group sheet for Andrew Jackson and Sarah Jane Davis.
By the time all of this had happened, Sarah Jane and Andrew Davis had probably moved back to Fayette County. Sometime during the 1860s, too, he apparently gave up masonry as an occupation and began to rely on carpentry to make a living, which was the occupation that he listed in the 1870 census.
As the South suffered through Reconstruction, Sarah Jane and Andrew Davis were without children after nearly fifteen years of marriage. Then, as if to make up for lost time, there were three healthy children in rapid succession:  James Jackson Davis, born on 9 February 1868; Ofie Aurelia Davis on 1 September 1869; and Charley Chester Davis on Christmas Eve 1871.  James later was known as "Quaker" for the odd Quaker-style hat that he wore, while Charley Chester, who was—in spite of the name—the Davis' second daughter, was always called "Ches." Finally, on 3 March 1876, Sarah Jane and Andrew celebrated the nation's Centennial with the birth of another son, whom they named Jody Evans Davis.
In 1869, two months after Ofie's birth, Andrew Davis bought fifty acres along the Tyrone Road in Land Lot 40. In the fall of 1871, with Sarah Jane pregnant again, he bought another fifty acres adjoining the first near the intersection of Tyrone Road and Flat Creek Trail. He probably built their house, which stood on the north side of the road near where both are buried in their small family cemetery. Sarah Jane's mother, Marguerite "Granny" Wesley, apparently lived with them and, when she died in 1887, she was buried in that cemetery as well.
As their children grew up and married in the 1880s and 1890s, each inherited a part of the farm as Andrew slowly turned things over to the next generation. Quaker, who operated a store near the crossroads, built a house on his portion of the property about 1890. A. J. put all of his property in his wife's name in 1888, so that when Ofie married Jim Jones in 1888, it was Sarah Jane who gave her some property just to the west of the home place.  Ches, who married Jim Adams a few years later, eventually inherited her parents' old house and lived there with her aging parents. Finally, Sarah Jane also gave her youngest son, Jody, 100 acres that she owned on the old Newnan Road in Land Lot 97, a couple of miles to the east. As a measure of control, however, Sarah Jane stipulated that formal title to the property would not pass to any of them until her death.
Andrew Jackson Davis died on 26 April 1903 at his home on the Tyrone Road. Sarah Jane Wesley Davis died on 7 December 1911 and was buried next to Andrew in the family cemetery on the Tyrone Road.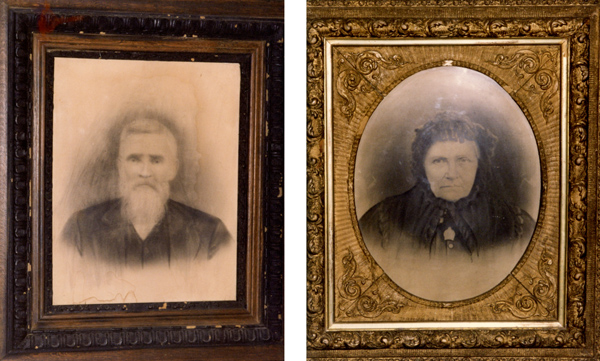 Figure 26. Andrew Jackson and Sarah Jane Davis, c. 1900.

Notes
1. The Federal census 1790-1860 is consistent in stating Zadok Davis' birthplace as North Carolina and Betsy Brassell Davis' as South Carolina.
2. Christopher Davis' will naming his children was recorded in Anson County in 1786.
3. Edgefield County Deed Book 15, page 179.
1. Evans Wesley's birth year is traditional. The 1880 Federal census schedules for his children give his birth state.
2. His name may have been Linton. He may also be the Pinton S. Price (age 31) who was enumerated in the 1850 census of Fayette County, Georgia.
3. His middle name may have been Lemon or Lemuel, both of which have been offered as possible names for his grandfather Wesley.
4. Fayette County, Georgia, Deed Book D, p. 390, dated 3 April 1833, Evans Wesley from Allen Dykes, Land Lot 96, 5th District, recorded 1 February 1839; Deed Book, p. 195, dated 2 October 1834, Samuel Cox from Evans Wesley, Land Lot 95, east of Whitewater Creek, recorded 25 August 1838. Clearly, these records were made in the course of the dispersal of Evans Wesley's estate; he may have owned other property in addition to these parcels.
4. Fayette County, Georgia, Will Book A, p. 33, dated 11 Jun 1838.