The origins of the ancestors of Louisa Graham Hart (1856-1927) that have been identified were in England, Scotland, and Ireland, and at least by the time they emigrated to America, they were all Protestant. None of her father's family has been identified, although it is likely that they were in North Carolina by the 1790s and in America for decades before that.
Several threads of her mother's ancestry have been identified. Gradens, Nesbits, and Nashes, who were probably Scotch-Irish, and Abercrombies, a name long associated with Fife in County Aberdeen in northeast Scotland, were some of her closest ancestors. She also had Linley ancestors, who were from Shropshire in the West Midlands on the border with Wales, and Cox, who were from Gloucester on the Welsh border in southwest England.
Graham
The Grahams may have descended from Vikings who began plundering the northeast coast of Britain in the late eighth century. Although commonly thought of as a Scottish or Irish name, Graham is actually derived from the town of Grantham in Lincolnshire in the east of England, which was recorded as both Grandham and Graham in the Domesday Book in 1086. Many names derived from locations came into use when a person moved to another place and it was easiest to identify them by their birthplace. The Norman baron William de Graham took the name to Scotland in the twelfth century, and it is thought that many if not most Grahams today are his descendants. His is the first recorded spelling of the name when it appears in the Foundation Charter of the great Holyrood Abbey in 1127.[1]
By the sixteenth century, the name was quite common along the West Borders of Scotland, an area that also furnished many of the emigrants to Ulster in the seventeenth century. That emigration gave rise to the Scotch-Irish, who themselves formed a major component of immigration into America in the eighteenth century.
Very little documentation has been found for Richard S. Graham, father of Louisa Graham Hart. A marriage license in Clayton County, the 1860 Federal census of Coosa County, Alabama, and his daughter Louisa's death certificate prove his name to have been Richard, and family trees drawn by his son-in-law Josiah M. Hart add the middle initial. The 1860 census, the only census in which he has been surely identified, records that he was born in North Carolina around 1833, but beyond that his origins are a blank. Cousin James McConnell, who was a certified genealogist, once said that it was "as if he had dropped from the sky."
In 1790, thirteen of the fifty Graham heads of household in North Carolina lived in Rowan County, two of them named Richard Graham. In 1830 and 1840, there were nearly ninety heads of household in the state with the surname Graham. Fifteen of those were listed in Rowan County in 1830, and twenty-four in 1840, including two Richard Grahams. It is likely that some of these were Louisa Graham's paternal relatives, but it is not clear which.
In 1850, a Richard S. Graham appears twice in the Rowan County census, both times listed as having been born in North Carolina around 1833. On 6 September the census taker surveyed the 46th School District, and recorded Richard S. Graham, son of Joseph and Elizabeth Graham. Eight days later, on 14 September, in the 9th School District, the census taker recorded Richard S. Graham living with Margaret Hyde, a widow with several children, living not far from Alexander Graham (#956) and family. It is not clear if these Richard Grahams are two people or whether Richard, the son of Joseph and Elizabeth, simply moved in with relatives after being recorded on 6 September and was counted again on the 14th.
In 1860, R. S. Graham, born in North Carolina in 1833, is recorded with his wife and infant daughter at Rowan Mills, just southwest of Salisbury, North Carolina. If there were in fact two Richard S. Grahams born in Rowan County around 1833, this is probably one of them. At the same time, Richard and Caroline Graham, their daughter Louisa and her siblings appear in the 1860 census of Coosa County, Alabama.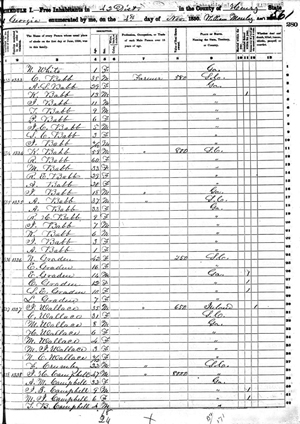 Figure 1. Schedule from 1850 Federal census of Henry County, Georgia, showing the widowed Nancy Nash Graden and her four children.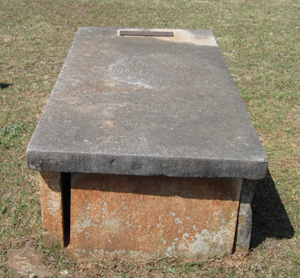 Figure 2. John Nesbit Nash's grave at the Babb Cemetery, Henry County, Georgia. (photo from findagrave.com)
Graden
Fayette County marriage records show that Richard Graham married Caroline Graden on 18 February 1856. She was born 13 September 1838, the daughter of Elihu Graden (1805-1883) and his wife Nancy Nash (1807-1884) both South Carolina natives who had moved from Laurens County in that state to Henry County, Georgia, between 1834 and 1836.
Elihu and Nancy Graden had five children before his untimely death in 1843 at the age of 36. For the next ten years, Nancy Graden apparently raised her five children as a single parent among her sister Elizabeth's Babb relatives in Henry County east of Lovejoy. In 1853, she married a second time, to Thomas Morand, an Irish immigrant, but they apparently did not have children.
The Nash family, including at least eight of Nancy's siblings, were also early settlers in Henry and Fayette counties in the 1830s. Their parents were John Nesbit Nash (1786-1864) and his wife Hannah Abercrombie (1786-1840). John Nesbit Nash was born in 1786 in North Carolina, perhaps in Anson County. His parents, who have not been identified, were reportedly killed shortly after his birth, and he was raised by Samuel and Mary Nesbit, who were almost certainly his mother's relatives.
Hannah Abercrombie's grandfather John Abercrombie emigrated from Scotland, probably from the ancestral home near Fife, in the mid-eighteenth century and settled in Laurens County, South Carolina, in the 1760s. Hannah's grandmother's family, the Linleys and the Coxes, immigrated from England to New Castle and Philadelphia by the 1730s, and they, too, were in Laurens County, South Carolina, by the 1760s.
Hannah, her brother Colville Jr., her husband John Nesbit Nash, and other relatives are all buried in what is now known as the Babb family cemetery in Henry County, although Nash's grave marker was vandalized in 1971 and is no longer legible.[2] Hannah's sister Rebecca married Dr. Kellett Babb, for whose family the cemetery was later named. The cemetery is located in Henry County, on Babbs Mill Road, just across the county line east of Lovejoy.
Caroline and Richard S. Graham
The 1860 Federal census of Coosa County, Alabama, shows Richard Graham and Caroline and their three children living near the Mount Olive Post Office, about fifteen miles southeast of Sylacauga, Alabama. He owned no real estate, had $125 dollars in personal property, and his occupation was listed simply as "farm laborer." The census gave Alabama a the birthplace of the couple's oldest child, Louisa, born in December 1856, indicating that Richard and Caroline moved to Alabama shortly after their marriage in February of that same year.[3] A son, John T. Graham, was born in 1858 also in Alabama, as well as a daughter, whose name is uncertainly spelled Obezeyen, born in 1859.[4]
Figure 3. Schedule from 1860 Federal census of Coosa County, Alabama, showing Caroline and Richard Graham and their children, including Louisa.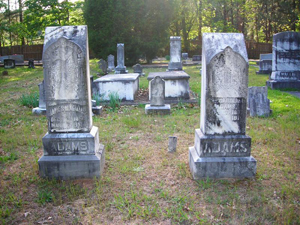 Figure 4. View of graves of Caroline Graden and her third husband, James Adams. (photo from findagrave.com)
Richard Graham is thought to have died during the Civil War, although whether due to military action, disease, or accident has not been documented. No record of his service has been identified, but research has been limited and additional documentation may be found. There is no record of where he was buried, but it is quite possible that he lies in an unmarked grave in Alabama.
How long Richard Graham's widow and their three children stayed in Alabama is not known, but they probably returned to Georgia to be near her mother and other relatives in Henry County during the Civil War. Just as her own mother had, Caroline most likely struggled as a single parent trying to raise three children alone, but she, too, surely had help from her extended family. By the time the Federal Census was taken in June 1870, Caroline Graham and her three children were living near Jonesboro, Georgia, next door to her mother, Nancy Abercrombie Nash Morand, who had recently been widowed for the second time. Caroline's two daughters, Louisa and Obezeyen, were "attending school," while son John was a "farm laborer."
Caroline Graham and James M. Adams
On 16 October 1870 in Clayton County, Caroline Graden Graham married for the third time. Her new husband was James M. Adams, the son of Hiram and Elizabeth Adams, born in Georgia on 16 December 1850 and twelve years her junior. Together they had five: William, Emmett, Nancy, Orabella, and Mattie.
In 1880, they were living at Red Oak in what was then Campbell County (now south Fulton), but twenty years later they were listed in the Poplar Springs district of northwest Clayton County near where Riverdale would be established a few years later. They apparently never owned real estate, and Jim Adams never even learned to read or write.
In 1910, they might not have been in the same house, but they were still living near Riverdale and working their rented farm. Their two youngest daughters, Arrie and Mattie, were living with them, too; and presumably they were there when Caroline died on 8 April 1911. Her husband Jim Adams died 14 March 1915. Both are buried at the King Cemetery, located on Walker Road just west of Riverdale.
All three of the three Graham children—Louisa, John, and Obizines—lived out their lives in Clayton County. Life had been difficult for them and their mother, and losing her father when she was only eight years old, must have been especially hard for Louisa. Even Caroline's second marriage did not necessarily improve the family's circumstances, although James Adams was twelve years younger than Louisa and if he was illiterate, he at least knew how to farm.
In October 1879, Louisa married Josiah Meredith Hart (1857-1957), the son of John J. Hart, who lived a couple of miles northwest of Riverdale on the west Fayetteville Road. They established a large and successful truck farm, growing produce for the Atlanta market, and raised ten children, most of whom grew up, married neighbors, and began families of their own in the Flat Rock community.Louisa had a cerebral hemorrhage and died in July 1927. She was buried in the family plot at Flat Rock. Her husband died in 1957, aged 100, and is also buried at Flat Rock.
Caroline and Richard Graham's son, John T. Graham, married Martha "Mattie" Fullerton in the early 1880s, and they had five children, three of which—Alma, Myra, and Alice—grew to adulthood. They remained in Clayton County, but John Graham never acquired a farm of his own. He died in 1913, and both he and his wife are buried at Flat Rock Cemetery. "Ob," as Louisa's sister was called, married Noah Webster Gossett in the early 1880s, and they, too, raised a family in northwest Clayton County. They had ten children, seven of whom were still alive in 1910, including sons, Virgil, James, and Eddie, and daughters Ella and Lois. Noah Gossett was a self-employed blacksmith with his own shop. He and his wife died around 1910 and are buried at Flat Rock Cemetery in graves marked by simple, un-inscribed stones.

References
See Ancestors Unlimited Edition, vol. 13, #4, pp. 149-150; records of Flat Rock Cemetery, where all three Graham children and many members of their families are buried; Fayette and Clayton County marriage records; Federal Census, 1850 Henry Co. #1336, 1860 Coosa Co, AL, #765, 1870 Clayton Co. #339, 1900 Clayton Co., Poplar Springs, #369, 1910 Clayton Co., Oak Dist., #99.