John Lee (1792-1865) was born in what became York County, South Carolina, and married Susannah Ellis (1796-1853) on 8 February 1820. They had at least nine children who grew to adulthood on the farm in DeKalb County, Georgia, to which they moved in the mid-1830s. She died in June 1853 and was buried a few hundred feet north of the house, which was on what is now Washington Road in East Point, and what was by then Fulton County, Georgia. In October 1853, John Lee married Nancy Jane Holder (1829-1901), daughter of his neighbor John Holder. They subsequently had six children of their own before his death in January 1865.
He is often confused with John Lee who was born in North Carolina in 1796, married Sarah, and had a single son and several daughters. They lived in the portion of old Campbell County west of the Chattahoochee River that is now Douglas County. He was the son of Henry Lee (1749-1839), who died in Butts County, Georgia, and grandson of Edward Lee (1725-1804). Among Henry Lee's estate records are documents that show that Henry's son John lived in Campbell County, Georgia, not DeKalb County (now Fulton) where our John Lee lived, but it is likely that the two Johns were first cousins.
This Bible, which was published in Philadelphia in 1834 by the C. Alexander & Company, was used to record birth, marriages, and deaths of the family of John Lee and his wives Susannah and Nancy Jane. The images are below are taken from second or third generation photocopies of the original Bible. The Bible was in the possession of one of his greag-grandsons, Rep. William J. "Bill" Lee of Clayton County, Georgia, in 1982.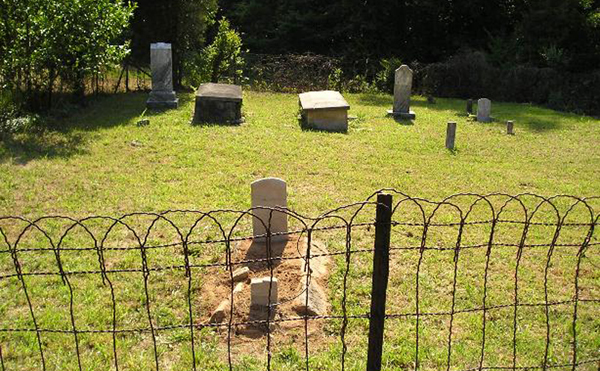 View of John Lee Cemetery in southwest East Point, Georgia. The two table vaults shelter the graves of John Lee, right, and his first wife, Susannah Ellis Lee, left. The conventional grave stone to the right of those marks the grave of second wife, Nancy Jane Holder Lee.