The ancestors of John Lee (ca. 1792–1865) have not been surely identified, lost as they are in generation after generation of Lees named Edward, John, James, Henry, Thomas, and William. He is thought to be a grandson of Edward Lee (ca. 1725–1804) of Maryland, but the identity of his father is disputed. Some have said his father was Edward's son Henry Lee (1749–1839) who settled near the community of Stark in Butts County, Georgia, in the 1820s. Henry was twice married and had at least a dozen children, one of whom was Samuel Lee (1785–1871) who moved to Henry County about the time his father moved to Butts County. Henry's sons James Edward Lee (ca. 1788–ca. 1858), who went by his middle name, and John (ca. 1796–after 1872) were both enumerated in the 1850 census of Campbell County, living in the same district, and were likely there long before that. John and his wife Sarah farmed and raised at least eight girls and a single son, who may have died as a young man. Genealogists in the twentieth century often confused him with his cousin John Lee of Fulton County, the first mentioned above. [1]
Leaving that confusion of Lees behind, the outlines of the life of the John Lee buried in an eponymously named cemetery in East Point can be identified. He was born about 1792 in a part of Mecklenberg County, North Carolina, that fell into York County, South Carolina, when the disputed state border was finally settled. No siblings have been documented. [2]
John and Susannah Ellis Lee
According to the family Bible, "John Lee and Susannah his wife was married February the 8, 1820," probably in York County. Her father is thought to have been Shadrach Ellis (1761–1854), who the 1850 census of DeKalb County, Georgia, records living as a widower next door to the Lees. [3]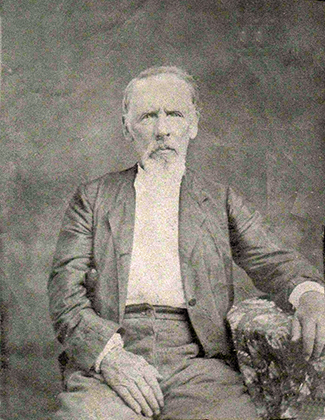 Figure 1. Undated photograph of John Lee. Location of original image is unknown.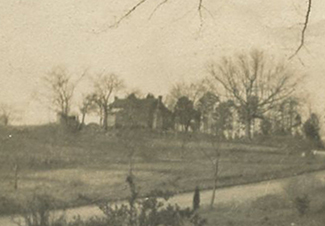 Figure 2. Detail from a larger photograph, ca. 1920, showing John and Susannah Lee's house as seen from the south and the front yard of Ipson Lee's house, which stood near what is now the southwest side of the intersection of Washington and Arlington Roads. (Author's collection)
John and Susannah Lee had nine children between 1821 and 1840.  The six oldest— Seaborn Anderson (1821–1898), James Ellis (1822–1902), Samuel Solomon (1824–1900), Martha Ann (1826–1901), Mary Jane (1828–1861), and John A. (1831–1906)—were born in South Carolina, probably in York County, while the three youngest—twins Thomas M. (1836–1863) and Sarah Mariah Lee (1836–before 1880) and Elzy Franklin (1840–1920)—were born in Georgia.  From these dates one might infer that the Lees moved to Georgia in 1832 or 1833. Where they lived over the next few years is uncertain, although they may have already started farming the land that he ultimately acquired in the a few years later. Because his is a very common name, it has been impossible to conclusively identify him in the federal censuses before 1850, but he could certainly have been one of the three John Lees enumerated in the 1840 census of DeKalb County (which then included what is now central Fulton County).
A Civil War record for the Lees's youngest son, Elzy Frank, was compiled in the early 1900s and states that he was born in 1840 in East Point, presumably where he grew up, since East Point did not yet exist. The marriage of their eldest son Seaborn Anderson Lee to Elizabeth Thames (1823–1898) in November of 1841 is thought to have occurred in DeKalb County. Research is hampered by the loss of most county records when the courthouse burned in 1842, and the first certain record of their presence in the county is the deed made in October 1843 when John Lee paid $750 for all of Land Lot 224 and the southern half of Land Lot 223, both in the Fourteenth District of what was then DeKalb, but is now Fulton County. Encompassing just over 300 acres, the property was watered by Camp Creek, one of its tributary branches, and at least one spring. His descendants would farm that land into the 1920s.
In October 1843 John Lee paid $750 for all of Land Lot 224 and the southern half of Land Lot 223, both in the Fourteenth District of what was then DeKalb, but is now Fulton County. Encompassing just over 300 acres, the property was watered by Camp Creek, one of its tributary branches, and at least one spring. His descendants would farm that land into the 1920s. [4]
Those land lots are bisected northeast to southwest by what is now known as Washington Road but was called the Newnan Wagon Road throughout the nineteenth century. In the twentieth century, the old wagon road became Washington Road as its eastern end at East Point was formalized as Washington Street. A few years before Lee bought his farm, the terminus of a state-owned railroad was staked out nine or ten miles to the northeast, and a settlement grew up that was christened Marthasville in 1842. Five years later, that village became Atlanta. In 1849 construction began on what would be the fourth of the railroad lines that drove the city's growth, the Atlanta and LaGrange Railroad. Completed in May 1854 and reorganized as the Atlanta and West Point Railroad in 1857, it avoided bridging Camp Creek by tracking a mile or two to the east between Red Oak and the railroad's terminus at East Point.
A secondary public road known as Redwine Road left the Newnan Road a few hundred yards northeast of the Lees' house. Running in a westerly direction across the northern part of the Lee farm to a dead end at Fairburn Road, the road was named for Pennsylvania-born Jacob Redwine (1783–1866) and his large prosperous family. They had come to the area in the 1820s and acquired several hundred acres along Fairburn Road south of Mt. Gilead Church.
The property description of the land John Lee gave his four youngest sons in 1857 also noted an "old road" which lay somewhere on the east side of Land Lot 224. Routes of travel often changed as bridges were replaced a little up or downstream of the original bridge, and that may be what is described in the deed.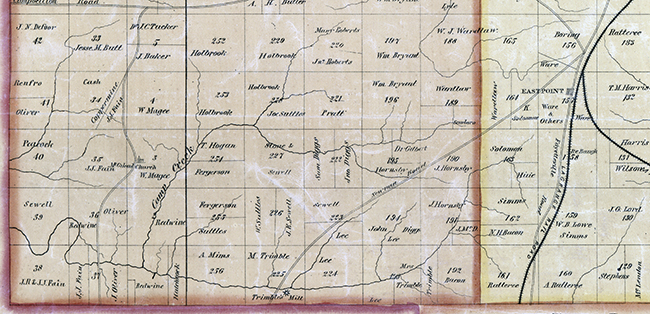 Figure 3. Part of Pittman's map of Fulton County, 1872, with numbered land lots and lot owners.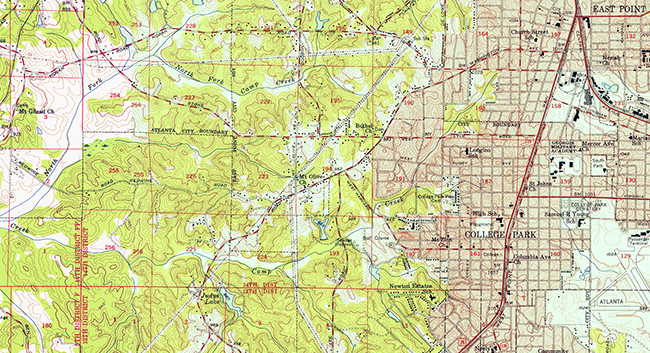 Figure 4. Detail from a composite of USGS topographical quadrangles for East Point and Ben Hill produced in 1954, with numbered land lots. John Lee bought Land Lots 224 and 223 in 1843; three of his sons acquired Land Lot 194 in 1860.
It is not clear if the Lees built a new house or occupied a house already in place. Either way, the house was never properly photographed, although its location in the northwest side of Land Lot 224 is certain. Glimpses of it in the mid-1920s suggest it was a 1½- story structure built on a dog-trot plan, i.e., a single room on each side of an open dog-trot, with access to a loft via interior stairs. Whether it was a log structure, as many were in this period, or wood-framed is not clear, although the latter may be more likely.
Somewhat unusually for the time, perhaps, all of the Lees' children appear to have survived childhood. Growing up on the family farm, all of them but one— Thomas, who died at Vicksburg in 1863— married into a neighboring family; most of them at least began married life near, if not on, John Lee's farm on the Newnan Wagon Road.
After Seaborn Lee's marriage to Elizabeth H. Thames in 1841, they built a farm in northwestern Clayton County not far from her parents, William and Rachel Thames. The Lees also operated a grist and saw mill on the upper Flint River. In 1864 Union army cartographers misidentified it as Thames Mill, but it is remembered today in what is left of Lees Mill Road. Nothing remains of the mill itself, but the site was documented, including through some archaeology, as part of the FAA's Environmental Impact Statement for construction of the fifth runway at Hartsfield-Jackson Airport in the early twenty-first century. Seaborn and Elizabeth Lee had eight children and died just a few months apart in 1898. They are buried at Forest Grove Cemetery in Forest Park.
The middle name of John and Susannah Lee's second son, James Ellis Lee, probably honors his mother's maiden name. He married Elizabeth A. Baker (1826–1913), daughter of William and Mary Adams Baker, in 1845. They had a farm in Campbell County four or so miles southwest of his parents and ultimately owned nearly 900 acres just northwest of the modern interchange between I-85 and I-285 in the city of South Fulton. They had nine children, but two did not survive childhood. Two of their sons are memorialized in local road names: Will Lee Road, which runs between Welcome All and Ben Hill Road, and Hershel V. Lee Road, running between Washington Road and the Roosevelt Highway and now usually shortened to Hershel Road. Both of the elder Lees are buried at Red Oak Cemetery.
The Lees' fourth child, Martha Ann, married Premascus McDonald (1826–ca. 1905) in November 1849. He was a laborer during construction of the Atlanta and LaGrange Railroad in the early 1850s, but ultimately they built a farm just south of Adamsville in what is now southwest Atlanta. There they had eight children, not all of whom lived to adulthood. Both are buried in the cemetery of the old Sharon Baptist Church, a now defunct congregation that was located just north of the intersection of Martin Luther King Jr. Drive and Peyton Road a couple of miles east of Adamsville.
The Lees's daughter Mary Jane married Robert F. Baker (1830–1904) about 1851. Their farm was located off Fairburn Road a mile or so south of Ben Hill in what is now southwest Atlanta. They had at least four children, but only two lived till adulthood. She died in May 1861, weeks before their five-year-old daughter died as well, both of them taken perhaps by typhoid or another of the communicable diseases that were so common at that time. Mary Jane Baker and her daughter are buried in the family cemetery behind John Lee's house. Robert remarried, but lost his second wife without having any children in 1885. He married a third time and had three more children. He is buried at Mt. Gilead Methodist Church cemetery.
On 14 June 1853 Susannah Lee died of unknown causes and was perhaps the first burial in the small family cemetery located a few hundred feet west of their house on the Newnan Road, now Washington Road. She left John Lee with three teen-aged children in the household and most of his adult children living nearby.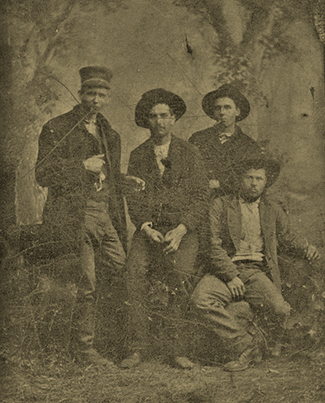 Figure 5. Tintype of what are thought to be John and Susannah Lee's youngest sons—Samuel, John A., Thomas M, and Elzy Franklin, ca. 1863. (Author's collection)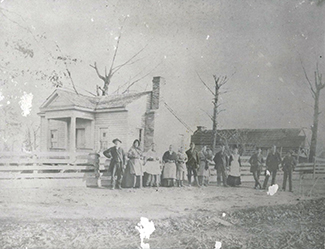 Figure 6. Samuel and Rebecca Lee and their children standing in front of their house in Land Lot 194. (Location of original image is unknown)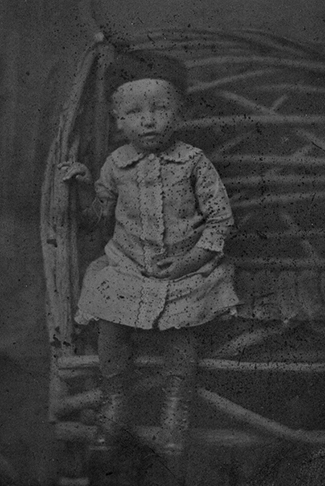 Figure 7. John Lee's youngest child, Ipson, ca. 1863. (Author's collection)
A few months after Susannah's death., their third son, Samuel Solomon, married Rebecca Gaines (1836–1889) and began farming on his father's land. In 1857, "for natural love and affection," John Lee gave Samuel and his three younger brothers title to 180 acres off the east side of the land lots he had bought in 1843. In 1860, Samuel, Thomas, and Elzy paid their neighbor Noah Hornsby $2,000 for all of Land Lot 194, just northeast of the Lee farms. The purchase price suggests there were many improvements, including houses and barns. Samuel's farm and residence seem to have been on the south side of the Newnan Road but exactly where in Land Lot 194 is uncertain. There he and Rebecca had seven children, although two of those may not have survived childhood. In the early 1880s, as their three sons were starting new families, they picked up and followed them to Carroll County. The both died there and are buried in the Tallapoosa Primitive Baptist Church cemetery. [5]
Samuel's younger brother John A. Lee married Susan Elizabeth McGee (1831–1916) in 1856. He may already have established the farm that adjoined his sister's farm at Adamsville when his father gave them the land just mentioned and must have sold his share to his brothers at an early date. John and Susan Lee eventually had seven children, one of which did not survive childhood. In May 1902 their youngest son, Seaborn Milard Lee (1877–1903), brought scandal to the family when, crazy from unrequited love, he shot and killed Lilla Mae Suttles (1881–1902), after morning services at Wesley Chapel in Ben Hill. He was hung for the crime the following year and is buried next to his parents at the old Utoy Primitive Baptist Church Cemetery in southwest Atlanta.
Thomas M. Lee and Sarah Mariah Lee were born three days apart in 1836. Thomas was never married before being killed at Vicksburg in July 1863. He is thought to be buried in the Soldiers' Rest section of the city cemetery there. The life of his sister Sarah is poorly documented beyond her marriage to William H. Long (1837–1871) in the late 1850s. Through gift or purchase, they acquired title to 69 acres in Land Lots 223 and 224 and had several children before their untimely deaths in the 1870s. Where they were interred is unknown. Daughter Aurelia was left in the custody of her uncle Seaborn Anderson Lee, while her sister Linda Ann went to live with their aunt Martha Ann Lee McDonald.
In December 1860, John and Susannah Lee's youngest child, Elzy Franklin Lee, married Sarah Elizabeth Childress (1843–1921), daughter of their neighbor Jesse Childress. A month before his marriage, Elzy and his brothers Samuel and Thomas paid their neighbor Noah Hornsby $2,000 for all of Land Lot 194, which adjoined 223 on the east. The purchase price suggests there had been substantial improvements to the property, including one or more houses and barns. After Thomas's death during the Civil War, Samuel and Elzy inherited his share and continued living on the property into the 1880s. When Mt. Olive Missionary Baptist Church was organized in 1871, Elzy, or Frank, as he was called, gave land for a building and cemetery. He also bought and sold other property and appears to have lingered after Samuel and his family moved to Alabama. In the 1890s, however, Frank and Sarah Lee too went to Alabama, settling in Cullman County in the northwestern part of the state. Both of them died there and are buried in the Cullman City Cemetery.

Figure 8. Detail from Plate LX, 1, "Map Illustrating the Fourth Epoch of the Atlanta Campaign," in Atlas to Accompany the Official Records of the Union and Confederate Armies 1861-1865, annotated with an arrow to locate John Lee's house. The extended rebel line is in red, crossing the Newnan Road two or so air miles northeast of John Lee's farm. (Library of Congress)
John and Nancy Holder Lee
In October 1853, just over four months after Susannah's death, John Lee married Nancy Jane Holder (1829–1901), daughter of his neighbor John Holder (1796–1880). The elder Holder had been born in North Carolina and married there as well, although the name of his partner remains undocumented. His eldest son, Greenberry Holder (1823–1905), is reported to have been born in Sampson County in southeastern North Carolina, which may have been the Holder family hearth, as it were. By the time Nancy Jane Holder was born in 1829, they were already in Georgia, although there is no certainty exactly where that was. [6]
Little is known about John Holder except what can be gleaned from the census.  In 1850 the federal census enumerated him apparently a widower living with his five daughters, including Nancy, and his ten-year-old son Sampson.  The elder Holder was born in North Carolina, and if Greenberry Holder (1823–1905) shown living next door to him in the 1850 census is in fact his son and the recorded birthplaces are correct, then the Holders must have moved to Georgia between 1824 and 1829.  The final record that has been located on John Holder is his appearance in the 1870 census of Rome, Georgia., where he was living with his daughter Martha. He is believed to have died there bef0re 1880.
The first of John and Nancy Lee's six children, Roxanne V. "Axie" (1854–1929), was born 13 February 1854. She was too quickly followed by Missouri (1854–1939), who was born on 30 November of that same year. It was a rough year for Nancy, but she would bear four more children after that: Theodosia (1857–1934), William Jasper (1860–1932), Kerron Hoppock (1860–1938), and Ipson (1862–1930). [7]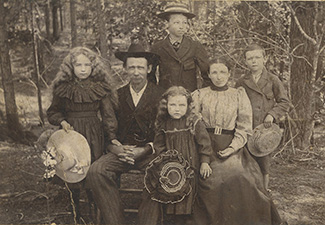 Figure 9. Ipson and Cora Lee with their four oldest children, ca. 1897. (Author's collection)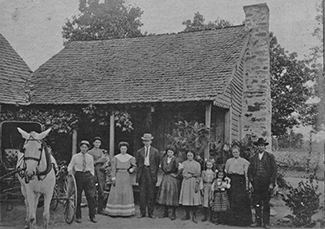 Figure 10. Manson and Kerron Lee Betterton and some of their children, in front of their house on the Newnan Road. (Author's collection)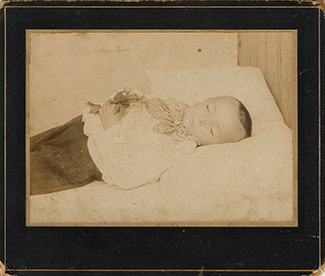 Figure 11. Memorial photograph of Harvey Jefferson Betterton, the second of Kerron and Manson Betterton's twelve children, who was eighteen months old when he died in June 1886. (Author's collection)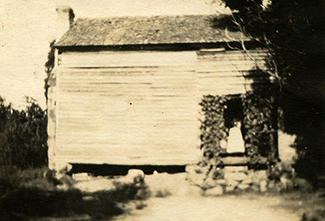 Figure 12. The west side of the Lees' house, ca. 1920. (Author's collection)
By the time John and Nancy Lee's last child, Ipson, was born in August 1862, his sons John A., Thomas, and Elzy Frank had already enlisted in the Confederate army. Samuel and his brothers-in-law, Premascus McDonald and Robert F Baker, joined that fall. Thomas and Elzy Frank had the misfortune to be caught in the seige of Vicksburg, where Thomas died in a hospital on 21 July 1863. He is believed to have been buried in the Soldiers' Rest section of Vicksburg's Cedar Hill Cemetery. Elzy was paroled and may have brought the news to their parents but he re-enlisted, in the 42nd Georgia Infantry Regiment at Morristown, Tennessee, and was part of a futile effort to stop the advance of the Union army into Georgia. The 63rd Georgia Regiment which included in its ranks Samuel Solomon Lee and his brother-in-law Premascus McDonald, fought in the battles for Atlanta in July and August 1864 and watched when the city was occupied in September. By then Samuel Lee had apparently deserted and Premascus McDonald did so in October, signing an oath of allegience to the United States and released on condition he remain north of the Ohio River. Elzy Frank's regiment circled back into Tennessee for the Battle of Franklin in November 1864, in which he was wounded. Paroled for two months, he was in Augusta to rejoin his regiment when General Johnston's army, which included John A. Lee, surrendered in North Carolina a few weeks after Appomatox.
The Lees's farms, if they were like most others in the area, would have suffered depredations by both armies as General Sherman's Atlanta Campaign ground its way to success in the summer of 1864. Even if they didn't have the ultimate misfortune of being the site of pitched battles or see their houses burned to the ground, the Lees would have given up horses, hogs, chickens, fodder, and much else as both armies foraged widely to keep tens of thousands of soldiers supplied. They would have been able to hear the booming of cannon as General Sherman's campaign for Atlanta brought the war too close to home, especially in the last two weeks of July when there were major battles north of the city at Peachtree Creek, to the east between the city and Decatur, and on the west at Ezra Church. Victorious, the Union forces laid seige to the city with daily bombardments as they shifted tens of thousands of troops around the city for the final battle at Jonesboro on 31 August–1 September. Unless they were able to refugee to get out of the way, the Lees would have been in the middle of total chaos for the rest of the year. In the hard winter that followed, John Lee died on 4 January 1865 and was buried next to Susannah in the family cemetery.
John Lee had made his will in 1857, the same year that he gave his youngest sons part of Land Lots 223 and 224. He named his sons Samuel and Thomas executors of the estate but in the event Samuel carried that task alone. The will was witnessed by neighbors Azariah Mims, Jesse Sewell, and Nathaniel Bacon as well as his son-in-law Premascus McDonald.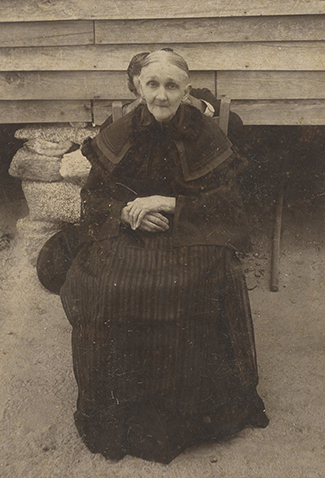 Figure 13. Nancy Holder Lee, behind her house, ca. 1900. Some one was kneeling behind her to steady her head for the photograph. (Author's collection)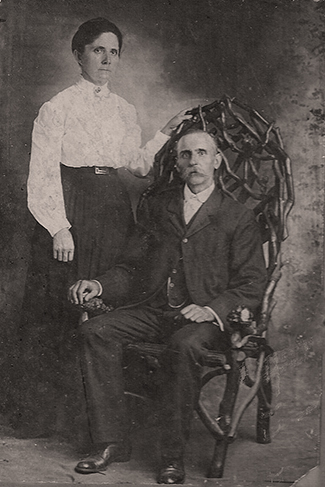 Figure 14. William Jasper and Amanda Creel Lee. (Author's collection)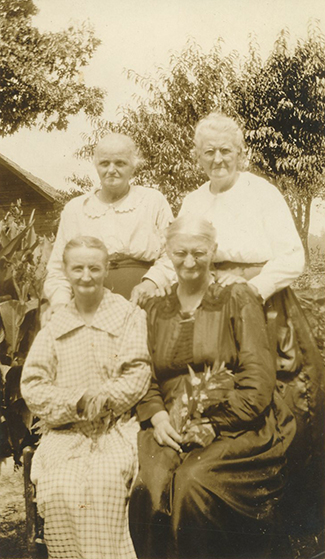 Figure 15. John and Nancy Lee's daughters, ca. 1920; clockwise from lower right, Missoura, Axie, Kerron, and Theodosia. (Author's collection)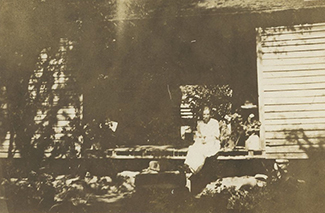 Figure 16. Clemar Lee Tankersly at the east end of the dog trot of John Lee's old house, ca. 1920. She and her husband may have been the last of the family to occupy John Lee's house. (Author's collection)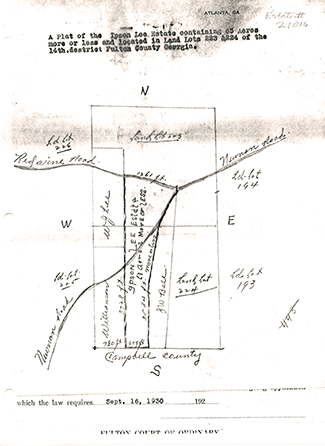 Figure 17. Plat of Ipson Lee's farm at the time it was sold. (Fulton County Probate Court)
The will was submitted for probate and recorded in Fulton County in August 1866 and was followed by inventory and appraisal of the estate in October. The farm itself encompassed 170 acres, and there was a fairly typical assortment of farm equipment and household goods, including a spinning wheel and a loom. There were also 60 bushels of corn, 800 bushels of fodder, a mule, twelve hogs, a yearling calf, and one goat. [8]
In his will John Lee left his widow a life estate in his property, which included "a negro girl about three years of age Leatha." By the time the will was probated, she would have been about 15 years old and was no longer chattel property. The federal censuses, including the slave schedules from 1850 and 1860, do not enumerate any slaves claimed by John Lee or his children. It is possible, however, that he had a single enslaved black woman, perhaps working as the family's cook, and that she died, leaving an orphaned daughter. The 1870 census enumerated Leathy Lee, age 15, in a household with what are probably her brother, Andrew, age 14, and her sister, Josephine, age 10. They were living next door to Seaborn Anderson Lee and his family in Clayton County.
Nancy Holder Lee did not remarry but continued in the house and raised her younger children on her own. The first of them to marry was Missoura, who wed George Washington Cobb (1852–1922) in October 1875. He was an Alabama-born farmer, apparently illiterate, with whom she had fifteen children, two of which died as infants. They first lived in the Buckhead District of Fulton County, but in 1887 or 1888, they moved to Alabama and acquired a farm near Red Apple, a now-defunct post office a mile or two southwest of Boaz in Marshall County, Alabama. They died there and are buried at Mt. Vernon Baptist Church cemetery just northwest of Boaz.
Her sister Axie married Samuel Benjamin Hornsby (1854–1926)y in June 1876. He was a grandson of Noah Hornsby, one of the area's largest property owners when he died in 1863. The Hornsbys had eight children at their small farm a couple of miles up the Newnan Road from the Lees. After her mother died in 1901, the Hornsbys decamped to Alabama where they settled near Arab, some twenty air miles northwest of Boaz, also in Marshall County but near the Cullman County line. They and many of their descendants are buried at Gilliam Springs Baptist Church Cemetery a mile or so north of Arab.
Theodosia Lee, John and Nancy Lee's third child, married William Walton Wallis (1854–1930) in the fall of 1876. The 1880 census enumerates him as a farmer, but in 1900 and subsequent censuses, no occupation is given. By then the family was living on Stewart Avenue in southwest Atlanta, and five of their children, the youngest their 13-year-old daughter, were apparently supporting the family working in one of the several cotton mills across the south side of the city. By 1920 they were back in East Point, living on Washington Road. They are buried at Mt. Olive Baptist Church Cemetery.
On Christmas Eve 1882, the youngest of the Lee sisters, Kerron, married Manson Leander Betterton (1856–1930). He grew up in the Poplar Springs District in northwestern Clayton County, near where Kerron's half-brother Seaborn Anderson Lee had a mill. Kerron and Manson, too, began farming near there before they bought or were given 67 acres and a house just down the road from her widowed mother.
Twelve children were born over the next twenty years, but five of them were either still-born or died before their second birthday. Around 1903 the Bettertons and their seven children pulled up stakes themselves and moved to Alabama, where they lived not far from the Hornsbys in Arab. The Bettertons are also buried in the Gilliam Springs Baptist Church Cemetery.
Ipson Lee married Cora Tommie Eidson (1867–1957) on 13 December 1883 at the home of her parents, David C. Eidson (1838–1916) and Amanda Suttles (1840–1924), near Red Oak. They built a house across the road from the Bettertons and had seven children, although one of those died at birth. Their farm contained about 64½ acres, extending through the middle of Land Lot 244 and into Land Lot 223, from below Camp Creek to Redwine Road and including most of what is now the Washington Manor subdivision. In 1926, Ipson Lee sold the farm and he and his wife and daughter Ruby moved to 211 Washington Street in East Point.  He operated a service station at the northeast corner of Cleveland Avenue and Church Street but was never really happy away from the old family farm on Washington Road. He committed suicide on 5 April 1930, leaving a note saying "I just can't take it anymore." He was buried at Mt. Olive Baptist Church Cemetery. [9]
The last of Nancy Holder's children to marry was William Jasper Lee when he married Amanda Creel (1860–1943) in 1884. They had a 40-acre farm in the northwest side of the 300 acres of John Lee's original farm. They had a single child which they raised in the their modest house on Redwine Road. Unike his siblings, Jasper Lee never moved away and they occupied that house for the rest of their lives. They are buried at Mt. Olive cemetery.
Nancy Holder Lee died on 25 April 1901 and was buried next to her husband in the family cemetery. In settling the estate her youngest son, Ipson, gained title to the old homestead and family cemetery. His daughter Clemar (1891–1925) and her husband, Benjamin Franklin Tankersly (1888–1927), lived in the house for a few years after their marriage in 1911, before building a new house nearby. It is unclear if the old house was occupied again before it was razed sometime after Ipson sold the place in 1926. One of the chimneys is reported to have been incorporated into the new house that was built on the site in the mid-twentieth century. Now numbered 3641 Washington Road, that house encompasses the footprint of the Lees' old house. The family cemetery, which is fenced and has no public access, remains intact under the high-tension power lines that run across the property behind the house.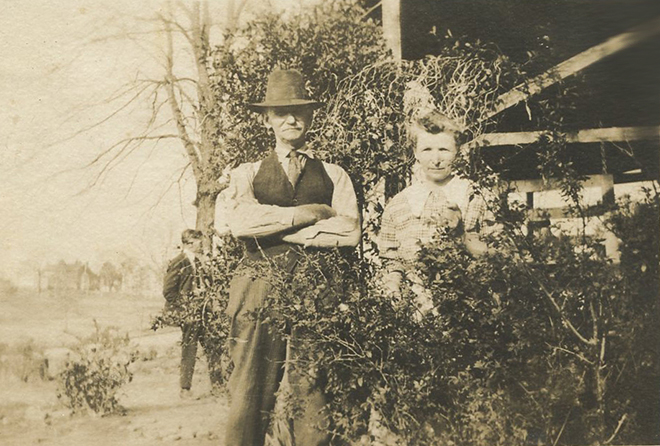 Figure 18. Ipson and Cora Lee at the end of their front porch, Easter 1920, with his father's old house visible on the horizon at left. (Author's collection)

Notes
1. Marie Derry De Lamar, "James Ellis Lee and Elizabeth A. Baker, Their Ancestors and Their Descendants," unpublished typescript, Albany GA, 1983, revised 1984, 4–5. The 1850 Campbell Co., GA, census, #711. Among other sources which have confused these two John Lees include family histories in Ancestors Unlimited's History of Clayton County, Georgia: 1821–1983 and McMichael's History of Butts County, Georgia. Among the probate court records of the administration of Henry Lee's estate in Butts County are documents identifying his son John as being from Campbell County.
2. Mecklenburg County, NC, Deed Book 4, 380, 20 April 1767, and York County, SC Deed Book G, 125, 21 November 1808 name Edward Lee and his sons John and Henry. The boundary between North and South Carolina was not established in that area until after teh Revolution, and when it finally was, Lee's land fell into York County, South Carolina. That has resulted in a variety of legal instruments related to the same place being filed in both North and South Carolina. For the issues surrounding the boundary, see Robert D. Temple, "Troublesome Boundaries: Royal Proclamations, Indian Treaties, Lawsuits, Political Deals, and Other Errors Defining Our Strange State Lines" at <http://schistory.org/wp-content/uploads/2015/06/troublesome-boundaries.pdf>.