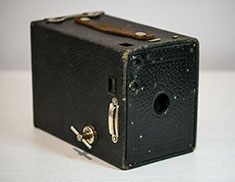 Eastman Kodak's Brownie box camera, Model E. Ruby's camera has been lost (Photo Thinking)
She was my Grandmother Hart's baby sister, Ruby Corrine Lee (1906–1995), the youngest of seven children born of the marriage of Ipson Lee (1862–1930) and Cora Tommie Eidson (1866–1957). She grew up on the family farm on what was then the Newnan Wagon Road, now Washington Raod in southwestern East Point, part of over 300 acres her grandfather John Lee (1792–1865) purchased in 1843.
The youngest child of the youngest child of her grandfather left her with several generations of photographic images which I inherited after her death. These include nineteenth-century tintypes, carte de visites, and cabinet cards (in which too many subjects remain unidentified); some of these I have posted here and here. There are also over 150 photographic prints from the first quarter of the twentieth century, a number of which she took herself. Most of them were taken at various locations around the farm between about 1920 and 1928, when she and her parents moved to 215 Washington Avenue in East Point.
Around 1920, Ruby got her first camera, one of Eastman Kodak's wildly popular box cameras, probably the Brownie No. 2, Model E, which was manufactured between 1919 and 1924. She had other cameras later in life. Several photographers are represented in the collection.
[For an excellent history of the Brownie cameras, see Theo Panagopoulos, "Kodak No. 2 Brownie Model E – Photographing outside of the box" on the web at Photo Thinking: thoughts about photograph.]

Only a handful of Ruby Lee's photographs were annotated, but someone, probably Ruby, wrote in pencil "Easter Eggs" on one of the earliest photographs in this series. The date stamp from the film developer on the reverse side reads: "April 6 1920, Cone's Atlanta, Quality Service." Easter that year was on 4 April. Many of the people cannot be identified. It is possible that these include some of Ruby's Eidson cousins or perhaps just friends. Of interest in the background of several are views of the house Ruby's grandfather John Lee built in the 1840s. My favorite is that of Ipson, his arms crossed, and Tommie at the south end of their front porch, with the place where he was born in the background. I'm sure 14-year-old Ruby took the photograph.
| | |
| --- | --- |
| | |
| | |
| --- | --- |
| Ipson and Tommie Lee | |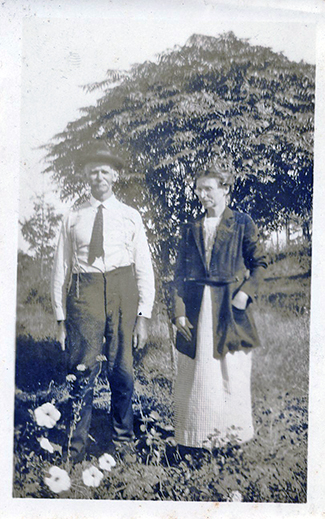 Ipson and Tommie Lee
In 1843, Ipson Lee's father bought over 300 acres of rolling farm land north and east of where Washington Road crosses Camp Creek in what is now southwestern East Point. Ipson himself inherited 64½ acres that included the old homeplace and the family cemetery.
When Ipson married Cora Tommie Eidson in 1883, they built a house just a few hundred yards down Washington Road from his parents' old house. No one ever bothered to take a decent photograph of the house, although bits and pieces of it show up in Ruby's photographs and wasn't torn down until the 1970s. It sat at the southwest corner of Washington and Arlington Roads, but it was a typical sort of farm house. Facing north and set on stacked rock piers, it was a wood-framed, end-gabled house finished with lap siding and wood-shingled roof. It was built on an L-shaped plan that included rooms on each side of a central hall and a kitchen/dining room wing running to the south from the east end of the main block. There was a nearly full-width front porch and an L-shaped back porch.
Outbuildings show up in this series, including a well house, barn, chicken house, corn crib, and smoke house. All had wood-shingled roofs, and most seem to have been w00d-framed buildings, but at least one was built with squared logs and half-dovetail joinery. A saddle-bag type tenant house is in the background of some photographs, but its location isn't clear. There are other residences, barns, and other buildings in the background of many of these images.
Tommie Lee always liked flowers and gardening, but that is sometimes difficult to discern in black-and-white. There is a single image showing crops in the field, which appears to be cotton, something Ipson would have grown as a "cash crop."
As with many of Ruby's photographs, too many subjects cannot be identified.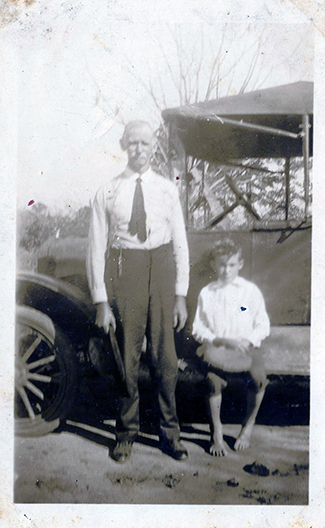 Ipson Lee, his grandson Harold Lee, and the Model T Ford.
Ipson Lee's first automobile was a 1915-1916 Model T Ford, the first of which rolled off the assembly line at Ford's Dearborn, Michigan, plant in 1908. By the time the last one was built in 1927, Ford had sold over fifteen million Model Ts, the first widely affordable automobile. Three hundred thousand were produced in 1915 and sold for $390 (the equivalent of about $10,000 today); the next year over half a million were built and the price dropped to $345.
Production of the Model T Ford ended in May 1927; the first Model A was sold in December, and Ruby must have gotten hers shortly after that. When these images were made, her father had already sold the farm (in Novemberm 126, but they might not yet have moved into East Point.
Ruby went to work as a switchboard operator at Western Union on Marietta Street in downtown Atlanta in 1928 or 1929, but with the streetcar lines a block and a half away from their new house at 215 Washington Avenue, there was no need to drive to work.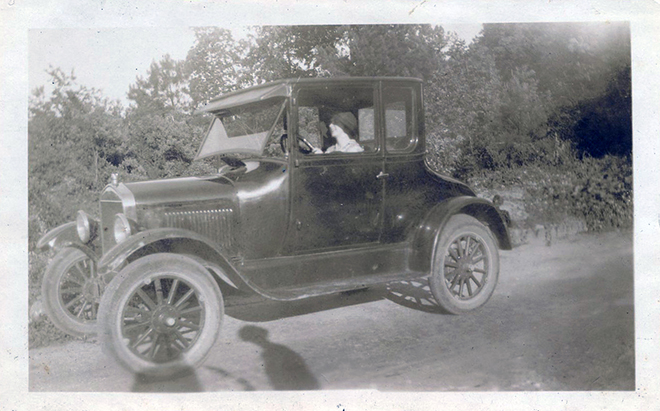 Ruby Lee in her Model A Ford, probably on Washington Road.

Bob the dog (and a cat) got photographed a time or two one day at the farm on Washington Road.
| | |
| --- | --- |
| Ruby's father, Ipson Lee, and Bob: "He cannot be a gentleman which loveth not a dog" | Ruby's nephew Doug Tankersley and smiling Bob the dog. |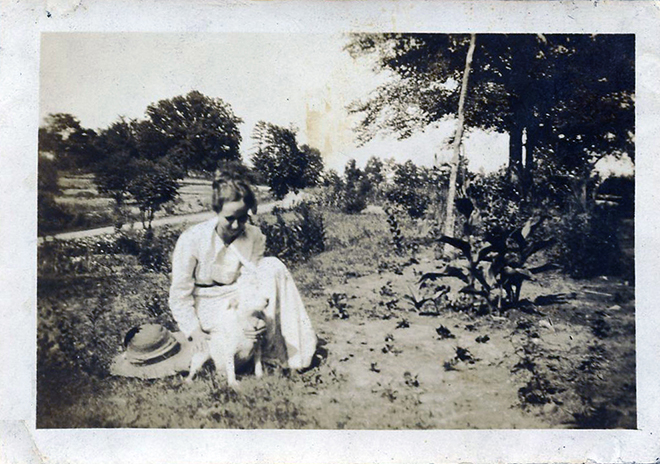 Clemar Lee Tankersley and Bob the dog in the front yard of Ipson and Tommie Lee's farm house.
| | | | |
| --- | --- | --- | --- |
| Iris and Melba, shaking hands with Bob at the south end of the house at the farm. | Bob, a kitten, and an unidentified admirer on the back porch at the farm. | Playing with Bob in he middle of the Newnan Wagon Road, now Washington Road. | Playing with Bob in he middle of the Newnan Wagon Road, now Washington Road. |

The South Fork of Camp Creek runs east to west across what were the pastures and fields on the south side of the Lee farm. Ruby apparently enjoyed wading in the creek with friends, and these photographs seem to document two or three such visits. These were likely taken a few hundred yards upstream from the Washington Road crossing, which was apparently not bridged until after World War I.

In addition to recreational use and watering livestock, the creek was used for baptismal services by Mt. Olive Baptist Church, which practiced full-immersion baptism, thus the denomination's name. In the vertical image below, the minister's right hand is raised as he prepares to deliver the baptismal blessing before briefly submerging the individual. The minister would have likely baptized all of the individuals standing in the water in this image.

Two funerals, photographed but not identified. Landscape features, including the high-tension power lines in the background, place these burials at Mt. Olive Baptist Church cemetery. Ruby's sister, Clemar, died of typhoid fever on 8 August 1925 and was buried at Mt. Olive Exactly two years to the day later her husband Benjamin Tankersley died as well. Their orphaned son, Douglas B. Tankersley (1913–1969), was raised by his grandma Lee and aunt Ruby in East Point.