The George Power House, commonly known as the Power "cabin," is a rare survivor from the early days of white settlement of the western piedmont of Georgia. Surounded by the Chattahoochee River National Recreation Area in eastern Cobb County, Georgia, the house has been traditionally attributed to George Abner Power (1821-1914), who is thought to have built it around the time of his marriage to Winifred Copeland (1821-1898) in 1843. Power was a son of Joseph and Isabella Power, who were among the earliest settlers in the area, settling first in what is now Fulton County in the mid-1820s and then in Cobb County, probably after 1832. As a young man in the 1840s, George Power established a farm on around 200 acres which he had acquired from his father. He and his wife raised their twelve children in the house and remained there most of their lives. Although the house was not occupied by Power family members after World War I, George and Winifred Power's descendants continued to own the property until 1996, when what remained of the old farm was conveyed to the Trust for Public Land. In January 1999, the Trust donated the Power House and about 2½ acres to Cobb Landmarks and Historical Society, while the remainder of the property was incorporated into the adjoining Chattahoochee River National Recreation Area.
The Power Family
George Abner Power was born in Georgia on 15 May 1821, perhaps in Clarke or Madison counties near Athens in northeast Georgia. He was the son of Isabella Ballew (about 1781-1848) and Joseph Power (1780-1875) and thought to be the grandson of one John Power (1740?-after 1790) and his second wife, Sarah Woodall (1750?-after 1790).[1] The Power family were part of a great wave of Protestant, Scots-Irish immigration from Ulster that began in the 1740s and continued almost unabated through the 1760s. By the time of the American Revolution, as many as 250,000 of them had entered the colonies, mostly through Philadelphia, New Castle, or one of the other Delaware River ports. They quickly spread beyond the earlier settlements of the Germanic "Dutch" in Lancaster and York counties, Pennsylvania, and after the end of the French and Indian War in 1763, many of them moved out into the Shenandoah Valley of Virginia. By the time of the Revolution, Scots-Irish pioneers were pouring into the Carolina piedmont.
John Power is thought to have emigrated to America from Donegal, Ireland, in 1761 and, on August 8 of that year, married Rachel Duvall, perhaps in Pennsylvania. They had three children before her death, perhaps in childbirth, around 1775. John Power soon married Sarah Woodall and moved to Laurens County in the piedmont of South Carolina. There they had they had eight children between 1778 and 1790. In turn, these children grew to adulthood and, in typical American fashion, moved into the newly opened Indian cessions in Georgia after the War of 1812.[2]
Only three of John and Sarah Power's children—Joseph, James Power (1790-1870), and Thomas Power (1785-1852)—have been documented in Cobb County but there may well have been others. Because of the confusion of common names within the family and across generations and because very few of George Power's maternal relatives have been identified, it is not possible here to do more than suggest that it is likely that George Power grew up amid a myriad of aunts, uncles and cousins on both sides of the Chattahoochee River.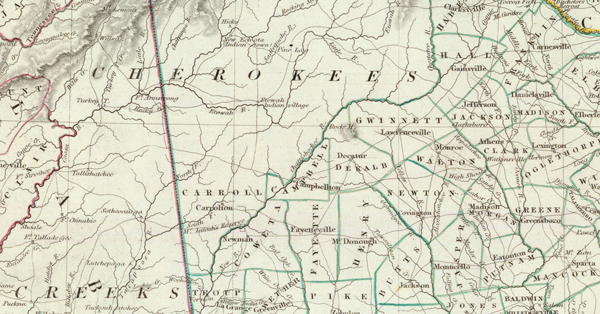 Figure 2. Detail from Baldwin and Craddock's map of Georgia, 1833. (Library of Congress)
Early Settlement
When George Power came as a child with his parents to DeKalb County in the 1820s, the future site of the Power House—Land Lot (LL) 217, First Section, Second Land District, Cobb County, Georgia—was still technically a part of the beleaguered Cherokee Nation. After the Creek cession of their lands east of the Chattahoochee River in 1821 and the subsequent organization of DeKalb County (which then included what is now Fulton County from near Roswell to Ben Hill) in 1822, white settlers frequently flaunted Federal and Cherokee law by trespassing to hunt and even to claim Indian lands as their own. With little opposition from the state government, they farmed the broad river bottoms on the northwest side of the river and even established large plantations. So great was the problem that, in 1824, Federal troops were sent to destroy farms, burn houses and remove the "intruders" from that side of the river, including the area that is now Cobb County. In spite of the fact that several of the white settlers were killed, squatters remained a problem throughout the 1820s, with many residents of the southeast or DeKalb County side of the river continuing to cultivate the bottom lands and hunt and fish on the northwest side of the river.
Col. Hugh Montgomery, the Federal government's Indian agent, was "at a loss what to do" and bemoaned:
the prevailing idea in Georgia (especially among the lower class) . . .[is] that they are the rightful owners of the soil, and that the Indians are mere tenants at will; and indeed, Sir, there is only one point on which all parties both high and low in Georgia agree, and that is, that they all want the Indian lands.[3]
The event that, more than any other, precipitated removal of the native Americans from Georgia was the discovery of gold in what is now Lumpkin County, Georgia, in 1829. What followed was known, even at the time, as the "Great Intrusion," with prospectors—acting "more like crazy men than anything else," according to one eyewitness—flooded illegally into the Cherokee Nation beyond the Chattahoochee. As a result, when the 1830 census was taken, enumerators of the legally established counties of Habersham, Hall, Gwinnett, DeKalb and Carroll included white settlers across the river in Cherokee territory. John Power, Mary Power, and two Joseph Powers appear in the enumeration of DeKalb County, all probably related and one of them surely representing Joseph and Isabella Power's family, who were probably then still living on the DeKalb side of the river.
On 26 December 1831, flaunting Federal law, the Georgia Legislature passed its own law that organized all of the Cherokee territory northwest of the Chattahoochee into one vast county that they called "Cherokee." Although the U. S. Supreme Court's decision in Worcester vs. Georgia was issued in March 1832 and reaffirmed the integrity of the Cherokee Nation, the State defied the Court and, confident that Andrew Jackson's administration would not intervene, began organization and distribution of the Cherokee lands to white settlers.
Because evidence of gold deposits was being discovered as far south as Villa Rica in Carroll County, much of the Cherokee lands along the Chattahoochee valley, including most of what became Cobb County, was surveyed into "gold lots" of forty acres each. The remainder of the territory was surveyed into "land lots" of 160 acres, which was still considerably smaller than the 202½-acre land lots that were surveyed south of the river in the 1820s. White males who could establish state residency for themselves and their families for three years prior were eligible for "a chance at the draw" in the lottery that began 22 October 1832. By March 1833, lottery drawings were complete but, for a variety of reasons, actual granting of the claims was not complete until the 1840s.[4]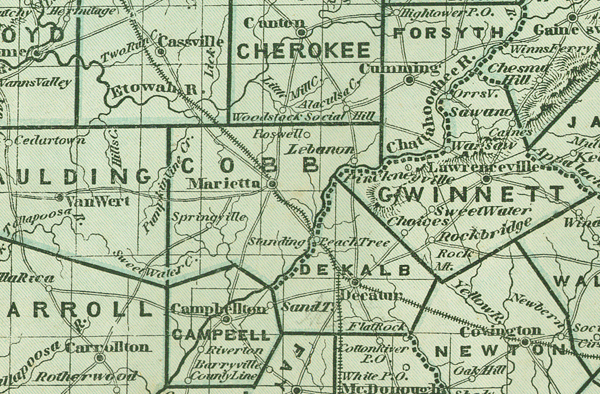 Figure 3. Detail from Morse and Breese's map of Georgia, 1842. Atlanta would not be mapped until 1846.
The Power Family in Cobb County
Family tradition, but scant historical documentation, holds that members of the Power family were among those who made free and frequent use of Cherokee lands. Stories of James Power, later known as Judge Power, and his incursions into Cherokee territory after 1828 are recorded in local histories and support the traditional assumption that his older brother Joseph and other family members participated in these incursions as well. Among the Power family traditions is that, as a young boy, Judge Power's nephew and namesake James Cooper Power killed his first deer about 1825 not far from where he would later build the house that is today at the core of Hyde Farm. Both James and his brother George are said to have enjoyed wrestling matches with the Indians on occasion. Family tradition also states that they witnessed but refused to participate in the roundup and of the Cherokee that reached its conclusion in 1838. None of these tales, of course, can be verified.[5]
The indices of the "fortunate drawers" in Georgia's 1832 land lottery include a number of people named Power or Powers—including Joseph, "Jos.," James, and Thomas—but none of their claims were in the "gold lots" in what became Cobb County in December 1832.
Land Lot 217, the future site of George Power's house was granted to James Lee of Meriwether County on 9 February 1836, but he is not known to have ever actually lived in Cobb County. The loss of early records in courthouse fires in DeKalb County in 1843 and in Cobb County in 1864 makes it impossible to establish an unbroken chain of title to the property, but family tradition and scattered documentation suggests that, by 1850, Joseph Power, his siblings, and their children owned large stretches of the north-western bank of the Chattahoochee River between Morgan Falls Dam and Vinings.
George's uncle James Power, who was a veteran of the War of 1812, is the first of the Power clan that can be documented in Cobb County. He is said to have arrived in DeKalb County as early as 1826 and served as justice of the Inferior Court in DeKalb County and justice of the peace in the Buckhead district in the early 1830s. Probably in 1832, he established one of the first ferries across the Chattahoochee about six miles down stream from Morgan Falls. Located between river crossings at the Shallow Ford near Roswell and Pace's Ferry at Vinings, Power's Ferry soon became a landmark although it was not officially authorized by the state legislature until 1835. In January 1833, James Power resigned his offices in DeKalb County and moved across the river to the newly-organized Cobb County where he was enumerated in the State's census of Cobb County that was completed in March 1834. There he built a house which stood on the road named for his ferry, on the "first rise west of the river," according to Atlanta historian Franklin Garrett, near the present crossing of I-285 over the river.[6]
Figure 4. USGS map annotated with locations of George Power's house and the nearby homes of other family members. The hatched lots are those owned by George Power. Click image for larger map. (Map overlay by author)
It is believed that Joseph and Isabella Power settled on the Cobb County side of the river just below Morgan Falls around the same time as Judge Power was establishing his ferry and, by the 1840s, had assembled a farm that encompassed as much as thirteen hundred acres between Willeo Creek and Johnson Ferry Road. None of Joseph Power's documented property was granted by the State before November 1835 when Lot 281 (where Joseph is thought to have built his house) was granted to Jonathon Baker Sr. of Washington County, Georgia.[7]
Formal settlement of Cobb County was slow until after December 1835, when the State Legislature authorized the final solution of Indian removal to the west. As a result, much of the land that became Joseph Power's farm was not legally granted until 1836 or later. Several of the land lots that Joseph Power or his children were known to have acquired in the area by the 1840s—including Lots 218, 219, 220 and 282-288—are, for unknown reasons, not listed in the lottery index. Only Joseph's ownership of Lots 211, 221,223-226, 278, 281, 285, and 287 have been proved through existing land records.[8]
Joseph Power does not appear in the list of Cherokee County residents that were required to sign a loyalty oath in 1832, nor does he appear in the 1834 census, which recorded 1,576 white people in Cobb County. It can only be assumed that he maintained his residence on the DeKalb side of the river until after 1834. He may, however, already have started farming the broad river bottoms on the western shore of the Chattahoochee River, which provided better farm land than could be found on the steep slopes on the eastern shore of the river. In addition, Joseph Power owned the Cobb County approach to a ford just above the future site of Morgan Falls Dam. While it was never as important a crossing point as the Shallow Ford upstream near Roswell or his brother Judge Power's better-known ferry several miles downstream, "Power's ferry and ford" were landmarks in 1864 and his sons continued to operate a ferry there in the late nineteenth century.
Joseph and Isabella Power had at least eight children who grew to adulthood on the farm on the northwest side of the Chattahoochee River. By the time Isabella died in October 1848, at least two of their sons—James and George—had married and settled nearby on land that, according to family tradition, was given them by their father. The first to marry was probably the eldest son, James Cooper Power (1814-1901), who married Rosa Dodds Austin (1812-1894) about 1840. They built a house on Lot 221 just southwest of his parents' house some time after that. Remodeled by Jesse Hyde in the early twentieth century, James Cooper Power's house was occupied by the Hyde family until the death of Jesse Hyde's son J. C. in 2004.[9]
Joseph and Isabella's youngest son Pinkney Joseph Power (1830-1914) also built a house near his parent's farm after his marriage in 1850, building first in Lot 223 and, later in Lot 224 near the southeast corner of Hyde Road and Lower Roswell Road. Both houses are now gone with only the reconstructed well remaining at the site of his first house on Hyde Road.[10]
As was the custom, Joseph and Isabella's daughters did not inherit property but they did marry into neighboring families and settled nearby. Mary Elizabeth (1826-after 1900) married Joseph Martin (c. 1829-after 1860) and they built a house in Lot 214 on the southwest side of the intersection of Hyde Road and Lower Roswell Road.[11] Kiziah (1823-1894) and her husband William L. Bishop lived on Middle Roswell Road about nine miles from Marietta. Martha Jane (1828-1924) and her husband Jeptha Jackson lived still further north near Sandy Plains and Shallowford roads.
George Abner Power and Winifred Copeland
On 11 January 1843, George Abner Power and Winifred Copeland were married in DeKalb County, with Justice of the Peace Josiah Power officiating. She was probably the daughter of Elijah Copeland (c. 1800 - after 1850) and his wife Sarah Jett Copeland. Natives of South Carolina, they had moved to DeKalb County in the 1820s and settled near Sandy Springs where a road still bears the family name. How the couple met has not been recorded but it is likely that the Copeland and the Power families knew each other long before George and Winifred married.[12]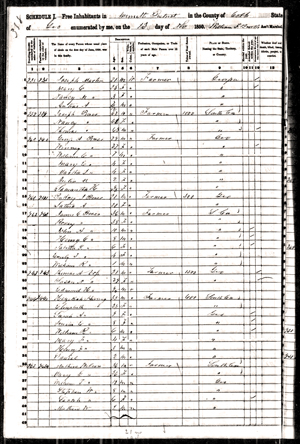 Figure 5. Excerpt from 1850 Federal census of Merritt's District, Cobb County, Georgia, showing George Power and nearby family members. Click image for larger size.
On 17 December 1843, George and Winifred Power's first child was born and was named William Charles. By that time, if not before his marriage, George had probably worked with his father and siblings to erect a log house on a low rise in the northwest side of Lot 220. According to family tradition, he later moved to the present site in Lot 217, although why he might have done that is unclear. The character of the existing building indicates that the move must have occurred by the 1850s.[13] It is not known if Power disassembled his original log house and reconstructed it on the present site (a not uncommon occurrence) or if he built a completely new house on Lot 217. The circumstances of the move have not been documented but it may have occurred by the spring of 1846 when their second and third children—twins named Mary Elizabeth and Martha Jane—were born. Seven more children were born before 1860 and two more after that. Except for an un-named son who was born and died in the winter of 1858, all grew up on the Power farm.
By 1850, George Power was able to declare ownership of 300 acres of land along the Chattahoochee River in eastern Cobb County.[14] According to family tradition he acquired at least some of his land from his father but he may have also been buying as well. One of the numerous family traditions that have survived in the Power family was recently recorded by Power's great-grandson and states that when Power "started buying up land . . . he bought the first parcel for $.50 an acre, then bought some more at $1.00 an acre, then more at $1.50. When the price went to $2.00 an acre, he quit buying, saying 'Any damn fool knows land ain't worth $2.00 an acre'"[15] The exact extent of George Power's land ownership cannot be documented because of the loss of Cobb County records in 1864, but his ownership can be proven for what was probably the core of his historic farm: Lots 152, 153, 154, 218, 220, and the fractional lots 151, 219, and 283, all of which formed a triangular parcel of slightly less than 260 acres.[16]
Less than a third of Power's land was improved for cultivation during the antebellum period, and most of that was probably in the river bottoms that stretched for over a mile along the southeast side of his farm. Although George's uncle James, brother Pinkney, and some other family members owned one or two slaves, George Power never owned slaves. As with most small farmers, the labors of George and Winifred, joined by the children as they grew up, were required to produce a livelihood on the farm.
The Federal agricultural censuses in 1850 and 1860 provided snapshots of the Power farm during the antebellum period and suggest that it was typical of the "yeoman farmers" who populated the upper Piedmont in the mid-nineteenth century. Power may have kept only between fifty and a hundred acres under cultivation on a regular basis but on this land he produced, as much as forty-five bushels of wheat, five hundred bushels of corn, and a bale or two of ginned cotton, the last being his only "cash" crop. In addition, there would have been a variety of other farm produce that was not recorded and that was mostly consumed by the Power family and their livestock. Power was listed with a single horse, which he must have used for plowing until he acquired a team of oxen in the 1850s. Only after the Civil War did Power begin using the mules that became synonymous with nineteenth century agriculture.
The Powers also kept two or three "milch" cows and five or six "other cattle" as well as a herd of fifteen or twenty "swine," which they probably allowed to forage in the extensive woodland around the farm. In addition, the Powers, like many antebellum farmers, kept a small herd of sheep, the wool from which was spun into yarn and thread for the "home-spun" clothes that were typical of self-reliant farm families. Finally, chickens would have been standard fare on the Power farm, and there may have been other farm animals as well.
Curiously, neither George Power nor his brother James built barns, and the Hydes remembered George Power simply stacking his fodder in the fields. According to the Hydes, George Power was rather cavalier with his crops, "wasting more stuff than anybody in the world." Whole crops of corn would be poured in a split-rail pen, protected from the elements only by boards laid across the top of the pen, and, the Hydes remembered, they had seen un-threshed oats and wheat scattered across the hillside by George Power's game chickens. Once the Hydes bargained with "uncle George," as they called him, for twenty bushels of corn. Ever honest, Power told them that "some of it will be rotten—just throw it out." The Hydes eventually culled through forty bushels to get the twenty that they had agreed to trade.
By 1860, the Powers must have completed the additions to their house, including the new room at the east end of the log pen and the two rooms that enclosed each end of the front porch. The census showed twelve people in the household that year, one of whom was an Irish-born school-teacher named P. D. Wheelan. Nothing more of his life or relationship to the Power family has been documented but he may have been helping educate the Powers' daughters. They as well as their nearby Power cousins were listed as "studying" in the 1860 census schedule.
Civil War and Reconstruction
Although some Southerners criticized the fighting that broke in 1861 as "a rich man's war and a poor man's fight," the Powers' eldest son William Charles enlisted in the Confederate army. His father, too, is thought by Power family members to have served in the Confederate army, but the actual service record of both father and son remains undocumented.
George Power's granddaughter's memoir does not mention Civil War service for either George or William, but his grandson George William Power (1903-1995) recounted the story of the minie ball that George is supposed to have carried in his leg from an old Civil War wound. The Hydes remembered stories of George's injury as well.[17] Early in 1864, in a last-ditch effort to raise troops, the State took a census of all adult males, ages sixteen to sixty, who were not yet under arms. Both George, 45, and his brother James, 58, were listed as farmers in Cobb County's 997th Militia District. George's son William is thought to have been mortally wounded in Virginia and, although he returned home, he died on 1 June 1864, just as the Union armies were closing in on Cobb County.
That summer of 1864 the Civil War raged through Cobb County as Sherman's Atlanta Campaign reached its climax. Although no direct documentation has been located for the effect the fighting and troop movements had on the Power farm, they could not have been good. With the Confederate retreat to, and then across, the river after the Battle of Kennesaw Mountain, Cobb County was soon over-run with Federal troops. By early July, foraging by both sides produced reports that "neither grass, wheat, nor other forage between Smyrna and Roswell [remained] on which to subsist his stock; Wheeler's cavalry had eaten the country clean."[18]
On July 12, Federal troops moved from Marietta to Roswell, via the main Roswell Road and the lower "river road," building trestle bridges across the river near Sope Creek and at Roswell and pontoon bridges at James Power's and Hardy Pace's ferries. According to local history, "from Vinings to Roswell," which included the Power farm, "the river bank teemed with [Union soldiers] in the midst of preparations for leaving the county."[19] Although the Power family could have joined the thousands of refugees trying to get out of the way of war and hoping for the best as far as their property was concerned, traditional stories within the family suggest they did not.
George and Winifred's granddaughter Winnie Power Groover (1892-1979) recorded a story she had heard of her grandmother's efforts to conceal a horse from "requisition" by the armies that swept the countryside in the summer of 1864. She had also heard that her grandparents hid a barrel of flour and one of corn meal under the floor of the house. James Cooper Power is said to have dug a pit in the woods in which he hid one of his most valuable possessions: seed corn for the next planting.[20]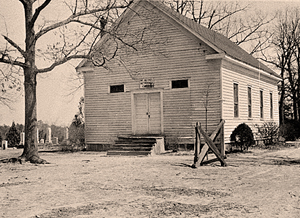 Figure 7. View of Mt. Bethel church around 1940. Note that the builidng's original double entrances had been replaced with a single entrance. (Vanishing Georgia Collection, COB365)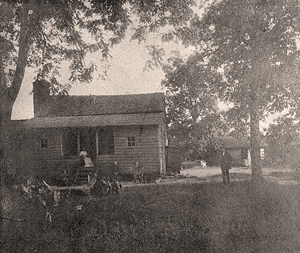 Figure 8. View of James Cooper Power's house, taken around 1890. The log house that he built in the 1840s survives as part of the Power-Hyde House at Hyde Farm. (Vanishing Georgia Collection, COB496b)
Nonetheless, the Powers would probably have witnessed the effective destruction of their farm. They were probably helpless to prevent the "requisition" of their sheep, hogs, cattle, chickens, and any other edible farm produce. Fences and small outbuildings could also be easily torn down to furnish fuel for the campfires that dotted the countryside as tens of thousands of troops encamped in eastern Cobb County. Whether or not the Powers could protect all of their other personal possessions from the marauding troops, deserters, and common thieves who plundered the countryside after the Federal army crossed the river on July 11-12 is not known. In addition to the loss of farm produce and live stock, Judge Power's daughter remembered that "the ground [around her father's farm] was ruined for years" by the movement of troops. The same was likely true for at least some of George and Winifred Power's bottom land along the river.
How the Power family coped with the aftermath of the Civil War has not been documented but it is possible that they relocated, at least for a time, away from their farm on the river. None of the Power family were enumerated in the 1870 census of Merritt's District in eastern Cobb County, and only George and his family can be located at all in Cobb County that year, when they were enumerated in the Marietta District. More likely, the census taker simply skipped the area, and the Powers did not move at all. In August 1872, Power bought eighty additional acres in Lots 83 and 146 from his neighbor D. T. Haney. The property appears to have included the antebellum residence of William Tritt, which became known to the Power and the Hyde families as "the upper house." The Powers could have lived for a time in this house, although that does not seem likely.[21]
George and Winnie Power's twelfth and last child, Emma, was born on 12 Aug 1866; their oldest daughter, Mary Elizabeth, married Andrew J. Ball in January 1867. The son of James and Dicy Ball, he grew up across the river near Sandy Springs. The remainder of the 1860s could not have been good times for the family. Their granddaughter Winnie Power Groover characterized Reconstruction by quoting Calvin Cooledge: "Eat it up; wear it out; make it do; do without," and for most Georgians that was the case In addition, in January 1869, the Powers' sixteen-year-old daughter Arkansas died of unknown causes, perhaps typhoid or some of the other communicable diseases that remained unchecked in the late nineteenth century. Just over a year later, in June 1870, their daughter Julia, then twenty-two, died as well. Both were buried near their grandmother Isabella Power in the nearby family cemetery.
The Later Years
In spite of these losses, George and Winifred were still raising young children, even in the 1870s as their older daughters continued to marry into neighboring families. In 1877, Sarah, or Sallie as she was known, married Thomas B. Carpenter, son of their neighbors J. L. and Mary Carpenter. In 1882, Martha Jane married Lewis M. Dalrymple, who had grown up across the river near Sandy Springs, and Samantha married Henry T. Martin a short time after that. The Powers lost two more of their daughters, however, with their youngest daughter, fourteen-year-old Emma, dying in February 1881 and their second daughter, Martha Jane Power Dalrymple, dying in August 1885, perhaps in childbirth.
George Power's father, Joseph, also died during this period, in June 1875, three months past his ninety-fifth birthday. He did not leave a will but deed records show that, by that time, he had turned most of his property over to his sons. As his wife had been in 1848, he was laid to rest in the Power cemetery in Lot 214. This cemetery has been known in recent years as the "Martin Graveyard," but George's sister Mary Elizabeth and her husband Joseph Martin, for whose family the cemetery is named today, appear to rest in unmarked graves under ancient cedar trees near the center of the cemetery. The earliest marked grave is that of George Power's mother, Isabella Power, who died 1848. Although George's brothers James C. and Pinkney and their families are buried at Mt. Bethel Methodist Church, both George and his sister Mary Elizabeth Martin and her family continued to use the old family cemetery where their mother was buried.[22]
George and Winifred Power appear to have made few, if any, changes to their house after the Civil War, although it is possible that the kitchen was repaired or rebuilt about that time. It may have been around this time, too, that Charles Geiger Power dug the well in the front yard, ignoring his father's scoffing that he would never find water at the top of the hill. He did find water, thus eliminating the arduous trips back and forth to the spring at the foot of the steep hill behind the house. Although the well curb has been rebuilt in concrete and stone and the wooden structure that probably sheltered the well has disappeared, Charles Power's well continues to provide water for the house. In addition, a stove pipe was added to the kitchen at some point, suggesting that the Powers installed one of the wood stoves that were widely available in the late nineteenth century.
George continued to farm, taking advantage of the labor of his three sons, but about 1878, his son Charles left for a boarding house in Roswell while he attended Roswell Academy, preparing himself to enter the State's new North Georgia Agricultural College at Dahlonega. That summer, he returned to work on his parents' farm, recording some of the tedium he experienced in a journal that has been preserved by his family. On 12 June 1878, he recorded in his journal that "I am at home this morning and have to go to hoeing very much against my feelings after being in school so long, and not used to the sun." Resigned, he wrote the next day, "I have been hoeing all day by myself and thinking over the past" and, still working on Friday, "this another day that has been long and wearisome, and I have had to pass off the time by myself, the best way that I could." So went his summer.[23]
That fall, Charles began teaching for the first time, an occupation that he continued after his graduation (at the top of his class) from North Georgia Agricultural College. In 1888, he married Eva Elder of Indian Springs. By then, Beroni Power had married Artrinissa Pursley, although it is not known if they had yet moved to Oklahoma, where they were living in the early twentieth century. T. D. may have married and moved away as well, perhaps to Alabama, although his life remains undocumented after 1880.[24]
New families also moved into the neighborhood, many of them working "on shares" or as tenants on the area's older farms. One of these was James A. Hyde (1847-1919), a South Carolina native and Civil War veteran who came to the Mt. Bethel community in 1874 when he began working "on shares" for George's brother James Cooper "Jim" Power. He continued to sharecrop with Jim Power until shortly before the latter's death in 1901. By that time, Hyde was renting land from the neighboring Wright family and from George and Pinkney Powers and, for a few years in the early 1900s, living in George Power's "upper house" on Johnson Ferry Road.
George and Winifred continued to depend on the regular routines of farm life in their old age—planting, harvesting, canning, milking the cows (named "Redy" and "Red"), taking care of livestock and the multitude of other tasks that characterized their way of life. By the 1890s, George Power was in his seventies and he probably turned over cultivation of his farm to tenants like the Hydes as his sons married and moved away. Glimpses of this period appear in Charles Power's journal entries as well as in Winnie Groover's memoir.
The Powers had, of course, other activities outside the routines of farm life. George's siblings were active members at Mt. Bethel Methodist Church, and George and Winifred were probably members as well although they also are thought to have attended Baptist and Presbyterian services on occasion. In any case, they must have instilled a strong sense of right and wrong in their children, as suggested by Charles Power's "Rule 1st" which was "Never to be guilty of using any obscene language or anything that would offend my Father." Charles Power also recorded in June 1878 that "we all went out to Mt. Bethel to uncle Joseph's singing," giving the impression that these were, in typical fashion, events attended by the entire Power family. Also, when Mt. Bethel built a new building at the northeast corner of Lower Roswell and Johnson Ferry Roads in the 1870s, they are thought to have used lumber that was milled and donated by Pinkney J. Power.
For most farmers, hunting and fishing were an important part of farm life and the Powers were no different in that regard. However, while they had done their hunting in eastern Cobb County in the 1830s, by the 1870s, they were forced further afield to find more than rabbit or squirrel. Charles Power noted in his journal in December 1878 that "Pa and Berone [sic] went to the mountains last Thursday with several others on a hunting excursion."[25]
Although Winifred could not write, she and George both could read and may have kept up with the several newspapers that would have been available at that time. Winnie Power Groover recorded her memories of her grandfather George Abner Power, which remain one of the few glimpses of his character and personality:
I do not remember my Grandmother [Winifred] Power, but I have a vivid remembrance of Grandfather. I recall his love of music (he was said to be "a notable fiddler"), his sociability; his rich wit; and the pleasure he got from telling "a good yarn." Best of all, he was absolutely honest and highly respected for that reason.
When my mother [Eva Elder Power] first met "Father Power" early in her married life, she realized she had never known anyone like him. In telling his "yarns" he often used words she had never heard. On one occasion he climaxed a story by slapping himself on the knee, which was a characteristic gesture. Then he exclaimed, "Whoops, shinny, then we had ructions!" Mamma thought he had coined the words "shinny" and ructions," so she was surprised to find them both in Webster's dictionary.[26]
George Power's skill as a fiddler have been noted by others as well. Jesse and his brother Jim Hyde remembered accompanying Power to dances and other engagements in the area. Walking was the usual mode of transportation and many of these excursions required a trip across the river. As they had probably been doing all along, the Powers kept a "skiff" at the River, which they summoned by "hallowing" from the other side. On the Fulton County side of the river, they took a steep path up the bluff above Falling Branch to Dalrymple Road and what is now Riverside Drive.
In September 1897, the Powers' daughter "Sallie," wife of T. B. Carpenter, died of unknown causes, the sixth of the Powers' children to die. Fifteen months later, the day before her eighty-seventh birthday, Winifred Copeland Power herself died and was soon laid to rest in the family cemetery.
George Power was, understandably, distraught by the loss of his wife. He lived alone for a while and Jesse Hyde remembered hearing him during this period seated by his fireplace, alternately fiddling and crying. Relatives and friends urged Power to leave but, by 1900, his widowed daughter Mary Elizabeth Ball and her two sons, aged 12 and 17, were living with him. The family grieved again in the summer of 1901 when James Cooper Power, George's oldest sibling and the one to whom he had been closest, died.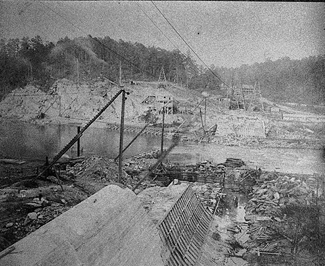 Figure. 11. A view east from the Cobb County side of the river showing construction of Morgan Falls Dam, c. 1902. (Vanishing Georgia Collection)
Then, probably to everyone's surprise, George Power remarried in January 1903. His new wife was Betty A. Barrett, a 58-year-old widow whose life has not been well documented. Mary Ball and her children moved to Oklahoma during this period, perhaps joining her brother Beroni. In 1910, the Power household included George, Betty, her daughter Mary Aiton and Mary's daughter Madalene. According to local "talk," "Miss Betty was awful good to him but her friends and folks from Atlanta just about ate him out of house and home."
In October 1911, George Power made his will. Betty was to receive the bulk of his household goods and farm implements while he distributed the remainder of his property in more or less equal parts to her, his living children, and the children of his deceased children. Power's will noted $46.00 "belonging to my former wife, Winifred Power" which he directed be used "from time to time in caring for and keeping in order" his wife's grave and the will also directed that "my executor have placed at the grave of each of my family buried at the family grave yard a suitable stone, selected by him, the style and cost of placing the same to be in his discretion and judgment." Power also included a provision in his will that, if any of the legatees should contest the will, they would lose their inheritance. "I do not desire," he wrote, "my estate wasted or consumed in litigation."[27]
George Abner Power died at his home, Saturday night, 10 October 1914 and was buried at the family cemetery the following Monday morning after a funeral conducted by Rev. Wm. H. Speer, assisted by Rev. M. Early. According to his obituary, he left "many other relatives in Cobb County" in addition to his wife, his children, nieces and nephews. The obituary did not mention the last of his siblings, his youngest brother, Pinkney Joseph Power, who died ten days later.[28]
The executor of George Power's estate was his son Charles Geiger Power, who oversaw the making of an inventory of his father's estate in December 1914.[29] By that time, Charles' step-mother Betty Barrett Power, had filed suit contesting her late husband's will, claiming that he "was of very advanced age and was suffering from what is known as senile infirmity to such extent that he had lost his testamentary capacity" by the time he had made his will. The case was dismissed and, it is assumed, given the terms of Power's will, that Betty Power lost her inheritance as a result. However, her daughter Mary and her husband Ike Nance continued to rent the house from the Power family until Charles Geiger Power bought out his relatives' interests in the old farm in April 1919.[30]
After World War I
Charles Geiger Power never lived at the house after he grew up, but even so his children retained a strong sentimental attachment to the old home place, which had been the site of memorable family visits in the late nineteenth and early twentieth centuries. Among his first tenants were his next-door neighbor Jesse Hyde's sister Bessie and her husband Emory Holt, who began renting the farm in 1919. Charles Geiger Power died in March 1925 but the family continued renting George Power's farm to the Holts. Charles and Eva's son George William Power married Virginia Wing at Bulloch Hall in Roswell in June 1928. After Eva Power's death in 1947, ownership of the farm passed to him and his siblings (Winnie Power Groover, Charles, and Royce) in equal and undivided shares.

After the Holts moved away about 1937, a man named Hamby who occupied the "upper house" on Johnson Ferry Road, burned all of the outbuildings at the Power farm. His reason for this action is unknown but included what must have been an antebellum log smoke house behind the house and three structures along the road in front of the house.
About 1937-1939, Y. C. Eavenson made one crop on the old Power farm and apparently lived in the house. His uncle Arthur Eavenson had boarded with Jim Power's daughter Emily and her husband Richard Bellah while he worked on Morgan Falls Dam in the early 1900s. Later, Arthur married their daughter Leona Bellah, a grand-daughter of Jim Power. The Eavensons lived on Lower Roswell Road and, from the 1930s into the 1950s, Arthur was in charge of the renters on George Power's old farm.
Beginning about 1940 and continuing to 1948, Alice and Will Gaddis lived at the Power farm. The Gaddises worked for Arthur Eavenson on a number of occasions. Their son, Paul Gaddis married Pearl Hyde and he is thought to have installed the stone steps and underpinning at the Power house about this time.
By the time the Gaddis family moved away, the Power house was thoroughly antiquated. The original wood-shake roofing had been replaced about 1941, but the house still had no running water or electricity and probably remained nearly windowless. As Cobb County's old agricultural way of life began to fade after World War II, the Power family must have found it increasingly difficult to find suitable tenants for the property. Electricity was installed on New Year's Day 1950 by R. W. Dickerson but the unpaved road to the house remained a hindrance to the easier automobile access that most people were expecting by that time.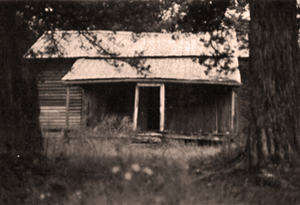 Figure 12. View southwest of front of George Power House, 1971.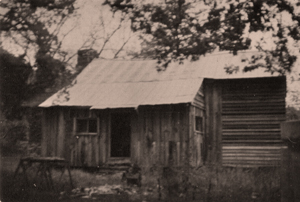 Figure 13. View northeast of rear of George Power House, 1971.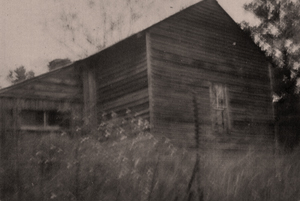 Figure 14. View north of George Power House, 1971, showing the antebellum, wood-framed additions to the original log pen.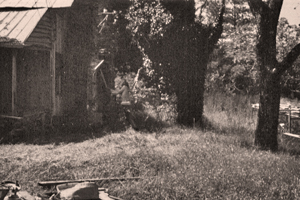 Figure 15. View of north side of George Power House, 1971.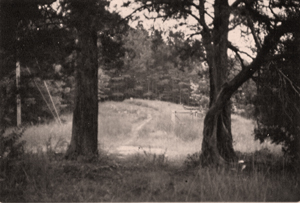 Figure 16. View northeast of road leading to Nowhere, 1971.
After Eva Elder's death in 1949, her children continued to rent their grandfather's old farm, sometimes not for residential purposes. In 1948, they began renting the property to a man named "Lovingiron," who only used the farm as a place to fish and hunt. Another "beagle club" followed in a succession of tenants, who rarely stayed for more than a year or two. At least one tenant would come for the day but never spent the night. Electrical service to the cabin was finally established in the early 1950s.
The Hyde family, next door and only a short walk away, took increasing responsibility for the old Power farm during this period. On more than one occasion, they extinguished wild fires that threatened the outbuildings on the place. And, about 1960, when the tenants in the Power House caught the kitchen roof on fire, it was Buck and J C Hyde who got the blaze under control and saved George Power's house from destruction.
By the 1960s, suburban development around Atlanta began rolling through east Cobb County and, about 1962, developers approached the Power family, offering to purchase the entire 320 acres tract that their grandfather had assembled before the Civil War. Two of the siblings (Charles and Royce Power) wanted to sell, but Winnie would sell only half of her portion and "George said absolutely not" to any sale at all. As a result, 200 acres were sold to the Marett Co. and most of the western portion of George Power's farm was subdivided and sold for residential development. The "upper house" was probably demolished at this time and much of the internal road system on the western side of the farm fell into disuse or disappeared altogether.
For the remainder of the 1960s, the farm was rented to Ed Scoggins, who sublet it to Tommy Lester and then Jerry Garrard. Scoggins is thought to have removed the loft floor and joists and used them in a house that he built for his brother-in-law in western Cobb County. It was also during this period that most of the existing windows and doors in the house were installed, which included creation of new window openings in the log portion of the house as well as in the old kitchen.
In September 1971, the Powers ran an ad in the Sandy Springs Neighbor for rental of "a log cabin on 80 acres." Unsure of the rental prospects, they had the good fortune to meet Morning Washburn, who was instantly attracted to the farm that she called "Nowhere." As Ms. Washburn wrote when the Power-Hyde Farm was awarded a stewardship award in 1996, she was in search of "country living and good neighboring" and "has lived there whole-heartedly ever since. For the past 24 years the Power place has been shared and cared for as a natural sanctuary--a wildlife preserve--with ongoing organic gardening and educational activities." Her residence in George and Winnie Power's old house helped, more than anything else, to insure the continued preservation of the Power "home place" at a time when Cobb County's rural landscape and buildings and its agricultural heritage were quickly being lost.
Winnie Power Groover died in 1979 and her 40 acres in Lots 218 and 219 were inherited by her children, Winnie and Charles, who sold the land to the National  Park Service in 1985 for inclusion in the national park land that was being assembled all along the Chattahoochee River. Upon George Power's death in 1995, the 80 acre tract that he still owned (in Lots 217, 220, and 283) was inherited by his widow, Virginia Wing Power, who conveyed the property to the Trust for Public Land. The Trust for Public Land, in turn, donated most of the property to the National Park Service in October 1997. In February 1999, the Trust for Public Land donated the remainder of the property, including the George Power House and the surrounding 2.5+ acres of land, to Cobb Landmarks and Historical Society along with a conservation easement to the Federal government.

Notes