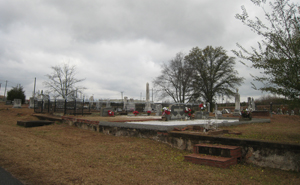 Figure 1. View northwest of Flat Rock Cemetery, December 2009.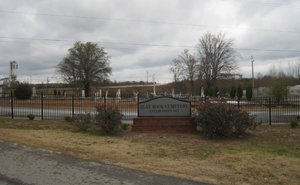 Figure 2. View of marker installed in 2004.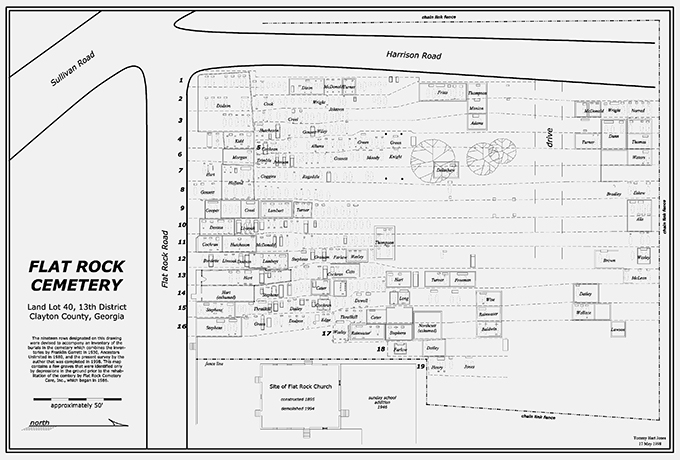 Figure 3. Map key for cemetery inventory.
There have been several surveys made of Flat Rock Cemetery over the years. The first was an unpublished survey of marked burials that was done by Atlanta historian Franklin Garrett in 1931. In 1979 and again in 1986, Ancestors Unlimited, Inc., a private non-profit organization, surveyed the cemetery. The Garrett survey was consulted in compiling these later surveys. Results of the Ancestors Unlimited surveys were published in their publication All Known Cemeteries of Clayton County, Georgia (1986).
The present survey was begun in 1988 along with mapping of the cemetery and inventory of the burials in the cemetery. We have benefitted greatly by the discovery of a typed list of burials in the cemetery dated 16 August 1932. Done by Josiah Meredith Hart (1857-1957) and sporadically updated by him over the next ten years, it covers the original, southern half of the cemetery and includes many unmarked graves that were not shown in any of the other surveys.  Burials included in the Hart survey are indicated by an asterik ("*") in this inventory. A number of descendants of those buried at Flat Rock have furnished additional information that has helped identify other unmarked burials. Some burials remain unidentified.
On the map, rows are designated west to east, beginning with Row 1 running north and south along the western boundary of the cemetery at Harrison Road, then "2," "3," and so on until Rows 17, 18 and 19, which are partial rows along the eastern boundary of the cemetery. Note that Row 5 begins about 35= from the southern boundary.  Note also that Row 14 ends about 120= from the southern boundary. Individual graves within each row are designated south to north with numbers, beginning at the southern boundary of the cemetery. Although the order of the burials within each row is probably correct, the exact location of many of the unmarked graves has not been determined, since the burials in the older southern half of the cemetery (approximately 1-30 in each row) tended to be irregularly spaced.  Uncertainty as to exact location is denoted by a question mark ("?") preceding the grave number. A question mark in place of a name indicates an unmarked, unknown burial.
Additions and corrections to this inventory are welcomed.
| | | | |
| --- | --- | --- | --- |
| row | name | dates | graver marker? other comments |
| Row 1 | | | |
| 1 | Stephen H. Dodson | 1884-1951 | yes |
| 2 | John C. Dodson | 1883-1964 | yes |
| 3 | ? | | |
| 4 | ? | | |
| 5 | Dan R. Bridges Jr. | 1926- | yes |
| 6 | Jacquelin D. Bridges | 1926- | yes |
| 7 | Orbert L. Dodson | 1895- | yes, but actually buried at Holly Hill in Fairburn |
| 8 | Fletcher W. Dodson | 1897- | yes, but actually buried at Holly HIll in Fairburn |
| 9 | Jewell Estelle Creel Wheeler* | 1904-1926 | yes |
| 10 | Noah Gossett's child* | | stone |
| 11 | Mr. Gossett's child* | | |
| 12 | Mr. Caudle's child* | | |
| 13 | Mrs. Louise Dison* | | |
| 14 | Samuel Dison* | 1885-1889 | yes |
| 15 | Myrtice Dison* | 1882-1892 | yes |
| 16 | Alver C. Dison | 1857-1899 | yes |
| 17 | Emma D. Dison | 1872-1937 | yes |
| 18 | Thelma Dison | | child of Olin |
| 19 | Mary? Dison | | child of Olin |
| 20 | Myrtis McDonald* | 1895 | yes |
| 21 | Yula McDonald* | 1890-1894 | yes |
| 22 | Veola McDonald* | 1894-1896 | yes |
| 23 | James W. Turner* | 1857 | |
| 24 | Nora Turner* | 1857 | |
| 25 | Olin Dodson* | | |
| 26? | Sam Dodson's child* | | |
| 27? | Leon Thompson's child* | | |
| 28a? | Mal Maddox* | | west side |
| 28b? | Willie Turner's child* | | east side |
| 29a | | | |
| 29b | Edna-mel Johnson's child* | | east side |
[Graves 25-29 in Row 1 were noted by JMH.  JMH did not note the graves of the Cochran twins, which were marked in 1988.]
| | | | |
| --- | --- | --- | --- |
| Row 2 | | | |
| 1 | Warren L. Dodson | 1874-1841 | yes |
| 2 | William J. Vaughan | 1882-1948 | yes |
| 3 | Mary D. Vaughan | 1886-1976 | yes |
| 4 | Bertha L. Dodson | 1892-1973 | yes |
| 5 | ? | | |
| 6 | ? | | |
| 7 | James B. Dodson | 1851-1936 | yes |
| 8 | Lavinie Y. Dodson | 1854-1938 | yes |
| 9? | Mr. Sey* | | |
| 10? | James Cook* | | stone |
| 11? | Sallie Cook* | | |
| 12? | Jim Anderson's child* | | |
| 13? | Hessie Banks* | | |
| 14? | Coolong's [sic] child* | | |
| 15? | Billie Turner's child* | | |
| 16? | Billie Turner's child* | | |
| 17? | John Wright's grandchild* | | |
| 18? | William Wright* | 1801- | |
| 19 | Nancy Wright* | 1826- | |
| 20 | Eugene Wright's baby* | | |
| 21 | Mrs. [Susan?] Wright* | 1800- | |
| 22 | Wiley C. Johnson* | 1836-1878 | yes |
| 23 | | | |
| 24 | Reuben F. Dailey* | 1906- | yes |
| 25 | | | |
| 26 | | | |
| 27 | | | |
| 28 | Moore's child* | | |
| 29 | Mrs. J. T. Maddox | | |
| 30 | John Thomas Maddox | 1883-1960 | yes |
| 31 | | | |
| 32 | | | |
| 33 | | | |
| 34 | | | |
| 35 | William M. Fritts | 1891-1968 | yes |
| 36 | Nancy J. Fritts | 1894-1952 | yes |
| 37 | William C. Fritts | 1924- | yes |
| 38 | Tency J. Fritts | 1927- | yes |
| 39 | William L. Fritts | 1944-1945 | yes |
| 40 | Hugh V. Fritts | 1948-1974 | yes |
| 41 | Bertha Jane Fritts | 1947 | yes |
| 42 | | | |
| 43 | Jessie R. Thompson | 1886-1965 | yes |
| 44 | | | |
| 45 | | | |
| 46 | ?? | | |
| 47 | ?? | | |
| 48 | John H. Holloway | d. 1943 | yes |
| 49 | | | |
| | end of row at driveway | | |
| | | | |
| --- | --- | --- | --- |
| Row 3 | | | |
| 1 | | | |
| 2 | | | |
| 3 | | | |
| 4 | George R. Cabe | 1876-1966 | yes |
| 5 | Sophronia Cabe | 1878-1961 | yes |
| 6 | J____ Dodson | | stone |
| 7 | F____ Dodson | | stone |
| 8 | ? | | stone |
| 9 | Vernon McElroy* | | stone |
| 10 | Earnest McDaniel* | 1900-1902 | yes |
| 11a | James Anderson's child* | | east side |
| 11b | Lee McConnell's child* | | west side |
| 12 | J. F. Creel* | | |
| 13 | J. F. Creel's child* | | east side |
| 13b | Jewell Wheeler's child* | | west side |
| 14 | Nancy Creel* | 1842-1909 | yes |
| 15 | James A. D. Creel* | 1866-1905 | yes |
| 16? | Lena Anderson* | | |
| 17? | Jim Anderson's child* | | |
| 18? | Mrs. Jerry Simpson* | | |
| 19? | Jerry Simpson* | | |
| 20? | Mr. Johnson* | | |
| 21? | Mr. Nichols* | | |
| | Mrs. Nichols* | | |
| 23? | Mrs. Johnson's child* | | |
| 24? | Mrs. Johnson* | | |
| 25a? | Mrs. Johnson's child | | west side |
| 25b? | Mrs. Johnson's child | | east side |
| 26 | | | |
| 27 | | | |
| 28 | | | |
| 29 | | | |
| 30 | | | |
| 31 | | | |
| 32 | | | |
| 33 | | | |
| 34 | | | |
| 35 | | | |
| 36 | | | |
| 37 | | | |
| 38 | | | |
| 39 | | | |
| 40 | | | |
| 41 | | | |
| 42 | | | |
| 43 | Marion? | | |
| 44 | | | |
| 45 | | | |
| 46 | | | |
| 47 | | | |
| 48 | Marion Harrell Plumley | 1918-1978 | yes |
| 49 | | | |
| | driveway | | |
| 50 | | | |
| 51 | Harvey C. Thompson | 1903-1950 | yes |
| 52 | Jeanie McDonald | 1897-1959 | yes |
| 53 | Maggie Nichols | 1897-1963 | yes |
| 54 | Edward Wright | 1917-1975 | yes |
| 55 | John E. Wright | 1879-1959 | yes |
| 56 | Doney D. Wright | 1887-1962 | yes |
| 57 | Bertha Wright Harvey | 1924-1945 | yes |
| 58 | W. Howard Norred | 1890-1968 | yes |
| 59 | Maybell Norred | 1896-1967 | yes |
| 60 | Eugenia V. Norred | 1870-1950 | yes |
| 61 | Sameul E. Norred | 1868-1945 | yes |
| | | | |
| --- | --- | --- | --- |
| Row 4 | | | |
| 1 | | | |
| 2 | Jess Holland* | 1896-1926 | yes |
| 3 | Annie Ruth Dailey* | 1909-1911 | yes |
| 4 | Paul B. Dailey Jr.* | 1920-1920 | yes |
| 5 | Oliver C. Kidd | 1860-1939 | yes |
| 6 | Alfred Kidd* | 1905-1915 | yes |
| 7 | Mable Kidd* | 1887-1907 | yes |
| 8 | Henry C. Hutcheson* | 1846-1917 | yes |
| 9 | M. J. Hutcheson* | 1889-1917 | yes |
| 10 | Alma Hutcheson* | 1886-1887 | yes, east side |
| 11 | Andrew J. Hutcheson* | 1832-1911 | yes |
| 12? | | | |
| 13? | Myrtle Alexander child* | | |
| 14? | | | |
| 15a? | Jewel Wheeler's child* | | east side |
| 16 | John Gossett* | | |
| 17 | John Henry Gossett* | 1882-1917 | yes |
| 18 | Mr. Wiley* | | |
| 19 | Mrs. Wiley* | | |
| 20 | Wiley child* | | |
| 21 | Emma Bryant's child* | | |
| 22 | John Croner's daughter* | | |
| 23 | Emma Lillian Bryant | 1885-1929 | yes |
| 24 | | | |
| 25 | | | |
| 26 | | | |
| 27 | | | |
| 28 | | | |
| 29 | | | |
| 30 | | | |
| 31 | | | |
| 32 | | | |
| 33 | | | |
| 34 | | | |
| 35 | | | |
| 36 | | | |
| 37 | | | |
| 38 | | | |
| 39 | | | |
| 40 | | | |
| 41 | | | |
| 42 | | | |
| 43 | Monroe L. Adams | 1896-1977 | yes |
| 44 | Cleo M. Adams | 1917-1959 | yes |
| 45 | | | |
| 46 | | | |
| 47 | | | |
| 48 | | | |
| 49 | | | |
| | driveway | | |
| 50 | | | |
| 51 | Nancy C. Simpson | 1906-1965 | yes |
| 52 | | | |
| 53 | | | |
| 54 | Doc. G. Dunn | 1885-1966 | yes |
| 55 | Nora S. Dunn | 1888-1971 | yes |
| 56 | | | |
| 57 | Ruth Dunn Nobles | 1919-1947 | yes |
| 58 | Chandler Perry Thomas | 1934-1990 | yes |
| 59 | | | |
| 60 | ?? | | |
| 61 | ?? | | |
| | | | |
| --- | --- | --- | --- |
| Row 5 | | | |
| 1 | Wesley child* | | |
| 2 | John Cochran* | 1876-1917 | yes? |
| 3 | Verchas Mary Cochran | 1874-1951 | yes |
| 4 | Susan Rivers* | | |
| 5 | J. H. Wooten* | | |
| 6 | Eva Rivers* | 1878-1901 | yes |
| 7 | Roley Rivers' child* | | |
| 8 | | | |
| 9 | Julia Allums* | | |
| 10 | ?* | | |
| 11 | Thomas Allums* | | stone |
| 12 | Sarah E. Allums* | 1855-1913 | yes |
| 13 | Henry Noland Allums* | 1908-1908 | yes |
| 14 | William Thomas Allums* | 1885-1913 | yes |
| 15 | Levnoey J. McHugh* | 1889-1911 | yes |
| 16 | Carl Green* | no dates | yes |
| 17 | Harold Green* | no dates | yes |
| 18 | Rommie H. Green* | 1886-1929 | yes |
| 19 | Nelly L. Green | 1887-1960 | yes |
| 20 | Myrtle Plunkett* | | |
| 21 | Buster Green* | 1911-1912 | yes |
| 22 | Howard Bramblett | 1934 | yes |
| 23 | Robert Henry Green | 1871-1945 | yes |
| 24 | Lilla N. Green | 1873-1957 | yes |
| 25 | | | |
| 26 | Della Green McMichael | 1874-1957 | yes |
| 27 | | | |
| 28 | | | |
| 29 | | | |
| 30 | | | |
| 31 | | | |
| 32 | | | |
| 33 | | | |
| 34 | | | |
| 35 | | | |
| 36 | | | |
| 37 | | | |
| 38 | | | |
| 39 | | | |
| 40 | | | |
| 41 | | | |
| 42 | | | |
| | driveway | | |
| 43 | | | |
| 44 | | | |
| 45 | Turner?? | | |
| 46 | Turner?? | | |
| 47 | | | |
| 48 | | | |
| 49 | | | |
| 50 | | | |
| 51 | | | |
| 52 | | | |
| 53 | Wilbur B. Thomas | 1908-1977 | yes |
| 54 | | | |
Row 6

1

2

3

4

5

6

7

8

Geneva Kidd Rambo
1872-1957
yes

9

Isiah Trimble*

stone

10

Neely Trimble*

stone

11

Trimble child*

stone

12

John T. Johnson*
1833-1899

yes

13

Mary E. Johnson*
1836-1878

yes, first burial in the cemetery

14

Hettie Harrison*
1868-1914

ues

15

Bud Johnson*

Wood child*

Braswell child*

John H. Long*

Mark M. Long*

1880-1880

1885-1885

William A. Long

Horace Long

1892-1892

-1896

Cochran child*

Cochran child*

John Gossett's child*

John Gossett's child*

21

Noah Gossett*
1862-1910

22

Obizines Graden Gossett*
1859-1910

23

Mrs. Coole*

24

Mr. Williams*

25

Will Moody's child*

26

Will Moody's child*

27

Will Moody's child*

28

Mr. Moody*

29

Parker Knight
1899-1969

yes

30

Vesta Knight
1908-1964

yes

31

32

33

34

35

36

37

38

39

40

41

42

43

44

45

46

47

48

49

driveway

50

51

52

53

54

55

56

57

58

59

60

Cora E. Norred Waters
1899-1989

yes

61

Pierce Waters
1889-1952

yes
Row 7

1

2

Allen C. Hart
1886-1924

yes

Arthur Jones' child*

Arhur Johnson's child*

Holland child*

Holland child*

5?

Holland child*

6

William Ernest Holland*
1896-1897

yes

7

Georgia Holland
1862-1933

yes

8

Robert L. Holland*
1865-1911

yes

9

Mannie Harris' child*

10

William Coggins*

11

William Coggins child*

12

Mrs. Coggins

13

?*

14

Roi Vester Ragsdale*
1874-1918

15

Jimmielou Eva Ragsdale*
1876-1884
Emily Lambert child*
Mary L. King Ragsdale*
1842-1900
Burr Ragsdale*
1870-1900
Virginia McIntire*
1869-1910

yes

Mr. Harris (Doc.)*

21

22

Mammie Harris' child*

23

Mammie Harris' child*

24

25

?*

26

?*

27

28

29

30

31

32

33

34

35

36

??

37

??

38

Jonie Lou Deleshaw
1900-1964

yes

39

Clyde C. Deleshaw
1896-1966

yes

40

41

42

43

44

45

46

47

48

49

driveway

50

51

52

53

54

55

56

57

58

59

60

61
| | | | |
| --- | --- | --- | --- |
| Row 8 | | | |
| -- | Maggie Speights Hart | 1886-1914 | yes |
| 1 | Claudia J. Gossett (Mrs. Virgil)* | 1886-1923 | yes |
| 2 | | | yes |
| | C. E. Gossett* | | stone |
| | Robbie Holland's child* | | |
| 5 | | | |
| 6 | | | yes |
| 7 | | | yes |
| 8 | | | yes |
| 9 | Holland child* | | |
| 10 | Katie Shadie Creel* | | |
| 11 | John McDonald* | | |
| 12 | Annie Burks' child* | | |
| 13 | John Bullard's child* | | |
| 14 | | | |
| 15 | Nancy Williams* | | |
| | Sina Williams* | | |
| | Timmie Williams* | | |
| | Mary Ann Bass* | | |
| | James Bass* | | |
| | Will Williams child* | | |
| 21 | Will Willaims child* | | |
| 22 | Dr. Ed Williams* | 1821-1896 | yes |
| 23 | John Stephens' child* | | |
| 24 | | | |
| 25 | | | |
| 26 | | | |
| 27 | | | |
| 28 | | | |
| 29 | | | |
| 30 | | | |
| 31 | | | |
| 32 | | | |
| 33 | | | |
| 34 | | | |
| 35 | | | |
| 36 | | | |
| 37 | | | |
| 38 | ?? | | |
| 39 | | | |
| 40 | | | |
| 41 | | | |
| 42 | | | |
| 43 | | | |
| 44 | | | |
| 45 | | | |
| 46 | | | |
| 47 | | | |
| 48 | | | |
| 49 | | | |
| | driveway | | |
| 50 | | | |
| 51 | | | |
| 52 | | | |
| 53 | | | |
| 54 | | | |
| 55 | | | |
| 56 | | | |
| 57 | | | |
| 58 | Irvin Ralph Eskew | 1947-1951 | yes |
| 59 | Irvin Walter Eskew | 1928-1996 | yes |
| 60 | Geneva Eskew | 1930-1973 | yes |
| 61 | | | |
| | | | |
| --- | --- | --- | --- |
| Row 9 | | | |
| 1 | | | |
| 2 | Alvin S. Cooper | 1893-1957 | yes |
| | Laura L. Cooper | 1895-1979 | yes |
| | | | |
| 5 | | | |
| 6 | | | |
| 7 | Paul Creel | 1899- | yes |
| 8 | Gertrude Creel | 1892-1954 | yes |
| 9 | Sarah Lambert* | 1861-1893 | yes |
| 10 | Howell Lambert* | no dates | yes |
| 11 | son of J. F. and Etta Lambert* | no dates | yes |
| 12 | dau. of J. D. and Lois McElroy* | no dates | yes |
| 13 | | | |
| 14 | Rufus Turner | 1885-1954 | yes |
| 15 | E. E. Turner | 1855-1942 | yes |
| | James Newton House* | 1820-1897 | lost |
| | Cynthia Champion House* | 1824-1893 | |
| | Esteller Peppers* | | |
| | Warren Dodson's child* | | |
| | | | |
| 21 | | | |
| 22 | J. P. Cook | 1875-1918 | yes |
| 23 | Geneva McElroy | no dates | |
| 24 | Ronnie McElroy's child* | | |
| 25 | ?* | | |
| 26 | George Cabe's child* | | |
| 27 | | | |
| 28 | | | |
| 29 | | | |
| 30 | | | |
| 31 | | | |
| 32 | | | |
| 33 | | | |
| 34 | | | |
| 35 | | | |
| 36 | | | |
| 37 | | | |
| 38 | | | |
| 39 | | | |
| 40 | | | |
| 41 | | | |
| 42 | | | |
| 43 | | | |
| 44 | ?? | | |
| 45 | | | |
| 46 | | | |
| 47 | | | |
| 48 | | | |
| 49 | | | |
| | driveway | | |
| 50 | | | |
| 51 | | | |
| 52 | | | |
| 53 | | | |
| 54 | | | |
| 55 | | | |
| 56 | | | |
| 57 | | | |
| 58 | Lena M. Alls | 1878-1954 | yes |
| 59 | Barbara J. Alls | 1937-1981 | yes |
| 60 | George A. Alls | 1901-1957 | yes |
| 61 | Emily J. Alls | 1903-1964 | yes |
Row 10

1

Ruby Denton*
1918-1920

yes

2

Velma Denton*
1922-1923

yes

Virgil Denton
1891-1939

yes

Nealie Denton
1892-1974

yes

5

Floyd Liveoak*
1902-1928

yes

6

L. J. Liveoak*
1895-1920

eys

7

Ida F. Liveoak
1870-1937

yes

8

W. F. Liveoak*
1861-1917

yes

9

Florence Liveoak*
1900-1912

yes

10

Jessie Liveoak*
1910-1911

yes

11

William Bostwick*

stone

12

M. Thomas' child*

13

A. C. Smith's grandchild*

14

W. F. and Ida Liveoak child*
1893

yes

15

?*
?*
Henry Liveoak*
1890-1904

yes

Milton Felmar Liveoak*
1905-1907

yes

Ellis Mitchell's child*
Dick Terrell's child*

21

Sallie Hardy*

22

Grayton Green*

23

Nan McDonald*

24

Lemore Russell's child*

25

Lemore Russell's child*

26

Lemore Russell's child*

27

28

Lemore Russell*

Kimberly child*

Ward child*

30

?*

31

Fred Thompson
1858-1933

yes

32

Nancy Carter
1900-1935

yes

33

34

35

36

37

38

39

40

41

42

43

44

45

46

47

48

49

50

51

52

53

54

55

56

57

58

?

59

60

61
| | | | |
| --- | --- | --- | --- |
| Row 11 | | | |
| 1 | Ella H. Cochran | 1880-1962 | yes |
| 2 | S. M. Cochran* | 1880-1928 | yes |
| | Hubert Cochran* | 1899-1918 | yes |
| | Jerry M. Andrews | 1938-1989 | yes |
| 5 | | | |
| 6 | Lyla Hutcheson | 1914-1956 | yes |
| 7 | | | |
| 8 | John B. Hutcheson* | 1889-1917 | yes |
| 9 | Herbert McDonald's child* | | |
| 10 | Edna G. McDonald | 1923 | yes |
| 11 | A. G. McDonald* | 1849-1918 | yes |
| 12 | Emma (Mandy?) McDonald | 1862-1891 | yes |
| 13 | Robert Green Jr.* | | |
| 14 | Robert Green Sr.* | | |
| 15 | Dave Stephens' child* | | |
| | Jack Stephens' child* | | |
| | Roda Stephens' child* | | |
| | John Cater* | | |
| | Mr. Hudson's child* | | |
| | A. D. Cater | | |
| 21 | McMichael child | | |
| 22 | | | |
| 23 | | | |
| 24 | | | |
| 25 | | | |
| 26 | | | |
| 27 | Willie Thompson* | 1898-1930 | yes |
| 28 | | | |
| 29 | Lara Thompson | 1861-1940 | yes |
| 30 | | | |
| 31 | | | |
| 32 | | | |
| 33 | | | |
| 34 | | | |
| 35 | | | |
| 36 | | | |
| 37 | | | |
| 38 | | | |
| 39 | | | |
| 40 | | | |
| 41 | | | |
| 42 | | | |
| 43 | | | |
| 44 | | | |
| 45 | | | |
| 46 | | | |
| 47 | | | |
| 48 | | | |
| 49 | | | |
| | driveway | | |
| 50 | | | |
| 51 | | | |
| 52 | | | |
| 53 | | | |
| 54 | | | |
| 55 | | | |
| 56 | | | |
| 57 | | | |
| 58 | | | |
| 59 | | | |
| 60 | Alexander Wesley | 1907-1981 | yes |
| 61 | Emmie O. Wesley | 1873-1954 | yes |
| | | | |
| --- | --- | --- | --- |
| Row 12 | | | |
| 1 | | | |
| 2 | Samuel C. Burdette | 1958-1992 | yes |
| | | | |
| | | | |
| 5 | John Liveoak | 1896-1965 | yes |
| 6 | Stephen D. Dodson* | 1846-1911 | yes |
| 7 | Savannah T. Dodson | 1860-1937 | yes |
| 8 | | | |
| 9 | Mrs. S. J. Vaughn* | 1829-1910 | yes |
| 10 | O. Marion Lambert* | no dates | yes |
| 11 | Ethel Lambert* | 1920- | yes |
| 12 | Ara Delura Lambert* | 1876-1930 | yes |
| 13 | Willis Edwin Lambert* | 1880-1945 | yes |
| 14 | Vera Stephen's child* | | |
| 15 | Nancy Matilda Stephens* | 1835-1888 | yes |
| | Alma Graham* | 1885-1915 | yes |
| | Denie Wright's child* | | |
| | John T. Graham* | 1858-1913 | yes |
| | Mattie Fullerton Graham* | 1864- | yes |
| | Jack Farlow* | | |
| 21 | Mrs. Farlow* | | |
| 22 | Hettie Wesley* | 1886-1908 | yes |
| 23 | Charles Wesley | 1922-1923 | yes |
| 24 | Olen Wesley | 1884-1955 | yes |
| 25 | Mrs. Bailey* | illegible | yes |
| 26 | | | |
| 27 | | | |
| 28 | Lizzie Thompson* | 1889-1920 | yes |
| 29 | Thompson child* | | |
| 30 | | | |
| 31 | | | |
| 32 | | | |
| 33 | | | |
| 34 | | | |
| 35 | | | |
| 36 | | | |
| 37 | Ernest Clifford Long | 1927-1964 | yes |
| 38 | | | |
| 39 | | | |
| 40 | | | |
| 41 | Joseph Frankie Brookshire | 1970-1989 | yes |
| 42 | | | |
| 43 | | | |
| 44 | | | |
| 45 | | | |
| 46 | | | |
| 47 | | | |
| 48 | | | |
| 49 | | | |
| | driveway | | |
| 50 | | | |
| 51 | | | |
| 52 | | | |
| 53 | | | |
| 54 | Henry W. Brown | 1912-1970 | yes |
| 55 | Mary W. Brown | 1916-1988 | yes |
| 56 | | | |
| 57 | | | |
| 58 | | | |
| 59 | ?? | | |
| 60 | Garret E. Wesley | 1892-1975 | yes |
| 61 | Evie O. Wesley | 1893-1955 | yes |
| | | | |
| --- | --- | --- | --- |
| Row 13 | | | |
| 1 | | | |
| 2 | | | |
| | | | |
| | | | |
| 5 | Emmitt Lee Hart | 1898-1953 | stone |
| 6 | Emil J. Hart | 1894-1952 | yes |
| 7 | Josiah Meredith Hart | 1857-1957 | yes |
| 8 | Louisa Graham Hart* | 1856-1927 | yes |
| 9 | Eula Hart* | 1885-1910 | yes |
| 10 | Jesse Hart* | 1896-1896 | yes |
| 11 | Mary Nell Driver* | 1920-1921 | yes |
| 12 | Eunice Hart Driver | 1891-1971 | yes |
| 13 | | | |
| 14 | Mrs. Butler* | | |
| 15 | Emily Harrison* | 1846-1891 | yes |
| | Wm. William's child* | | |
| | Mrs. William Williams* | | |
| | Mrs. Martha Speights* | 1824-1904 | yes |
| | Cochran child* | 1892-1892 | yes |
| | Agnes Cochran* | 1893-1894 | yes |
| 21 | Matt Cato* | | |
| 22 | | | |
| 23? | James Cato* | | |
| 24? | John Creel's child* | | |
| 25 | John Stephen's wife* | | |
| 26 | | | |
| 27 | John Stephen's child* | | |
| 28 | Jimmie Ophelia Hart* | 1867-1927 | yes |
| 29 | | | |
| 30 | Linda Nell Hart | 1937-1938 | yes |
| 31 | | | |
| 32 | Sherman E. Kimberly | 1871-1947 | yes |
| 33 | | | |
| 34 | | | |
| 35 | Carlton E. Turner | 1903-1956 | yes |
| 36 | Myra A. Turner | 189401971 | yes |
| 37 | | | |
| 38 | John D. Freeman | 1894-1973 | yes |
| 39 | Mary L. Freeman | 1895-1951 | yes |
| 40 | | | |
| 41 | | | |
| 42 | | | |
| 43 | | | |
| 44 | | | |
| 45 | | | |
| 46 | | | |
| 47 | | | |
| 48 | | | |
| 49 | | | |
| | driveway | | |
| 50 | | | |
| 51 | | | |
| 52 | | | |
| 53 | | | |
| 54 | | | |
| 55 | | | |
| 56 | | | |
| 57 | | | |
| 58 | Charles E. Pourron | 1908-1956 | yes |
| 59 | | | |
| 60 | Paul E. McLean | 1908-1969 | yes |
| 61 | Homer N. Shelton | 1924-1990 | yes |
| | | | |
| --- | --- | --- | --- |
| Row 14 | | | |
| 1 | | | |
| 2 | | | |
| | | | |
| | | | |
| 5 | | | |
| 6 | | | |
| 7 | | | |
| 8 | | | |
| 9 | Annie W. Stephens* | 1909-1910 | yes |
| 10 | Jonathan Stephens* | | stone |
| 11 | Fatima Euphie Stephens* | | stone |
| 12 | Steve Stephens* | | |
| 13 | James Ocey Stephens* | 1885-1899 | yes |
| 14 | | | |
| 15 | | | |
| | Bud Duke's child* | | |
| | Annie Dell Cater* | 1900-1902 | yes |
| | J. O. "Bud" Cater | 1877-1943 | yes |
| | "Sally" Cater | 1877-1945 | yes |
| | | | |
| 21 | Chap Beasley* | | stone |
| 22 | G B child | | |
| 23 | Ward child | | |
| 24 | | | |
| 25 | | | |
| 26 | | | |
| 27 | Tom Ward* | | |
| 28 | Hessie Ruth Russell* | 1893-1917 | yes |
| | end of row | | |
| | | | |
| --- | --- | --- | --- |
| Row 15 | | | |
| 1 | Emma T. Stephens | 1896-1974 | yes |
| 2 | Rod C. Stephens | 1885-1951 | yes |
| | Helen Stephens | 1928-1938 | yes |
| | Bertie Mae Stephens | 1933-1934 | yes |
| 5 | Maggie Lee Stephens* | 1899-1913 | yes |
| 6 | | | |
| 7 | | | |
| 8 | Oscar Ford | 1893-1944 | yes |
| 9 | Frank Thrailkill* | 1858-1942 | yes |
| 10 | Alice Thrailkill* | 1866-1934 | yes |
| 11 | John Willie Thrailkill* | 1887-1904 | yes |
| 12 | Hettie Francis Thrailkill* | 1889-1903 | yes |
| 13 | Alice Cornelia Thrailkill* | 1893-1894 | yes |
| 14 | Debbie Ann Dailey* | 1844-1920 | yes |
| 15 | Philip J. Dailey* | 1837-1900 | yes |
| | William Lot Dailey* | 1889-1901 | yes |
| | Matt Dailey* | | stone |
| | Myrtle Cochran* | 1894 | yes |
| | Sarah Cochran* | 1854-1915 | yes |
| | J. B. Cochran* | 1852-1924 | yes |
| 21 | | | |
| 22 | Albert Dewell* | | |
| 23 | Steve M. Dewell* | 1851-1911 | yes |
| 24 | Mary Dewell* | 1859-1912 | yes |
| 25 | Lottie Jane Dewell* | 1886-1939 | yes |
| 26 | Emily Herrod* | | |
| 27 | Math Herrod* | | |
| 28 | Mary Long | 1887-1938 | yes |
| 29 | John E. Long* | 1857-1926 | yes |
| 30 | Lenora Long | 1855-1941 | yes |
| 31 | | | |
| 32 | | | |
| 33 | Herbert D. McDonald | 1888-1943 | yes |
| 34 | Sallie E. McDonald | 1898-1954 | yes |
| 35 | | | |
| 36 | | | |
| 37 | Otis O. Hammock | 1909- | yes |
| 38 | Odessa M. Hammock | 1908- | yes |
| 39 | | | |
| 40 | | | |
| 41 | Ernest B. Wise | 1882-1951 | yes |
| 42 | Mattie E. Wise | 1892- | yes |
| 43 | | | |
| 44 | | | |
| 45 | | | |
| 46 | | | |
| 47 | | | |
| 48 | | | |
| 49 | | | |
| | driveway | | |
| 50 | James W. Dailey | 1920-1958 | yes |
| 51 | | | |
| 52 | | | |
| 53 | | | |
| 54 | | | |
| 55 | | | |
| 56 | | | |
| 57 | | | |
| 58 | | | |
| 59 | | | |
| 60 | | | |
| 61 | | | |
| | | | |
| --- | --- | --- | --- |
| Row 16 | | | |
| 1 | | | |
| 2 | | | |
| | | | |
| | Rod Stephens | | yes |
| 5 | Jimmy R. Stephens | 1953-1969 | yes |
| 6 | Mary N. Stephens | 1925-1956 | yes |
| 7 | Shady Wright* | | |
| 8 | Mrs. F. V. Green* | 1850-1932 | yes |
| 9 | Julia Fincher* | -1908 | yes |
| 10 | Daisy Green* | 1879-1893 | yes |
| 11 | Baby Campbell's child* | | |
| 12 | Arthur Dodson* | 1884-1897 | yes |
| 13 | Millard Dodson* | 1896-1897 | yes |
| 14 | Julia Dodson* | 1898- | yes |
| 15 | William D. Dodson* | 1859-1900 | yes |
| | Mary Jane Dodson* | 1861-1924 | yes |
| | Lily Mae Edge* | 1895-1896 | yes |
| | Ara Ana Edge | 1875-1945 | yes |
| | Thomas Edge* | 1869-1903 | yes |
| | | | |
| 21 | Mytrice Thrailkill* | 1898-1899 | yes |
| 22 | Freddie Thrailkill* | 1902-1903 | yes |
| 23 | Ethel Thrailkill* | 1904-1905 | yes |
| 24 | Lester Thrailkill* | 1906-1907 | yes |
| 25 | Monroe D. Cater | 1881-1944 | yes |
| 26 | Arie A. Cater* | 1876-1914 | yes |
| 27 | | | |
| 28 | | | |
| 29 | | | |
| 30 | Pauline Coats* | | |
| 31 | | | |
| 32 | Northcutt (exhumed) | | |
| 33 | | | |
| 34 | | | |
| 35 | | | |
| 36 | | | |
| 37 | | | |
| 38 | | | |
| 39 | | | |
| 40 | | | |
| 41 | Robert L. Rainwater | 1916-1958 | yes |
| 42 | Billie Ruth Brown | 1919-1992 | yes |
| 43 | | | |
| 44 | | | |
| 45 | | | |
| 46 | | | |
| 47 | | | |
| 48 | | | |
| 49 | | | |
| | driveway | | |
| 50 | Aaron C. Wallace Sr. | 1901-1958 | yes |
| 51 | Evelyn J. Wallace | 1906-1973 | yes |
| 52 | Peggy W. Wallace | 1934-1965 | yes |
| 53 | | | |
| 54 | | | |
| 55 | | | |
| 56 | | | |
| 57 | | | |
| 58 | | | |
| 59 | | | |
| 60 | | | |
| 61 | | | |
Row 17 begins 85' from south line of cemetery
| | | | |
| --- | --- | --- | --- |
| Row 17 | | | |
| 1 | | | |
| 2 | John Wesley* | 1847-1921 | yes |
| | Sarah Wesley | 1849-1835 | yes |
| | James B. Rainwater | 1878-1955 | yes |
| 5 | Lemora Rainwater | 1880-1937 | yes |
| 6 | Joseph Dawson Rainwater* | 1920-1921 | yes |
| 7 | Francis Rainwater* | 1912-1924 | yes |
| 8 | | | |
| 9 | James Edgar Stephens* | 1882-1926 | yes |
| 10 | Mentory Dukes Stephens* | | stone |
| 11 | Mary E. Kimberly | 1885-1941 | yes |
| 12 | | | |
| 13 | Northcutt (exhumed) | | |
| 14 | | | |
| 15 | | | |
| | | | |
| | | | |
| | | | |
| | | | |
| | | | |
| 21 | | | |
| 22 | Robert Baldwin | 1946-1958 | yes |
| 23 | O. R. Baldwin | 1906-1960 | yes |
| 24 | ? | | |
| 25 | Jack Russell Baldwin | 1939-1969 | |
| 26 | | | |
| 27 | | | |
| 28 | | | |
| 29 | | | |
| 30 | | | |
| | driveway | | |
| 31 | | | |
| 32 | | | |
| 33 | | | |
| 34 | | | |
| 35 | | | |
| 36 | | | |
| 37 | Lawson? | | |
| 38 | | | |
| 39 | | | |
| 40 | | | |
Row 18 begins 121' from south line of cemetery
| | | | |
| --- | --- | --- | --- |
| Row 18 | | | |
| 1 | William E. Farlow* | 1879-1926 | yes |
| 2 | Johanna L. Farlow | 1881-1952 | yes |
| | | | |
| | | | |
| 5 | | | |
| 6 | Jo Ann Dailey | 1938 | yes |
| 7 | ? | | |
| 8 | | | |
| 9 | | | |
| 10 | | | |
| 11 | | | |
| 12 | | | |
| 13 | | | |
| 14 | | | |
| 15 | John W. Durden | 1897-1939 | yes |
| | | | |
| --- | --- | --- | --- |
| Row 19 | | | |
| 1 | two children? | | |
| 2 | John S. Henry | 1869-1938 | yes |
| | Nancy J. Henry | 1873-1933 | yes |
| | Sheila Laverne Jones | 1940 | yes |
| 5 | | | |
| 6 | | | |
| 7 | Lura F. Jones | 1880-1972 | yes |
| 8 | Arthur T. Jones | 1882-1943 | yes |
| 9 | | | |
| 10 | | | |
| 11 | | | |
| 12 | | | |
| 13 | | | |
| 14 | | | |