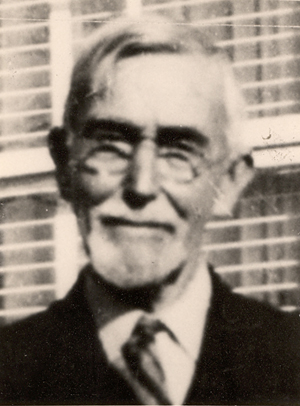 Josiah Meredith Hart, c. 1940.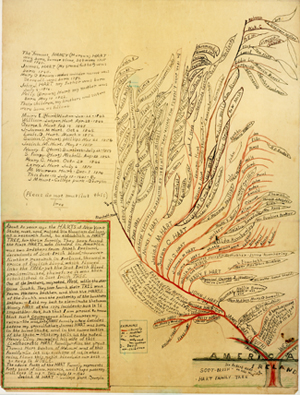 One of at least two family trees drawn on paper window shades by Hart, this one dates to 1941.
Known to his grandchildren as "Granddad Hart," Josiah Meredith Hart (1857-1957) grew up in rural Clayton County and lived most of his long life within a half mile of where he had been born. He and his wife Louisa Graham (1856-1927) raised ten children on their farm on the West Fayetteville Road two miles southeast of College Park.
Self-taught and widely read, he was an ordained minister in the Southern Baptist church but his sometimes unorthodox views on religion occasionally brought him into conflict with his fellow Baptists at Flat Rock Church, which his father had helped found in the 1870s.
In his later years, he took a great interest in family history and produced at least two hand-drawn family trees. He left a variety of letters, notebooks, and other artifacts documenting his life and the family's history, including inventories of Flat Rock Cemetery and the Hart family cemetery.
In his early nineties at the time, he created the drawings in this sketchbook for his granddaughter Ruth's family in Charlotte, North Carolina. Using crayons, pen, pencil, and water colors, he created a series of twenty-one drawings in the spring and summer of 1950. Included are portraits of relatives and friends as well as a self portrait and the only image yet located of his birthplace, the house that his parents built around 1850 and that was torn down in the early 1900s.
Front and rear covers of the sketchbook are heavy cardboard with a spiral-wire binding. The front cover bears the imprint "The Empire Sketch Book for Water Color, Pencil, Crayon" and of the seal of Devoe & Raynolds Co., Inc., one of the country's largest manufacturers and retailers of house paints. At one time they carried a line of artist paints and supplies. There was no imprint on the back cover; Hart provided his own decorative border.