Anne Clark Tracy (1829-1896) and William Butler Johnston (1809-1887) were both native Georgians, but the origins of their families were significantly different. Her paternal ancestors were among the earliest of the English colonists in New England in the 1630s. Puritan, then Congregationalist and later Episcopalian, they helped settle the Connecticut River valley in the late 1630s and were among the founders of Norwich, Connecticut, in 1660. Her maternal ancestors were among the Highland Scots who settled around what is now Fayetteville, North Carolina, in the early eighteenth century and then the eastern Georgia Piedmont after the Revolution.
Johnston's paternal ancestors immigrated from the uplands of southern Scotland, in the 1740s, and by the Revolution were in Charlotte County in the Virginia piedmont. When his maternal ancestors came to America has not been documented, but they were in the Virginia Piedmont in the first quarter of the eighteenth century and in Bedford County in the foothills of the Blue Ridge before the Revolution. In the late eighteenth and early nineteenth centuries, all of these families would be among the vanguard of white settlement in eastern Georgia.
Tracy and Campbell
The earliest identified of Anne Tracy's ancestors is one Lt. Thomas Tracy (1610-1685), a ship's carpenter who is thought to have left Tewkesbury in Gloucestershire in the 1630s and was recorded among the Puritans in Salem in the Massachussetts Bay Colony in 1637. By 1640, he was at Wethersfield in what became Hartford County, Connecticutt, and in 1658 was among the original proprietors of the town of Norwich, where his family would be prominent citizens for the next two centuries.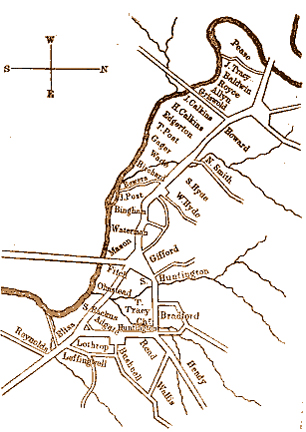 Figure 1. Map of original proprietors' lots in Norwich, Connecticut, in 1660. Lt. Thomas Tracy and his eldest son John were both among these original settlers of the town. (from Abbey, Lt. Thomas Tracy)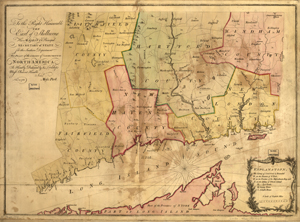 Figure 2. Moses Parks' "Plan of the Colony of Connecticut in North America," 1766. Norwich is located in New London County in the southeastern part of the colony.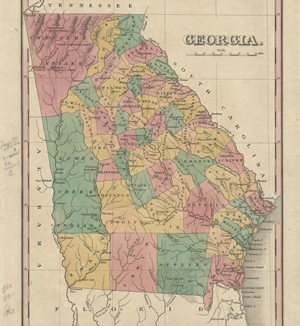 Figure 3. Young and Delleker's map of Georgia, 1824, the year Edward Dorr Tracy arrived in Macon in Bibb County, just left of center in this image. West central Georgia remained nominally controlled by the Creek and northwest Georgia by the Cherokee. (Library of Congress)
Some of the Tracys were farmers, but they were better known as doctors, lawyers, merchants, and politicians. One of Thomas Tracy's sons was the first doctor in Norwich, beginning a line of Dr. Tracys in Norwich that would stretch unbroken for nearly two centuries. Among those generations of physicians was Dr. Philemon Tracy (1757-1837), who in 1785 married Abigail Trott, herself from an old Puritan family. They had six children, all of whom grew up in Norwich. Three of their four sons graduated from Yale as had a number of Tracys since the college's founding in 1640. Phineas Lyman Tracy (1786-1876) and Albert Haller Tracy (1793-1859) were lawyers and both served three terms in the United States Congress representing districts in western New York state in the 1820s and 1830s.[1] Richard Proctor Tracy (1791-1871) graduated from Yale's medical school in 1816 and, never married and continuing to live in the family home, practiced medicine in Norwich for the rest of his life.
According to family tradition, Edward Dorr Tracy (1791-1849) did not go to Yale and was largely self-educated, but that education was extensive. Before he turned 14, he "was considered competent to do something for his own supports" and was apprenticed to a local merchant to learn "the art and mystery" of the retail trade. That education continued through his teen-age years, along with extensive reading, especially in history. By the time he was a young man, he knew Latin and was fluent in French and Spanish. In 1811, Tracy went to work for the firm of Perritt & Lathrop, a prominent shipping company in New York. He rose rapidly in the company, but the trade embargos that accompanied the War of 1812 were a disaster for shipping and trade, and Tracy finally abandoned commerce for law.
Returning home to Norwich in the winter of 1818-1819, he began the study of law, ultimately completing that education under the noted Connecticut jurist Zephaniah Swift. He was admitted to the bar in New London, but like many of his contemporaries, must have seen greater opportunity in the expanding Southern frontier and soon left the confines of New England for the southern frontier.[2]
Tracy must have left New England for Macon in 1823. He was certainly there by the summer of 1824 when he was chosen Junior Warden of the local Masonic Lodge and formed a law partnership with Oliver Hillhouse Prince, one of the five commissioners when Macon was laid out in 1823.[3] In 1825, Tracy was among the official welcoming committee when General Lafayette made his famous tour of the country and was also one of the founding members of Christ Episcopal Church that same year. In 1826, he was elected to serve a term as the city's "intendant," or mayor, and was one of the directors of the Bank of Macon when it was organized in 1826. Among the other directors was John Wesley Campbell (1784-1850), a lawyer from Washington-Wilkes in northeast Georgia.
Tracy's quick rise to prominence in the town suggests that he was probably not a stranger there and clearly had resources of his own—his was not a rags-to-riches story. It is likely that he already knew or was at least acquainted with Oliver Prince and probably the Campbells as well, who were all prominent citizens of Washington in Wilkes County, Georgia. Some of his extended family was already there: enumerated in the 1820 Federal Census of Washington County, Georgia, was the household of one Eleazer Tracy, who was almost certainly born among the descendants of Lt. Thomas Tracy's great-grandson Eleazer Tracy who settled Montville, southwest of Norwich, in the early eighteenth century. Montville was also the birthplace of Oliver Hillhouse Prince.[4]
In 1828, the partnership between Tracy and Prince dissolved when Prince, who had been a state senator since 1824, was elected to fill the unexpired term of U.S. Senator Thomas W. Cobb. Tracy then formed a new partnership with Col. David B. Butler (1804-1842).[5] The firm apparently enjoyed a flourishing practice but one which often took Tracy away from home for extended periods.
On 25 November 1828, Edward Tracy married Susan Griffin Campbell (1808-1834), a younger sister of John Wesley Campbell and daughter of John Archibald Campbell (1765-1820) and Rebecca Kirk (1770-1816). The Campbells were among the Scots who left Campbellton, Argyll and Bute in southwest Scotland for southeastern North Carolina in the second quarter of the eighteenth century. Many of them settled along the upper Cape Fear River around present-day Fayetteville, where one Archibald Campbell was enumerated in the 1790 Federal census. He and Rebecca had at least fourteen children, most of whom were born before they moved to Georgia in the first decade of the nineteenth century.
Several of their children went on to distinguished careers, including Susan's brother Duncan Green Campbell (1787-1828) who was a state legislator and one of the commissioners appointed by the President to negotiate the treaty that led to the extinguishing of Creek Indian land claims in Georgia. Duncan's son and Anne's cousin John Archibald Campbell (1811-1889) was an associate justice on the U.S. Supreme Court and, during the Civil War, Assistant Secretary of War for the Confederacy.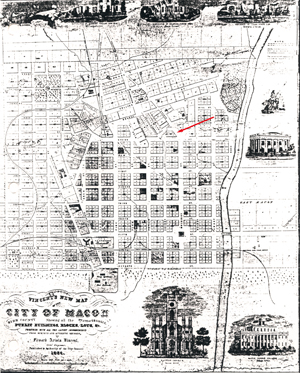 Figure 4. Plat map of City of Macon in 1854, annotated with an arrow to locate the trapezoidal Block 85, owned first by Judge Tracy and then his son-in-law William Butler Johnston. (Washington Library, Macon, GA)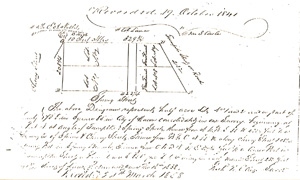 Figure 5. In 1841, Edward Dorr Tracy bought four contiguous lots on the slopes of College Hill just beyond the northwest side of the original town plan and built a house. (Bibb County Records of Deeds and Mortgages)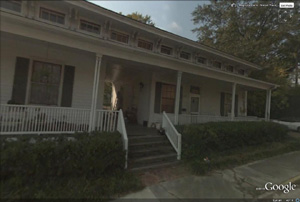 Figure 6. The house that Judge Tracy built in the early 1840s was moved to its present location on Mulberry Lane in 1855 to make way for construction of the Johnstons' house.
Edward Tracy and Susan Campbell had three children—Anne Clark (1829-1896), the future Mrs. William Butler Johnston; Philemon (1831-1862); and Edward Dorr Jr. (1833-1863). Susan died of a fever in 1834, an event described in a lengthy letter from Susan's sister Flora McQueen ("Queenie") Campbell to another sister Mary Ann Campbell MacKenzie, finishing with the final summation: "dear little Anne and Phil look like lost spirits.[6]
The next year, Tracy married Susan's sister Rebecca Caroline Tracy (1807-1891) whom Susan had asked from her deathbed to care for her family. This second Mrs. Tracy raised the three children of her sister as well as the three children of her own by Edward Tracy: Caroline Matilda or "Mattie" (1836-1861), whose widower, Dr. John Spring Baxter (1832-1896), lived with the Johnstons beginning about 1870; Harriet or "Hattie" (1842-1922), whose correspondence with other family members forms a large part of the Johnston family letters; and their brother, Campbell (1840-1868)."[7]
In 1835, David Butler retired and Tracy formed a partnership with John J. Gresham, a prominent attorney and Superior Court justice. Three years later, Tracy was elected to a term in the state legislature as the representative for Bibb County. This was followed, in 1841, by his election to a four year term as a Superior Court judge on the Flint River Circuit. Thereafter, Tracy was known as "Judge" Tracy.
In 1841 Judge Tracy purchased from the city of Macon lots 1, 2, 7, and 8 in square 85 of the plan of Macon for $2,820.[8] These four contiguous lots, totaling 1.8 acres, were located on the north side of Spring Street between Cherry Street and the Turnpike Road, or Mulberry Street extension, now Georgia Avenue. Shortly afterwards, Tracy constructed a house for himself and his family on the site. In 1855, this property became the site of William Butler Johnston's new house at 2 Georgia Avenue and, according to family tradition, the Tracy house was moved to make way for its construction. The old Tracy house stands today at 974-980 Mulberry Lane at the foot of Nisbet Place.[9]
Details of Anne Clarke Tracy's life are sketchy. In 1842, she was enrolled at the girls school at Montpelier Springs, northwest of Macon in Monroe County. Known as the Episcopal Institute at Montpelier, this school was one of "high character embracing every item that can contribute to fit a lady for the first station of society." Founded in 1840, the Montpelier Institute was Georgia's second oldest school for girls. It operated until 1856 as a "Female Institute" and drew students from several states.[10]
Figure 7. Schedule from the 1850 Federal Census showing Anne Tracy and her family. They were living on what would later be the site of the Johnston-Felton-Hay House.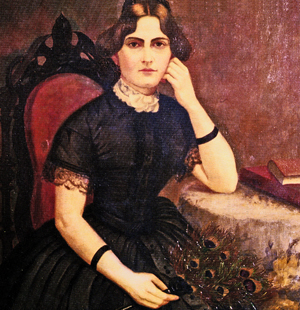 Figure 8. Portrait of Anne Tracy Johnston around 1860. (Hay House Collection)
Judge Tracy retired from the bench in 1845 and returned to his law practice with John Gresham, which he continued until his death. He died on 20 February 1849, and is buried at Rose Hill Cemetery in Macon.[11]
In spite of her father's death, Anne Tracy was able to continue her education, which appears to have been substantial, at least for a Southern woman in the mid-nineteenth century. The Macon Telegraph described her as "one of the most brilliant young ladles of this entire section." In the 1850 census, Anne was enumerated at Montpelier Academy, this one in Montgomery, Alabama. According to a letter from her brother Phil, written shortly after their father's death in 1849, it was Judge Tracy's wish that she go live with her aunt Eliza Campbell (1805-1856), in Montgomery and this she apparently did.[12]
In another letter, written to Anne on her honeymoon in 1851, Eliza remembered Anne's "twice told orphanage" and asked "who was it that offered you. . .  a father's home and a father's love. None more save our good brother Isaac, whose good deeds have risen to heaven as a sweet smiling sacrifice."[13] Isaac Rowland, who had just died of typhoid fever, was actually a brother-in-law to the Campbell sisters but even after his wife Frances Campbell's death in 1842 he maintained a close relationship with the family, especially with Anne's spinster aunts Flora (1802-1876) and Eliza. How long Anne lived in Montgomery is not clear, but there is some indication that she had extended stays on two separate occasions. They were certainly the Campbell relatives with whom Anne maintained the closest ties, with several entries in her honeymoon diary stating that she "wrote Montgomery today."
Gilberts and Johnstons
William Butler Johnston's paternal grandfather was Thomas Johnston, born sometime in the first half of the eighteenth century, reportedly in or around Annandale in the Southern Uplands of Scotland. Nothing is known of his ancestry, nor is it clear if he emigrated to America as a child with his parents or as a young adult. The Delaware River ports were the most usual point of entry for Scots and Irish immigrants of the period and it is likely that he entered the colonies at New Castle or one of the other Delaware River ports.
, but may have gone directly to Prince George County, Maryland, where he was in the late 1740s. The county covered most of western MarylandHe married Sarah Adamson about 1758, and they apparently settled in Charlotte County, Virginia, shortly after that. There are numerous records of marriages that he performed in several counties in central Virginia in the 1770s and 1780s. He died in Charlotte County about 1790.
Three of his sons—William (1758-1802), Malcolm (d. 1795), and Thomas (1771-1855)—moved to Georgia between 1787 and 1799, settling in Hancock, Washington, and Putnam counties respectively. Thomas married three times and had nine children by two of his wives. His third wife was Mary "Polly" Gilbert (c. 1784-died after 1855) by whom he had six children, the eldest being William Butler Johnston, born November 19, 1809.[14]
Details of William B. Johnston's early life are rather sketchy and come from three primary sources—a brief, handwritten autobiography filed as part of his Confederate amnesty request in 1865 and two obituaries that were published at his death in 1887. According to his statement in the amnesty documents, he was

the son of a small farmer. . . and a cultivator of the soil until his 21st year [1831]. He then removed to Macon and commenced business as a merchant in which he continued until 1836 or 1837 when his chief business gradually ran to that of private banking in which he continued until 1850.[15]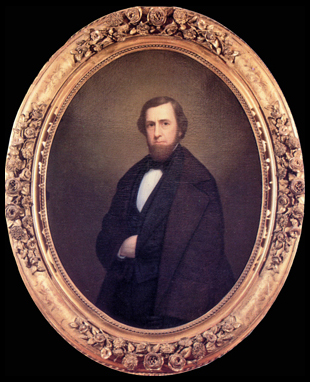 Figure 9. Portrait of William Butler Johnston around 1860. (Hay House Collection)
His obituaries add to this rather sketchy account in noting that "young William was unsuited to farm life" and that "he developed such mechanical ability that he was sent north to become a jeweler." After a year's apprenticeship with the watchmakers Benedict & Company in New York, Johnston returned to Georgia, moving to Macon about 1831.[16] Opening a jewelry store at Second and Mulberry streets with his younger brother Edmund, he was "soon the proprietor of the largest jewelry store between Charleston and New Orleans." By 1850, the partnership dissolved and Edmund Johnston took control of the business.[17] Nevertheless, William Butler Johnston's occupation was still listed as "jeweler" in the 1860 federal census.
According to his obituary, Johnston profited from the Georgia gold rush that had begun with the discovery of gold in north Georgia in 1829. What followed was known, even at the time, as the "Great Intrusion," with prospectors—acting "more like crazy men than anything else," according to one eyewitness—flooded illegally into the Cherokee Nation beyond the Chattahoochee River.[18] The miners who swarmed through the north Georgia gold belt, which was centered around Dahlonega but stretched from McDuffie County on the east to Carroll County on the west, often sold their gold to middle men, like Johnston, who in turn would convey the raw gold to the Philadelphia mint for conversion into assayed bullion. While private mints were established in Gainesville and Milledgeville in 1830 and 1831, both were closed in less than a year and substantial profits were possible for those, like Johnston, who could afford to buy the miners' gold and convey it to the Philadelphia mint. As a jeweler, he would also have had other contacts that could have made gold trading especially lucrative.[19]
By the time the U.S. mint was established at Dahlonega in 1838, which eliminated many of the opportunities for middlemen to turn a profit on the miner's gold, Johnston had already made enough money trading in gold and jewelry to begin his career in banking and, perhaps, investing in the railroads that were beginning to be constructed in the state. In 1837, he helped to organize the Ocmulgee Bank, which failed in November 1842 while he was president. Johnston turned failure into success when he purchased the assets of the bank and, after ten years of litigation with its creditors, netted over $80,000. According to his obituary, this was his first successful large-scaled financial venture. Christopher C. Memminger worked as his attorney during this affair and, as Treasury Secretary for the Confederate States, no doubt played a role in Johnston's appointment as a depositor for the Confederate Treasury during the Civil War.[20]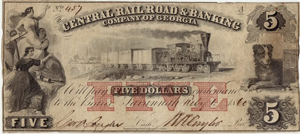 Figure 10. Bank note from the Central Rail Road & Banking Company of Georgia, 1860.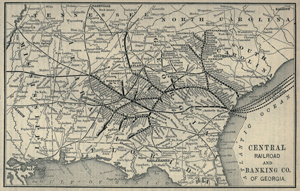 Figure 11. Poor's map of the Central Railroad and Banking Company system in 1891. (wikipedia commons)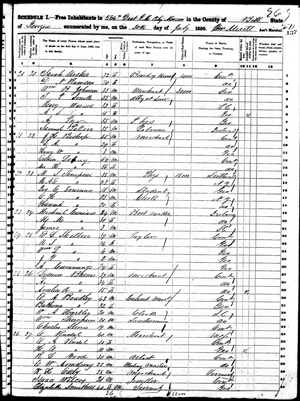 Figure 12. Schedule from 1850 Federal Census in which William Butler Johnston is enumerated.
Johnston was an investor in Macon's first railroad, the Macon and Western, which began operating as the Monroe Railroad Company between Macon and Forsyth in 1838. He was also a major shareholder in and a director of the Central Railroad and Banking Co. from 1843, when the first train rolled into Macon from Savannah on the new Central Railroad, into the 1880s. He is reported to have invested $300,000 in 1847 to initiate fast steam-packer service between Augusta, Savannah, Baltimore, Philadelphia, and New York when the other company directors refused to do so. Railroads would make Johnston a truly wealthy man, although even in the 1850 census he still identified himself only as a "merchant."
In addition to his railroad interests and jewelry business (which supplied swords and other weapons to the military during the Creek and Mexican wars), Johnston was an agent for the venerable Hartford Fire Insurance Co. and, in 1869, an organizer and first president of the Cotton States Life Insurance Co.[21] Insurance may have been the main focus of his business during this period since the 1870 census lists his occupation as "president, life insurance company."
Another major area of interest and investment for Johnston was Macon's early utility systems—gas, water, and ice. According to his obituary, Johnston was "one of the company of W. B. Johnston, C.A. Ellis, and Robert Collins who [in 1850] first supplied Macon with water," utilizing cisterns fed by springs on College Hill. Although the city water system only served the downtown area prior to the Civil War, one of the springs, at what is now the corner of Nisbet Place and Georgia Avenue, was used by Johnston to supply the great house he built for himself in the late 1850s. Probably not until the 1880s were the Johnston house and other houses on College Hill connected to the city water system that he helped establish thirty years before.
Johnston was also a major investor in the Macon Gas Light Company after it was organized in 1852 as well as in its successor the Macon Gas Light and Water Company, which was organized in 1876.[22] It is not known if Johnston utilized this system for lighting his new house or depended on a private gas works but it is likely that, given his proximity to town, the municipal service was used.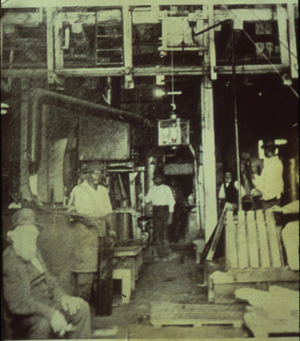 Figure 13. William Butler Johnston, left, in his ice plant, c. 1880. (Hay House Collection)
Shortly after the Civil War, Johnston, along with his friend and brother-in-law John S. Baxter and others, organized Macon's first ice works. While there were varying opinions on the quality of manufactured ice versus that of natural ice shipped from the north and stored for later use, ice from Johnston's plant was extremely popular in Macon and beyond. One of the few candid photographs of Johnston shows him in his ice plant in the 1870s and indicates that he was more than just a casual investor in the operation. About 1880, the ice plant was relocated to Tufts Springs and, two years later, the old buildings on Wharf Street were burned by vagrants.[23]
In addition to jewelry, banking, railroads, and city utilities, Johnston was also active in the new cotton-manufacturing enterprises that were slowly being developed in the antebellum South. In 1849, he was one of four directors of the newly organized Macon Manufacturing Company, forerunner of the Bibb Company. John J. Gresham, Judge Tracy's old law partner and an investor with Johnston in some of his utility ventures, was president of the company.[24]
When the secession crisis broke out in late 1860 and a state convention was called to decide the question, Johnston was, according to his amnesty request, "opposed to secession and did all he could for the Union Cause, giving his influence and vote for the Union candidate to the Convention." No doubt this was true, yet when Georgia did secede in January 1861, Johnston "quietly submitted under pressure as all his interests were in the State and it seemed to be his only alternative."[25]
It appears that Johnston adjusted quickly to the new realities. In late July 1861, serving as president of the Macon Chamber of Commerce, he issued a call "to the Merchants, Bankers, and others of the Confederate States of America to meet in Mass Convention, in the City of Macon, on the 14th day of October next." The purpose of the convention was to devise some system of international credits to replace that which had been disrupted by secession and war.[26]
In 1862, Confederate officials appointed Johnston agent for the Confederacy's purchase of and loans on cotton. The next year, the Confederate Treasury, under Johnston's old business associate C.C. Memminger, established a depository at Macon and Johnston was appointed receiver of deposits. This position, states his obituary, was gained "at the unsolicited recommendation of the Georgia representatives in Congress." There is a legend about the Johnston-Felton-Hay House that Johnston kept the Confederate gold in the "secret room" off the main staircase. Mrs. William H. Felton Jr. (1893-1985) denied this story when interviewed in 1980, but remembered a large safe in the basement wine cellar that, in 1915, still contained some Confederate paper money.
In 1865, Johnston was elected president of the Central of Georgia Railroad and Banking Company with the principal task of raising money to re-establish the war-ruined railroad. In New York City, Johnston was able to secure loans of over $1,000,000 to rebuild and equip the railroad. Samuel J. Tilden, then a relatively unknown attorney but later Democratic presidential candidate, prepared the mortgage contracts for those loans. By the summer of 1866, the Central of Georgia was back in operation; his task complete, Johnston then retired as its president, although he continued to invest in railroads. In 1870, Johnston was part of the syndicate led by ex-Gov. Joseph E. Brown that secured the first private lease of the state-owned Western and Atlantic Railroad. That lease was the source of a major scandal in Georgia during the early 1870s.
Johnston also made significant real estate investments throughout his life, and in the 1850 census claimed $30,000 in real estate. The extent of these investments has not been fully researched, but they included property in Macon and Bibb County as well as "wild lands" in Georgia, Mississippi, and Alabama. According to one of his obituaries, many of these real estate transactions "only cost him a small sum" and were "afterwards sold for big proceeds, running a pretty penny."
A wealthy man by any standards, Johnston's was living in a boarding house when the Federal Census was taken in 1850. The boarding house, which would have included at least a room and "board," i.e., meals, was operated by Sarah Ursher, age 72, and D. W. Rawson, age 70. Both women were born in Connecticutt and may have been sisters. In addition to Johnston, the other boarders recorded in the census were an attorney, a physician, and a widow and her fifteen-year-old daughter. An Irish-born "laborer" enumerated in the household may not have been a regular boarder, perhaps trading his labor for room and board.
Mr. and Mrs. William Butler Johnston
Although one source has indicated an earlier marriage for William Johnston to one Lizzie Owens in Putnam County, research has been unable to document such a marriage. It is believed that he married only once and that relatively late in life.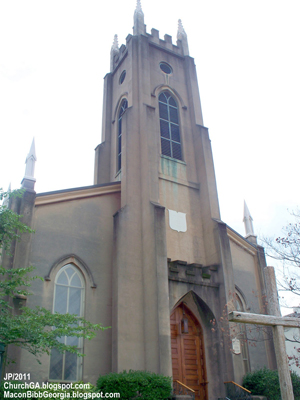 Figure 14. Christ Episcopal Church in Macon, Georgia, consecrated in April 1852 while the Johnstons were on their honeymoon.
How he met Anne Clark Tracy has not been documented, but it is no surprise that their paths crossed in the small confines of Macon's elite, especially since he was a business partner with one of her brothers and both were members of Christ Episcopal Church. However they met, Anne Tracy and William Butler Johnston were married on 2 August 1851, probably at her mother's house on the Turnpike Road, now Georgia Avenue. A short time later, they left on an extended honeymoon that was probably originally planned as a year-long Grand Tour, but soon stretched far beyond that.[27]
At least by 1 October 1852, they were in New York and Anne was sending home "such glowing accounts of everything, that I think that I must know exactly how they look," her sister wrote in reply. By late October of that year, with a letter of introduction from Secretary of State Daniel Webster to "the respective Diplomatic and Consular Agents of the United States in Europe," the couple embarked for Europe.[28]
Whether by accident or design, they did not depart New York for Liverpool until 8 November 1851, but Anne Johnston soon began a journal of the trip that she kept with intermittent but frequent entries until an abrupt end on 21 April 1852. Containing few private references, the journal reads as a travelogue for the family back home. Whether touring alone with her husband or accompanied by the local American consul she described each museum or gallery, building or grounds along with its contents, history, and often its physical dimensions.
In addition to numerous museums, galleries, and studios, the Johnstons saw the Crystal Palace ("a fairy looking structure"), which had housed the Great Exhibition of the Works of Industry of All Nations the previous year and was considered one of the great wonders of the age, and Madame Tussaud's ("where we were quite entertained until 10"), which had been one of London's most popular tourist attractions since the 1830s. in London, Baker's Street Bazaar in 1835. In Paris they attended a performance by the celebrated magician Jean Eugène Robert-Houdin at the Palais National in Paris, as well as the Paris Opera ("singing very poor, but a beautiful ballet") and the theatre on several occasions.[29]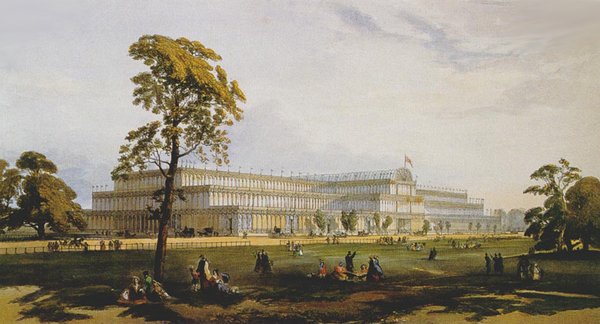 Figure 15. The great Crystal Palace, built in 1851 for the first world's fair, the Great Exhibition of the Works of Industry of all Nations, which closed just two weeks before the Johnstons left New York on their honeymoon. The Crystal Palace remained a tourist attraction until it was destroyed by fire in 1936.
The Johnstons' diplomatic introductions also gained them invitations to various balls and other functions. On 3 January 1852, they went to "a grand ball, given at the Hotel de Ville by the Prefect to Prince Louis Napoleon, in honor of his election" to the presidency. In fact, the prince, who had been elected president in 1848, had staged a coup in December 1851 which would lead to his coronation as Emperor Napoleon III (1808-1873) in December 1852. Three weeks later, on 24 January 1852, they "went in the evening to a grand ball given by the President at the Tuileries. A very magnificent ball, but a terrible crowd... Louis Napoleon is quite a small man and not handsome."
On 29 January, they left Paris for Avignon, Marseilles, and Nice, where they spent the first week of February. By the seventh, they were in Genoa where they continued sight-seeing and shopping. Anne took special note of two-hundred-year-old, white-silk curtains in the royal palace, but she is never specific about their purchases other than to note, as she did in Genoa, that they had "bought a picture." A single bill of sale from a porcelain manufacturer in Paris in 1853 documents the purchase of a large amount of china but no other documentation of specific purchases survives. Among the Johnston-Felton family papers is a card that was apparently intended as a sort of studio shopping guide for the Johnstons. Included on that card are names and addresses of the studios of several painters, sculptors, and other artisans. Anne also mentions their "guide book" in her journal entries. It is clear that the Johnstons shopped wherever they went and it is safe to assume that much of the art work that they acquired, including Randolph Rogers' statue of Ruth, was bought or commissioned while on their honeymooon.[30] In addition, they were intently interested in architecture throughout their journey and it is believed that they began planning their new house while on this honeymoon.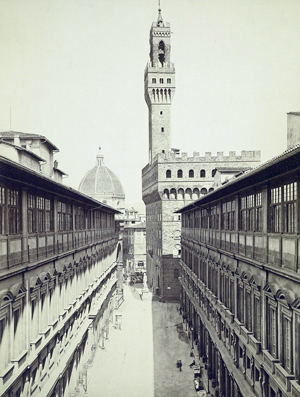 Figure 16. A nineteenth-century view of the Uffizi Gallery and Palazzo Vecchio in Florence.
From Genoa, the Johnstons traveled to Florence and then to Rome, where they spent the late winter and early spring of 1852. There much of their time appears to have been taken up with visiting studios and galleries. On February 21, Anne noted that they "went into a good many sculpture and painting establishments" and again five days later that they "drove to several studios." Several of these are mentioned by name at other entries in the journal, including "two Americans—Chapman, a painter, and Mosier, a sculptor"; and Thomas Crawford, where they "were quite pleased with a number of pieces of sculpture that we saw."[31]
The Johnstons also visited "the buried cities of Herculaneum and Pompeii" where Anne complained that "everything of interest found [there] had been removed to the museum." Nevertheless, Anne remarked that "it would be quite impossible to describe the interest with which I traversed its streets . . . . It is a perfect link between the past and present; a gem of antiquity preserved for us through ages and now open for our inspection . . . . Certainly most pleased with our visit."
Anne's health may have caused her to abandon her diary abruptly in April of 1852 while in Florence. She was then pregnant with their first child, Frances Campbell, who was apparently stillborn in Paris on 23 August 1852. Later letters to Anne indicate that she did not recover quickly and what was probably originally intended as a year-long Grand Tour stretched to two or three years. Letters indicate that the couple traveled to Germany in 1853 and were still in France in October of that year.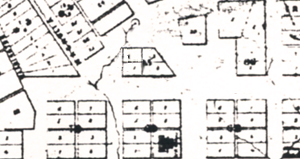 Figure 17. Detail from 1854 plat of the City of Macon. The trapezoidal block at the center of this image is Block 85, containing the four lots that Judge Tracy bought in 1841 and which were conveyed to William Butler Johnston in March 1855. Just above center is a small semi-circle marking the location of the spring house. (Washington Library, Macon, GA)
The precise date of their return is not known, but in early 1854, they returned to Macon and by 1855 were expecting another child. Planning for a house had certainly begun by then. On 1 March 1855, Johnston paid the estate of Judge Tracy $6,500 for lots 1, 7, & 8 in square 85 of the plan of Macon, located at the corner of Spring Street and Georgia Avenue (then known as the Turnpike Road ) and began making plans to move the old Tracy house.[32] Additional purchases in 1862 enlarged this original purchase to include the spring and spring house that still exists below grade at the corner of Georgia Avenue and Nisbet Place. so that Johnston eventually owned the entire block bounded by Spring Street, Georgia Avenue, Nisbet Place, and Cherry Street. On 10 August 1855, their second child, Susan Mary, was born.

Notes
8. David Williams, The Georgia Gold Rush (Columbia: University of South Carolina Press, 1993), p. 25.